March 2, 2011
17

found this helpful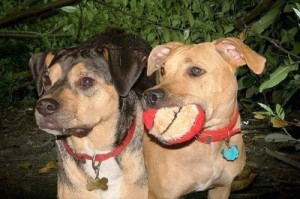 This picture isn't really a picture. Well, technically, it's 3 different pictures that I used to create one. Rosie, the dog on the left and Ginger the dog on the right are my dogs. I love them both very much, but they definitely do not love or even remotely like one another.
Rosie was a feral puppy that literally adopted us and she just does not play very well with others. Ginger was a foster dog that actually got along well with Rosie, until the day my husband and I decided to adopt her and the ink wasn't even dry on the paper before Rosie let us know exactly what she thought of our idea.
I love both dogs and with time have come up with a schedule, gates, crates and enough dog couches to keep everyone happy. Because Rosie was feral she does have a few issues, but she truly loves all people and is extremely friendly. Rosie's crate is big enough for a Great Dane and she only weighs 50 pounds. The crate is set up in our den and Rosie eats in it.
At night when we're watching TV, I rotate her and Ginger out so each of them get some serious couch time. Ginger drags her front paw on the gate to get my attention when she wants to be on the other side of the gate and then I just switch her out with Rosie. It's really amazing how both dogs let me know what they want and where they want to be in the house. No one gets left out and they both get equal attention.
I really enjoy playing around with Photoshop and do so often. The books I have to actually learn it terrify me so I just take my time and experiment with different pictures, which is how this picture came to be. I extracted each dog from a different photo and then noticed how both of them were looking exactly the same way, I resized them (Ginger is actually 93 pounds) and then found a picture of some trees. Basically, I just blended them all together. My goal is to make it look like a real picture, not something pasted together.
I love photography and using Photoshop has really helped me discover an artistic side that I never really knew that I had.
By CaroleeRose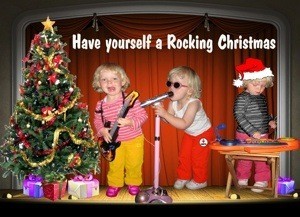 I used one of your reader's ideas to make my Christmas cards for last year. I'm quite handy on Photoshop and wanted to feature my daughter Harriet in a fun way.

I was so pleased with the result and so was everyone that received the card.

Hope your readers get inspired to do photo cards as I need some more ideas for this year!
By Janet from South Wales, UK
I am a graphic designer and an expert with Photoshop, my family expects a creative, homemade Christmas card every year. This is the one I did for 2007. I had only one santa hat so I had to take each of the kids photos at different times and put them together in Photoshop. I have them stand against a plain wall (no artwork on the wall) so it will be easier to "drop out" the background and use my own.
I designed this one for my daughter's 18th birthday. I googled People magazine covers, downloaded an image as something to go by and reset the magazine using photos of my daughter and my own captions. This was a big hit with everyone and I received numerous requests to do one for other people. Have fun!
This poster I did for my son for his birthday. He was on the HS football team that year and used the digital images from the teams website. I did this one in InDesign but you can use any page layout program. I then bought a real nice but inexpensive frame at Michaels. It will be something he can cherish forever.
By Tina from Rochester, NY