December 7, 2020
0

found this helpful
This could be many things like a viral infection, ear infection, parvo, just to name a few. Only a Vet can diagnose your fur baby. This seems that you should visit a Vet soon. Here is a link with other pet owners and issues where you can ask questions and a professional will give you there best answer- - www.justanswer.com/.../6bk7q-hey-month-old-red-nose-pitbull...
December 7, 2020
0

found this helpful
Please - when a young puppy changes his normal habits it's time to consult a vet especially when a normal pup does not eat and starts throwing up.
This could be a sign of a simple thing or it could be Parvo and the sooner you find out the better for the pup. Please tell your vet it is an emergency and I feel sure they will work you in tomorrow.
The vet will know exactly what needs to be done and start any kind of test necessary to find an answer.
The sooner a diagnosis is made the sooner treatment can begin.
Vet visits are expensive but this is one time you should not hesitate.
Let us know how the vet visit goes - please.
December 8, 2020
0

found this helpful
You should take your baby to the vet, don't wait if money is tight, hugely they have payment plans and you can pay monthly payments, you should also get a wellness plan, they are affordable. The Love they give you back is priceless. Joey Gand Maxithepug PS, please don't wait any longer.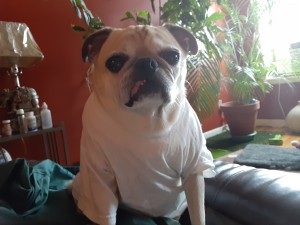 December 7, 2020
0

found this helpful
Get your pup to a vet ASAP!!! Any change like this is a sign of something wrong. It could be the pup ate something it shouldn't have and it's causing stomach upset -a minor problem in most cases, but certain things can cause poisoning.
It could be any number of things. When it comes to our pets, we want what's best for them. As a long time Vet. Tech. get to the vet now !!!!!
December 8, 2020
0

found this helpful
I'm sorry to hear that your puppy is not feeling well. It is good that the pup is able to drink. Parvo could be the culprit. If a pup loses energy, and acts as your pup is doing, I would immediately make an appointment to see the vet.
If you cannot afford to see the vet, I would cover all of the bases, by buying Fish Mox, which is an antibiotic that you can buy at Pet Smart or on Amazon. The dosage for a dog, in general is 5 to 10 milligrams per pound of dog, and I would give it once per day.
If it is parvo, the pup will need support to stay hydrated. It all depends on the pups strength and its immune system.
I would give it a bit of corn syrup, to help it feel better. Just put some on a little spoon and let the puppy lick it off.
I wish you the best, whatever it is, and that your puppy heals very soon.
December 10, 2020
0

found this helpful
This sounds like the dog has parvo and it could be very dangerous. This is a sickness that a lot of dogs have and it can kill the dog if not treated. I would not take any chances with your dog and the health of your animal. I know that with Covid it is harder to see a vet but this is a must right now. You need to make an appointment or find an emergency vet that you can take the dog to. This is an urgent matter because this sickness can spread fast and kill a dog within a few days.
December 10, 2020
0

found this helpful
Please get the pup to the vet ASAP! Our older boy pup was vomiting and had aspiration pneumonia and was very sick. The problem was caused by an infection in his gallbladder. Something is clearly going on as we have now heard of a number of dogs with this issue. Not sure if it is something bad in the food or what, but it is becoming a serious problems for dogs across the world. Heard two more cases just yesterday from a friend.
Prayers for healing! Post back with an update.
December 19, 2020
0

found this helpful
You should call the vet. It could be something minor or something dangerous, like parvo.