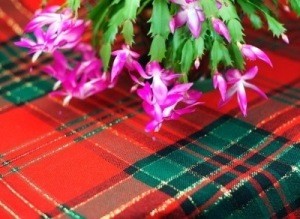 Plants make great holiday gifts. Unfortunately, the pleasure they give is usually short-lived - sometimes lasting only until the festivities are over. Christmas cacti and Norfolk Island pine trees are good examples of plant gifts that keep on giving long after the holidays are over - sometimes for generations into the future.
Christmas Cactus
The flowering Christmas cactus is easy to grow and incredibly long-lived. It's not unusual for a single plant to be passed down from generation to generation with plants being cared for within the same family for more than 100 years. Unlike desert cacti, Christmas cacti are a type of forest cacti native to the woodlands and jungles of Central and South America. They have leaf-like stems, a trailing growth habit, and with the proper treatment, are capable of producing an annual display of hundreds of multiple, trumpet-shaped flowers in white, pink, red, or purple.
The first true "Christmas cactus" (Schlumbergera x buckleyi) was bred in England in the late 1840s, a hybrid produced by crossing S. russelliana and S. truncata. Over the years, many new varieties have been developed, including the Thanksgiving and Easter cactus. These days it's hard to find a "true" Christmas cactus for sale commercially, although many of the early cultivars still exist and continue to be passed down privately through families. Most of the plants marketed and sold as "Christmas cacti" today are really cultivars of Thanksgiving cacti (Schlumbergera truncata). Because they bloom earlier than the true Christmas cactus, they can be more easily manipulated to peak in time for the holiday season.
Light: Most varieties prefer a well-lit location away from direct sunlight. Can be moved to a shady spot outdoors in summer.
Temperature: 55 to 70 degrees F during active growing period; 50 to 55 degrees F during rest.
Water: Water when soil begins to dry out. Treat as regular houseplant during flowering period (December/January) and during active growth (April-September). Water infrequently during resting period (February/March) and also during "pre-flowering" period (September/November) until flower buds begin to form. Dislikes hard water.
Humidity: Enjoys frequent misting of leaves.
Norfolk Island Pine
The Norfolk Island pine (Araucaria heterophyll), also known as the Australian pine, is native to Australia and the Norfolk Islands of the South Pacific. This tender conifer, hardy only to growing zones 10 and 11 in the United States, makes a wonderful living Christmas tree and turns into a striking, easy-to-grow houseplant when the holidays are over. In the wild, Norfolk Pines grow quickly and reach heights of over 200 feet.
When grown in pots, however, growth is much slower and the trees grow to an average of 5 feet tall. It's possible to establish a long relationship with these houseplants. Of course, how long the tree lives depends to a large degree on the care they receive. Several people I know report caring for the same plant for 25 years or more.
The most challenging part of growing Norfolk pine (especially in rooms heated during the winter) is keeping the air around them humid. Plants should be kept well away from heating vents and have their leaves and branches misted daily.
As the plant grows, it self-prunes - the lower branches turn brown and drop off. However, if this happens rapidly or if several of the plant's upper branches start to turn brown, it could be a sign that the air is too dry, or that the plant isn't receiving enough light.
Light: Bright, indirect light indoors; enjoys being moved to a semi-shady location outdoors for the summer.Water: Water regularly from spring to fall; reduce watering in winter.
Temperature: Prefers average house temperatures during the active growing season. Keep plants cooler in winter, but give them plenty of light.
Humidity: Mist leaves frequently, especially in rooms where the air is heated in winter.
Comments
Read More Comments