Janice C.
Silver Feedback Medal for All Time! 418 Feedbacks
January 13, 2008
2

found this helpful
Best Answer
Glucosamine/chondroitin helped my dog right away. Walgreen's brand is one of the least expensive and comes in gelatin capsules (check the label), so you can just open it and sprinkle it on the dog's food. It has a sweet and salty taste, not bad. I used one capsule a day for a 20-pound dog.
By Me (Guest Post)
January 11, 2008
0

found this helpful
I don't know about home remedies but this is what I give my 14 yr. old w/advanced joint arthritis:
www.drsfostersmith.com/.../prod_display.cfm?c=3307+58+14068...
I give it to her twice a day & you wouldn't even know she has it. She stills sprints up & down the stairs & jumps on the bed. She has no pain so it's completely worth it to me. There are different strengths depending on what your dog needs. I would rather spend it on my dogs to keep them healthy & happy than myself. I will do without something. Although so far I haven't had to but they are still the priority.

April 25, 2017
0

found this helpful
What do u give twice a day..the link dont work nemore..really needta no thank u
By Becki from Missouri (Guest Post)
January 11, 2008
0

found this helpful
My hubby's knees used to hurt all the time. He now takes omega 3 pills and almost never has pain. I guess it would depend on what is causing the pain though.
But at least it won't harm your dog in any way. Hope you find something that works! God bless you.
By Kathy (Guest Post)
January 11, 2008
0

found this helpful
You can give dogs childrens strength ibprofin. This helps our girl. I also give her Purina One Adult dog food that has glucosimine in it. It helped her tremendously.
By (Guest Post)
January 12, 2008
0

found this helpful
We've had good luck with glucosamine/chondroitin supplements for arthritis and have friends who are giving their dogs a supplement, with good results also. She's 10, just under 60 lb. and we're giving her 1 double-strength pill a day. Our vet says the canine version is probably better because it's formulated specifically for dogs, usually according to weight, but it is also more expensive, and the 'human' version should be fine.

Harlean
Bronze Post Medal for All Time! 148 Posts
January 14, 2008
0

found this helpful
I don't know about home remedies, but I have an inexpensive treatment that we use for our 3 Rat Terriers. Two of them are 14 years old and the other one is 11 years old. We give them each a baby aspirin (easily done if you wrap it in a bit of cheese. Wal Mart has a package of cheese that has 16 slices for 96¢ and I cut a slice in thirds). They also have a liquid Glucosamine - Chondroitin with MSM. It is a 16 oz bottle, and the price is about $12.00.
Our Terriers weigh between 12 and 15 pounds, and we give them each a teaspoonful each evening. One bottle lasts about a month. It is Berry Flavor, and they like it....they lick it right up. It really does help. Our oldest male dog was getting so bad that he was afraid to jump down off the couch because it hurt, but when he is on the medications, he doesn't have that problem.
Harlean from Arkansas
By Kim (Guest Post)
February 23, 2008
0

found this helpful
I strongly recommend that you avoid giving ibuprofen to your dog without first discussing it with your vet. Ibuprofen and acetaminophen can be toxic to dogs, causing gastric irritation and kidney damage. If you feel you know best and don't need to take this precaution, please consider the weight of your dog compared to the milligrams of the medicine.
A 200 pound human would typically take 400 mgs, therefore, you would not want to give a 20 lb dog more than about 40 mgs without your veterinarian's approval. Even then, it is probably best not to use it on a daily basis.
By Elaine. (Guest Post)
February 23, 2008
0

found this helpful
I just came from the Vets office and I have a 66 lb. Sheltie. I know that is a lot but he has a thyroid problem. Anyway, he has arthritis and he said to start by giving him 1500 mg a day of glucosamine chondroitin and also 3 aspirin a day. I was only giving him 500 a day because I didn't want to overdo it. So hopefully, if I start increasing it I can see a dif. Just wanted to let you know for those of you who were wondering how many milligrams to give, that this is what my vet recommended. And here is my baby.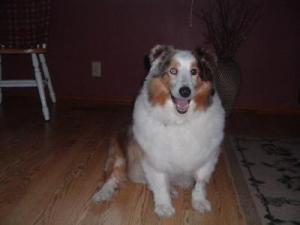 November 30, 2009
1

found this helpful
You also want to rule out the possibility that the joint pain is due to hip dysplasia.
dogjointpain.net/hip-dysplasia
Glucosamine and Chondroitin are a good start to help with the pain. Hopefully it is not full blown dysplasia as there really is not a "cure" for that other than active pain management.
My Shepard is 13 and has dysplasia and it is just a miserable situation for the poor old guy.
My vet recommended swim therapy which we are able to do every now and than and he seems to like that. You might try that as a way to get some exercise without putting too much impact on his or her joints.