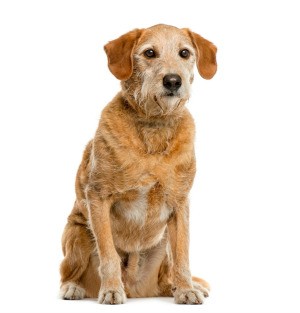 Unfortunately our elderly black Lab/Shepherd mix has begun to have hip troubles. It is very difficult for him to get up, lie down and maneuver steps. I received a prescription for Previcox from our vet which worked amazingly well, but it is very expensive and is quite toxic for continuous use. I started the Google search for some other possible remedy.
Ester C came up as a possibility, and it just so happened that I had some in my kitchen cabinet. It took about three days to see an improvement, but it worked. The dosage is 2000 milligrams, and it needs to be Ester C. Regular vitamin C is too harsh for a dog's stomach. I have not noticed any side effects, and he has been on Ester C for a few months now.
Source: http://www.workingdogs.com
By Stephanie from Albuquerque
Comments
Read More

Comments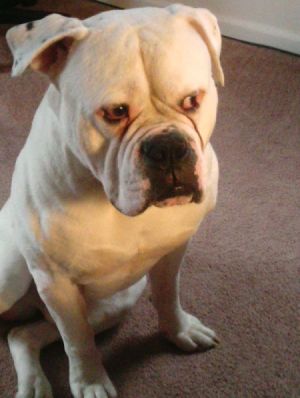 My American Bull dog has joint pain. What can I give him for the pain? I don't have the money right now to pay the expensive vet costs.
By Jamie

Answers

July 7, 2011
1

found this helpful
Best Answer
You can give your dog a Glucosamine supplement that contains MSM. MSM is a natural pain killer. We don't buy the stuff made just for pets, because they always seem to charge extra for over-the-counter pet meds. We just buy a good quality supplement and give our dogs (Labs) 1/2 of a human dose.
Also, when our dogs are in a lot of pain, we give them an aspirin. It relieves inflammation, and stops the pain, and the dogs have never had any problems taking an occasional aspirin. Never give your pets Tylenol.

July 8, 2011
0

found this helpful
Best Answer
Give him a 325 mg aspirin.

July 8, 2011
1

found this helpful
Best Answer
I give my cat glucosamine tabs every day. I bought them online here in Australia, but my Vet said they were good. You might find that your dog won't want to go outside as much, maybe he doesn't feel as though he could defend himself because of the pain, so you could keep him comfortable inside with an electric blanket in the cold weather.
My cat now lives on the electric throw I bought for the lounge! I hope this helps and gives relief to your boy.

July 8, 2011
2

found this helpful
Best Answer
"Now" a brand of vitiams in health food stores, the name of the med is (d-flame) it is a cox 2 & 5 lox enzyme Inhibitor. I have taken this for my pain and given it to my dogs with ok from vet. It is all natural, for 8 years . You give 1 every 24 hours and he will feel a lot better. If that isn't enough then you can give him 1 every 12 hours. This was a godsend for my Dobie who was bleeding and couldn't have pain meds after surgery til I asked the vet and she said there was nothing there to harm her and she felt better within l/2 hour. Good luck here she is 4 years later.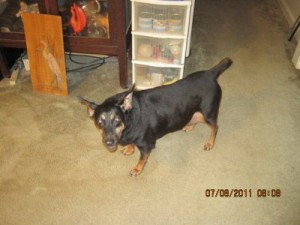 Marcie
Bronze Feedback Medal for All Time! 121 Feedbacks
July 8, 2011
1

found this helpful
Best Answer
There are a couple of things you can do for your dog. You can give him a regular aspirin once a day, get the kind that is coated and dissolves in the the intestine, not the stomach, the brand name is ecotrin, but you can get cheaper generic kinds called enteric coated asprin. Also a supplement called glucosamine really helps joint pain and has few if any side effects for humans or dogs.
I have used all of these remedies and they really help. Make sure your dog gets some exercise, not too much, but enough to keep his joints moving. I know it's difficult for dogs of this type in the hot weather, but a couple of short walks each day will help. Good luck.
Marcie in Wisconsin
Answer

this Question

Are there any home remedies for dog joint pain?

Answers

Janice C.
Silver Feedback Medal for All Time! 418 Feedbacks
January 13, 2008
2

found this helpful
Best Answer
Glucosamine/chondroitin helped my dog right away. Walgreen's brand is one of the least expensive and comes in gelatin capsules (check the label), so you can just open it and sprinkle it on the dog's food.
It has a sweet and salty taste, not bad. I used one capsule a day for a 20-pound dog.
Answer

this Question