July 7, 2011
1

found this helpful
Best Answer
You can give your dog a Glucosamine supplement that contains MSM. MSM is a natural pain killer. We don't buy the stuff made just for pets, because they always seem to charge extra for over-the-counter pet meds. We just buy a good quality supplement and give our dogs (Labs) 1/2 of a human dose. Also, when our dogs are in a lot of pain, we give them an aspirin. It relieves inflammation, and stops the pain, and the dogs have never had any problems taking an occasional aspirin. Never give your pets Tylenol.
April 25, 2017
0

found this helpful
Whats stores sell that gluco msm stuff
July 8, 2011
0

found this helpful
Best Answer
Give him a 325 mg aspirin.
July 8, 2011
1

found this helpful
Best Answer
I give my cat glucosamine tabs every day. I bought them online here in Australia, but my Vet said they were good. You might find that your dog won't want to go outside as much, maybe he doesn't feel as though he could defend himself because of the pain, so you could keep him comfortable inside with an electric blanket in the cold weather.
My cat now lives on the electric throw I bought for the lounge! I hope this helps and gives relief to your boy.
July 8, 2011
2

found this helpful
Best Answer
"Now" a brand of vitiams in health food stores, the name of the med is (d-flame) it is a cox 2 & 5 lox enzyme Inhibitor. I have taken this for my pain and given it to my dogs with ok from vet. It is all natural, for 8 years . You give 1 every 24 hours and he will feel a lot better. If that isn't enough then you can give him 1 every 12 hours. This was a godsend for my Dobie who was bleeding and couldn't have pain meds after surgery til I asked the vet and she said there was nothing there to harm her and she felt better within l/2 hour. Good luck here she is 4 years later.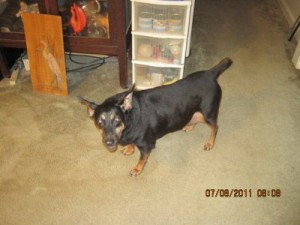 July 8, 2011
1

found this helpful
Best Answer
There are a couple of things you can do for your dog. You can give him a regular aspirin once a day, get the kind that is coated and dissolves in the the intestine, not the stomach, the brand name is ecotrin, but you can get cheaper generic kinds called enteric coated asprin. Also a supplement called glucosamine really helps joint pain and has few if any side effects for humans or dogs.
I have used all of these remedies and they really help. Make sure your dog gets some exercise, not too much, but enough to keep his joints moving. I know it's difficult for dogs of this type in the hot weather, but a couple of short walks each day will help. Good luck.
Marcie in Wisconsin
July 8, 2011
1

found this helpful
Syn-Flex 1-877-796-3539. Noticeable difference within a week for even hip dysplasia. (spelling i forgot) Combo for synovial fluid for the joints. Boswellin, glucosamine, Omega 3 fatty acid,yucca,shark cartilage. They ship free. Less than $30. Taste fine. I even take it and it has helped me. Will not cure hip dysplasia but at least allows the dog to move without so much pain.
Needed for the life of the dog. If you stop, pain comes back. I also use MSM and pay special attention to healthy diet and Nzymes granules. Nzymes help skin, arthritus, joints, allergy and allover health. 877 816 6500. Please read up on Nzymes granules. It is all true. No, i do not sell or profit from testimony. I just love animals and always want to help them.
July 8, 2011
0

found this helpful
Me again. Important. No vaccines. They wreck the auto-immune system. Often the animal has problems immediately after a vaccine. Vaccines contain mercury(now called thimerisol) aluminum, anti freeze, rotting monkey brains, animal pus, foetal cells. All documented. Google. Homeopathic remedy that helps with vaccine damage. Thuja. Vaccine will damage even further. He is hurting already.
December 5, 2016
0

found this helpful
Ignorance is illustrated here as a great problem with the general populous who do not do basic research of published literature and take anecdotal information, newsletters and things heard in the mass media as truths. So sad.
July 8, 2011
0

found this helpful
www.swansonvitamins.com/.../ItemDetail?n=0 this is the website I order it from as it is l/2 the price as in the health food stores. The l0.00 price is not a strain. Let me know if you need any further info.
July 8, 2011
0

found this helpful
You never said how you know your Dog has joint pains how long he has had this problem or his age This could be anything from Arthritis to a number of things. You need to consult your Veterinarian and perhaps have xray taken. This is just all part of responsible pet ownerspip. Good luck.
July 9, 2011
1

found this helpful
I give my lab pedigree healty bones and joints canned food and it really does seem to help him, I can tell a difference if he doesn't get it with his dry food. It costs about 1.15 a can and is well worth it.