Home Safety Tips
Solutions
Share on ThriftyFunThis page contains the following solutions. Have something to add? Please share your solution!
With the sad economy and people losing their homes, jobs, cars, etc., we need to rethink our own home safety. I live in a neighborhood that was 0.05% crime, it is now up 300%. People who have lost everything are reduced to crimes. Here are some tips for home safety that I have researched and compiled and feel this will be helpful to most.
Anything you own, if you do not want to have it taken, do not leave it in an unlocked car, on a porch, in the yard, or on a table in an unlocked home. Don't leave your purse or wallet in a store shopping cart.
It may cost a few extra dollars a month, but leave the porch lights on at night. I have a large pair of men's work boots on the porch and also leave a TV on. Do not let mail or deliveries on your porch, pile up. If you have a garage, park your car inside, that way no one knows if you are home or not. Check window and door locks often, particularly after any service calls or workers have been in your home. Burglars do not want it to be a big job to get into your house so make it hard for them to do so! Walk around your house, view it like a potential robber. What do you see? Make notes. Thorny Rose Bushes are great in front of basement windows.
Single glass panes in basement windows? Invest ASAP in Glass block protective windows.
The number one deterrent of a robber? A Barking Dog! Also, if you have a newer car with an alarm or beeper, keep it next to your bed, if you hear something, Press it and sound the alarm!
Make a plan of action with your family for fire safety or home invasion. Always have flashlights available and check the batteries in your smoke alarms often. Make everyone conscious of potential dangers of not locking up the house. There is a big difference between an Entering charge and a Breaking and Entering charge, it goes from a misdemeanor to a Felony, so don't unintentionally invite strangers inside!
Don't accept blocked phone number calls, our rule is this "If you don't unblock, we don't talk!"
Last but, not least do not leave valuables in window and door view areas especially handbags on a table seen through a window. Stay safe, be aware of your surroundings. God Bless America! Please feel free to add your opinions and tips!
Source: various police tips, internet safety article, and tips from our house
By Missy from NE, OH
I look around the house or other peoples houses I go to and see phone charger cords, iPod cords, CD cords, xBox cords, and the such. Looks innocent enough right? Wrong! Most times people just unplug their appliances and go.
I'm writing this because I know a young lady who, when her first child was little, asked her sister to lay the baby on the bed, and turn off the box fan. She unplugged the fan from the extension cord, leaving the extension cord plugged into the wall. The baby must of had an upset tummy, because she rolled off the bed and puked right on the extension cord.
She lost her baby that day, just because someone didn't think ahead, or gave it any thought of it being a safety issue.
Please pass this on to your friends - unplug anything that is plugged in when not in use, whether there are kids around or not. Get in the habit! You will never think about these dangers if a friend should come for a visit with a child in tow. It would be so easy for them to pick a cord up and put in their mouths. After all we can't be everywhere at the same time. Please pass this on to all.
By sandy from Lexington, VA
Here in the east there has been a rash of robberies, by breaking into people's homes. The thieves go through open windows. You can buy a window lock, that allows you to open the window, and lock it in that position.
The lock allows for ventilation by securely holding double hung windows in partially open position. Windows open fully when guard is released. 1-9/16 inch guard/mounting area required. 7/8 inch minimum glass inset. 3/4 x 1inch strike. Screws included.
So if you want just a little fresh air you can set the window lock, that the window is only open a few inches. You can either purchase them on the Internet or in a hardware store. They are also called window vent guards and are made by Stanley.
By Lynda
October 2, 2009
1

found this helpful
If you don't have a house alarm, you can always put an alarm system sticker in your window anyways! It may help deter burglars. Also, a car alarm can be used, if you can sleep with your car alarm remote with you.
Read More...
I have a beautiful infrared heater, which we love. I had it plugged into these two adapters. I did not know it was wrong to use these together.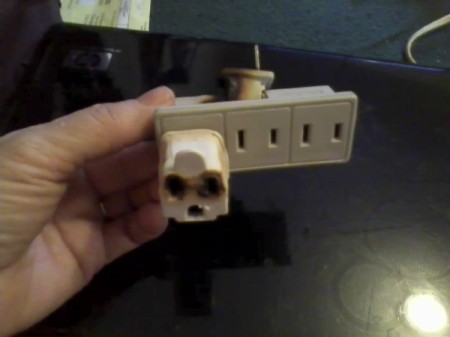 Read More...
Even during hot weather, make sure you lock your doors at night. Put poles in your sliding glass doors so no one can push them open.
Install deadbolt locks in all major outside doors. Have motion detector lights outside.
Read More...
September 2, 2017
0

found this helpful
Keep your car keys beside your bed at night. If you hear a noise outside your home or someone trying to get in your house, just press the panic button. This is a page about using the security alarm on your key chain.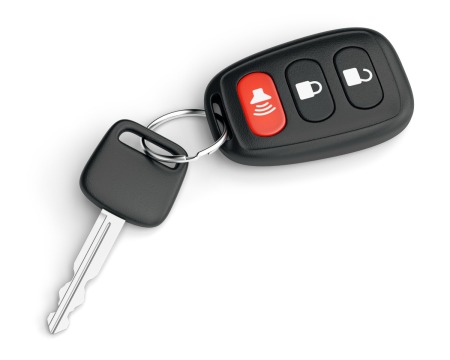 March 14, 2014
0

found this helpful
This is a page about night safety tips. After the sun sets, it is important to make sure you can safely find your way around your home and yard, and be easily seen if you venture out.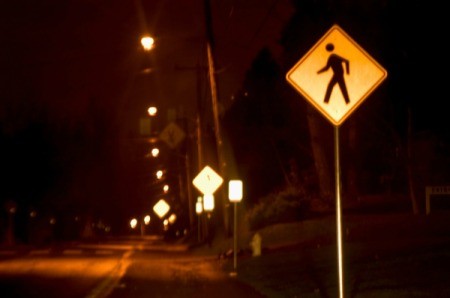 Archives
ThriftyFun is one of the longest running frugal living communities on the Internet. These are archives of older discussions.
October 14, 2010
0

found this helpful
Years ago, I used to teach first aid, CPR and home safety. These tips are still just as sound today as they were 25 years ago. Being safe does not mean you have to spend a ton of money.

If your car has an alarm, keep your keys beside your bed. If you have an intruder during the night, hit the button. The alarm will scare him off. This can also work if you have a medical emergency. After your alarm goes off for a length of time, you have a pretty good chance of a neighbor either coming over or calling to check on you (or to tell you to turn the thing off!). I tried mine, and I can activate my car from all rooms of the house except those in the basement.

Keep your cell phone plugged into the charger at night, beside your bed. If someone cuts your phone line during the night in an attempt to silence an alarm and break in, you can still call 911.

Parents/adults should sleep with one of the homes fire extinguishers in their bedroom, located between the bed and the bedroom door. If a fire breaks out at night, you have a way to get out of your room and help your family. Make sure your fire extinguisher is properly charged, and is properly rated for its location in the home (the fire department can give you information and recommendations regarding extinguishers)

Have working smoke detectors and keep the batteries current. A good rule is to change the batteries when the time changes (twice a year). Most fire departments will help you install them or change the batteries. (You provide the device and the battery). I let them install mine as I knew the FD knew better the best locations for them (and had a better ladder!!). In some towns, they will also provide the smoke alarms for elderly persons, people who are on food stamps or for renters.

Every parent/caregiver should take First Aid/CPR. It can also save time to know by name drug allergies that your family may have.

Keep the following in your first aid supplies. These are often overlooked and can save a life: aspirin and ipecac syrup. Study their uses and administer them (if the situation calls for it) as someone else calls 911 or AFTER you have called 911. Call for your help first, so they are on their way. Check your first aid box at least quarterly for expired items and to restock it.

Make sure your family knows escape routes for a fire, hiding places for a tornado, and where to meet during a major emergency.

When out, don't let little ones wear shirts with their names on it. A stranger can lure the child away more easily by calling them by their name.

When in a crowd, moms find it useful to dress the family alike. Ours family still does it - when we go to the amusement park, or the racetrack, we all wear red t-shirts. When mine were real little, I even went as far as to write my cell number on their stomach in ink - just in case they got lost. I learned this tip from a co-worker whose daughter was lost at the zoo. The security officer who found her told her to do that on their next trip.

Use common sense. It doesn't hurt to keep poisons and cleaners up out of reach even if you don't have little ones in your home. This also includes those found in the garage as well as those under the kitchen sink. For some reason, pets love to try to drink antifreeze.

Outlet covers can also be of use to stop curious little fingers AND they can also act as a form of insulation outlets on outside walls as well.

Teach little ones how to dial 911.

Keep medicines in a safe place (top of the refrigerator is good) and out of the bathroom. The bathroom should NEVER be used to store medications for 2 reasons: first, little ones are in there alone, with the door shut---and two, heat and moisture are bad on medications. Ours are in a Rubbermaid type container in the kitchen on top of the refrigerator where little ones can't get to it. Throw away expired medications. Some can turn toxic as they age.

Irons should never be kept on the ironing board when not in use. Even if they are cold, a little one or a pet can knock it off and onto their head.

Don't let a car sit and run for a long period of time in a garage.

Check windows in the bedrooms of younger children to make sure children can not climb out of them. When my girls were little, I had to screw a small block of wood above the top of the bottom sash so that the window could not be opened more than 8 inches. I did this after I found a two year old preparing to climb out the window-which was on the second floor.

If in doubt as to the safety of your home for your pets or small children, get down and crawl! Become the height of a 2 year old and see what you can find to put into your mouth, pull on, tip over, climb on.

Don't keep tools and ladders out and unlocked. This only serves as an invitation to a burglar to use these items to break into your home. Same with guns-you are best to keep them in a gun safe. If you don't have a gun safe, then keep them hidden where an intruder won't find them to use against you.

Watch your storage of flammables. This includes lighter fluid, newspapers, paper plates and even all that TP you bought on sale. Make sure you are not keeping it in an area next to something with a pilot light or that puts out heat. Coats and linens should never be stored in the hot water heater or furnace closet.

If you burn your trash, make sure you are doing it safely. Some items explode when burned; including light bulbs, batteries and aerosol cans to name a few. Others put out toxic smoke and smells such as paint cans and plastics. Recycle what you can.

Have a professional inspect your gas burning appliances on a regular basis. Change filters as recommended. Have necessary carbon monoxide detectors in your home if you burn gas, wood (or any fossil fuel) or have a garage with indoor parking.
There are many more tips to keep your home safe. These should get you started. Look around your home and see what applies to where you live and your lifestyle.

By April from NW Missouri

Answers:
Home Safety Tips
Another thing to keep in #6: Benedril (sp?) type medicine, in case someone becomes allergic to something unknowingly. (03/13/2008)

Home Safety Tips
#10 reminds of of an event that happened about 55 years ago. My mother kept the dry cleaning fluid under the kitchen sink. My baby brother was just beginning to crawl. Somehow he managed to get the lid off and drink some. Dad had the only car, and he was in another state. Mom called a taxi and explained the situation. That driver was there in no time, and broke all records getting us to the hospital. My brother was turning bluer all the time. Mom fumbled with her purse to pay the taxi driver, and he just said, "Get that baby inside!" He wouldn't take money. Billy got his stomach pumped and spent the night in the hospital. His breath smelled like acetone for about a week. He didn't talk until he was 2 1/2 years old, but when he did, he started out with "Grr, Daddy. I'm a bear." Dad cried from happiness. He'd been so sure that the cleaning fluid had damaged Billy mentally. (03/15/2008)

By Coreen Hart