Homemade Bread Crumbs
Recipes
Share on ThriftyFunCheck out these recipes. If you have made this recipe please submit a photo and let us know how it worked. Or, add your own recipe variation.
February 16, 2005
1

found this helpful
Don't throw away stale bread! I freeze mine in resealable freezer bags until I have enough to make a batch of "SEASONED BREAD CRUMBS".
Put 6 slices of torn, stale bread (white, wheat or sourdough are great) in the food processor, or blender, with:
2 tbsp., fresh, flat-leaf parsley
2 tsp. fresh thyme
2 tsp. fresh rosemary
1 tsp. fresh lemon zest
2 cloves of peeled garlic
1/4 tsp. salt
1/4 tsp. black pepper
2 tsp. olive oil.
Pulse until coarse crumbs form, scraping down sides of bowl as needed.
Pour crumbs onto a baking sheet sprayed with olive-oil flavored cooking spray (or butter-flavored), spreading into a thin layer. Bake at 200 degrees F. for 1 hour, stirring occasionally to prevent over-browning, until dry and golden.
Cool and store in an airtight container in the freezer.
These can be used to top a casserole, mix into a meat loaf, or use to bread chicken or fish for frying or baking. It also makes a wonderful stuffing mix by adding chopped onions and celery, chicken stock and melted butter to moisten.
You can substitute your favorite fresh herbs for the thyme and rosemary. I often use dill and tarragon. The parsley is a constant, but others are optional as long as the quantities remain the same. Dried herbs can be substituted for fresh, by cutting the amounts to one third that of fresh.
Store-bought crumbs contain preservatives, so you can't be sure what's in the product. Make your own, and control the ingredients AND the flavors! These will keep at least 1 year in the freezer, or can be stored in the refrigerator for up to 1 week. Be creative and ENJOY!
By Chris Cook
February 7, 2005
0

found this helpful
Ingredients:
Day old or older (some of those ends not eaten) slices of bread.
Melted margarine
Spices of choice (I use garlic powder and onion powder and even a touch of celery salt)
Directions:
Mix spices with melted margarine and spread evenly over one side of bread slices. Lay on large piece of heavy duty foil and put under broiler for about 2-3 minutes. WATCH carefully and when brown, turn and toast other side.
Let cool and place in zip lock bag.
Roll over with rolling pin to make crumbs.
Store in freezer till ready to use.
These are great for rolling chicken or fish in or sprinkle over mac and cheese or even sprinkle over salad.
By barbnov55
Solutions
Share on ThriftyFunThis guide contains the following solutions. Have something to add? Please share your solution!
Save your bread-ends in a plastic bag in the freezer until you have a quart or more. These should not be dried out first. Thaw out and process in a blender or food processor until crumbs are coarse. Spread out on a pan and let dry. Regrind them into fine crumbs. Now you have bread crumbs to use in recipes.
Mix them with Parmesan cheese, garlic powder and whatever herbs you like and use them for breading chicken or pork chops to bake in the oven. This makes a delicious crunchy coating.
Mix them with butter, cinnamon, and sugar for a sweet, crunchy topping for muffins, apple crisp, and such.
By Jennifer from Butternuts, NY
You can make bread crumbs with any leftover bread pieces by grinding them up in a blender. They'll be coarse. Dry them on a cookie sheet for a day or two, then grind again. Add seasonings of your choice, and they will be ready to use for breading on chicken, fish, or pork chops. Store in freezer so they don't develop an stale taste.
By Jennifer from Gilbertsville, NY
Each and every time I make homemade bread, I cut the entire loaf into slices, then I save the crumbs I've caught from underneath the cooling rack onto a piece of waxed paper for later recipes.
By Brianna Southworth from Dutch Harbor, AK
Make your own bread crumbs with a blender or grater. Place the crumbs on a baking tray and bake at 212 degrees F. Crumbs are dry and crisp. Add spices or herbs or pepper and store in an airtight container. You can crumb your chicken, fish or veggies.
By Dorothy from SA
September 26, 2016
0

found this helpful
This is a guide about making dry bread crumbs. You can quickly and easily make dry bread crumbs at home to use in any recipe.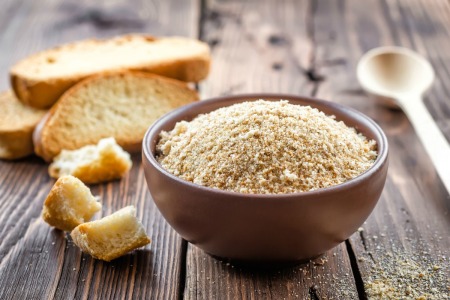 Questions
Ask a QuestionHere are the questions asked by community members. Read on to see the answers provided by the ThriftyFun community or ask a new question.
I have some bread in my freezer (heels that we don't eat) and would like to make bread crumbs with them. What is the quickest easiest way to dry these out (without making toast) to make the crumbs? Thank you in advance for your suggestions.
jmz2005 from Illinois
Answers
August 24, 2006
0

found this helpful
if they are thin sliced, i put it in a large baking pan at 180 degrees (warm) for one hour, then let it sit in the oven after it is shut off for another. I then place it in a sturdy bag, like a freezer bag (clean & re-used) and squeeze the excess air out. I use a rolling pin and crush the dried bread, keeping the bag flat. Then I use my skimmer (flat round spoon with holes) to "sift" the big chunks out (they'll always be left behind, thanks to the crust!) Those I leave for stuffing or for the birds if too hard. The rest (only about a cup or so!) I mix with italian seasoning and garlic powder for bread crumbs, and store in the refridgerator or freezer for long term.
There may be an "easier way with a food processor or something, but this is how I learned to do it. And we don't use them very much, so we don't bother to buy crumbs. We end up eating the heels too, so we reserve portions of homemade bread for this.
August 24, 2006
0

found this helpful
If you have a gas oven - just place in on a cookie sheet & the pilot light will dry them out - afterwards you can keep them in a tupperware container until you want to use.
My g'ma did this for yrs & every thanksgiving my dad would go to her house pick up the tupperware container & then tear the stiff bread into pieces for his dressing(stuffing but not stuffed) - it was the best - he also used them for a porkchop bake where he softened the bread pieces like he was making dression & layered it w/chops & baked so the chops were buried into the dressing.... yum yum memmories...
By (Guest Post)
August 24, 2006
0

found this helpful
I make bread crumbs out of dry OR fresh bread. Simply tear it into pieces and put it in your food processor. Spin a few times and you have nice fine bread crumbs for any use. If they need to be dried out, spread it on a cookie sheeet for an hour or so. Works like magic!!
By mary Ann H. (Guest Post)
August 25, 2006
0

found this helpful
Instead of the freezer after this keep the heels in a paper sack. They will dry just fine. I do this for bread crumbs and for bread for dressing.
By Judy(origanally from Illinois) (Guest Post)
August 25, 2006
0

found this helpful
I have been making my own bread crumbs for years. I usually leave the two first and last pieces of bread in the bag as I use up the "good slices". Then, when the 4 slices are left, I take them out of the bag,lay the bag out flat and sit the slices on the bag and let the bread air dry. Once they are sufficiantly dry I put them in a ziplock bag and store in my cupboard. It doesn't take long to accumulate enough slices to make crumbs. I put them through my blender until desired consistancy. No lumps!---When out of crumbs but in need of them quickly,l turn the oven on around 150%, spread fresh bread on a large cookie sheet and bake until dry.
By Scott (Guest Post)
December 21, 2007
0

found this helpful
Place the slices of bread in a brown paper bag and roll the top closed loosely. Set on a heat register for a couple of days and walla! My family has done this for generations to make Stuffing for the big ole bird.
Answer

this Question

...
Archives
ThriftyFun is one of the longest running frugal living communities on the Internet. These are archives of older discussions.
March 29, 2010
0

found this helpful
If your family does not like to eat the heels of bread left from a loaf, you can put them in your food processor and make it into fine bread crumbs. We usually store it in the bread crumbs container in the refrigerator to keep it from molding. It is perfect because we eat wheat bread and it is hard to find wheat bread crumbs. You can get some fiber while you have your meat.

By Doreen A from Owasso, OK
September 22, 2009
0

found this helpful
Do you make your own bread crumbs? This is frugal cooking at its best. Make fresh bread crumbs from stale bread OR from toasted bread by placing torn bread into the bowl of a food processor or using a blender.

If all else fails, put in a bowl and use your hand mixer and blend until the crumbs are fine or the desired consistency. I suggest now is the time to add favorite seasonings such as onion or garlic powder with some dried parsley. Store in a resealable bag in the freezer for up to 6 months and have handy any time you have a need. Please note, you do not have to defrost the bread crumbs if they are totally dried before freezing.

By kittyhassparkle from Tacoma, WA

Answers:
Making Your Own Bread Crumbs
You can use a hand grater, too. Dried bread is the easiest, but even fresh bread will break up this way. I save mine for stuff like meat loaf and breaded zucchini. With my own bread crumbs, I can control the amount of salt that goes into the food -- really nice if you've got high blood pressure or heart disease. (11/02/2005)

By Coreen
Making Your Own Bread Crumbs
I use the food processor and, as the bread (or cornflakes) are crumbling, I add a little virgin olive oil. I find this easier than adding oil or butter to the top of the chicken pieces, etc, it helps the crumbs stick without having to dip in egg first too. for fish "Shake 'n Bake." I add a little lemon juice and lemon thyme and a little celtic salt. For chicken, I add savory and poultry seasoning and a little celtic salt. I put crumbs in clean milk cartons in the freezer, (I don't freeze in plastic any more). I wash out all my "cardboard" milk, cream , ice cream, etc. cartons out and use them I freeze stews, chili, steakes, fish , chicken pieces etc all in these cartons now . (06/17/2008)

By Barbara
September 19, 2006
0

found this helpful
Save the two crust ends of bread in the freezer, then when you need to make stuffing or bread crumbs for a recipe you have the bread on hand. You can even save the bread in the very bag it comes home in from the store.

By Suzanne

Answers:
Save Bread Ends for Bread Crumbs
I also save the bread ends to make bread pudding. Since we never have leftover bread the ends work perfectly and otherwise would not get eaten. (07/01/2004)

By Pattie
Related Content