I was just reading a segment on leftovers and the many good ideas people had for using them. To add to that discussion, I wanted to share what I do with breadcrumbs.
All stale bread, muffins, pancakes, wraps, buns or rolls are set on a cookie sheet to dry in my oven (cold). It becomes a habit to remove what's in the oven before you turn it on. When everything is dry, I use my food processor to make crumbs.
These are then used for homemade shake and bake type coatings for meat, as well as a meat-extender in meat-loaves, ground beef patties or meatballs. Even in baking with a canned fruit, it is good to put a thin layer of breadcrumbs between your cake base and the fruit. This absorbs some of the extra moisture and will not be noticed in the finished product.
We often waste just because we can, and that reflects how we think about our plenty. Someone said that every time we waste we are disrespecting those who go hungry. After all, we did not "deserve" to be born into our abundance any more than someone halfway around the world "deserved" to be born into their poverty. Let's not treat our abundance with disdain, but rather live carefully so we have more to share.
By Dorothy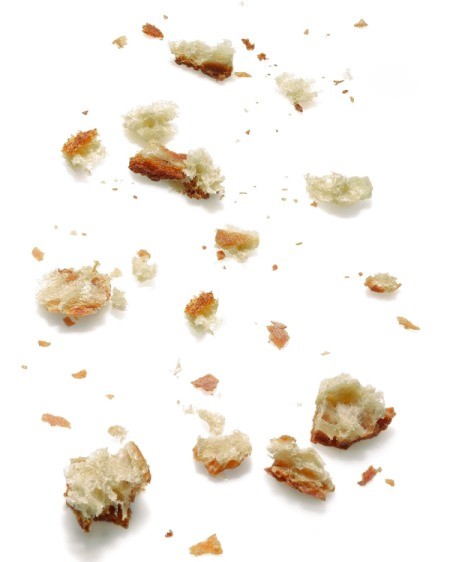 Read More or Comment...
Add your voice! Click below to comment. ThriftyFun is powered by your wisdom!
March 28, 2010
0

found this helpful
Hi Dorothy. I do exactly the same with all my leftover bread, rolls etc. I then divide them into two. One half I add herbs and the other half I add spices. Put them into airtight containers in the fridge they keep indefinatly. Ready to use on chicken, fish or anthing else that needs breadcrumbing. Jan UK
April 5, 2010
0

found this helpful
Hello Dorothy,
I think that your tip is great, but even more I think that your last paragraph is so very very true and only wish that more people thought about this.
February 23, 2012
0

found this helpful
Like Judy, I tear my bread into pieces before putting into the oven to dry. I place these dried bread pieces in a large air-tight container.
I use them to make homemade stuffing, breadcrumbs, homemade shake-n-bake, topping for casseroles, etc.
Add your voice! Click below to comment. ThriftyFun is powered by your wisdom!
How do I make bread crumbs if I don't have a blender or food processor? Please help. I have a bunch of stale bread to use up.

Sandra from Pennsylvania

Answers:
Making Dry Bread Crumbs
You do it like my mother used to do it when I was a kid (the year dirt was invented): Put the bread in a bag/sack/cloth and whack it with a rolling pin. Instant crumbs! (02/17/2009)
By Judi
Making Dry Bread Crumbs
I agree with Glennsmom, but I do it with a ziplock freezer bag (they are strongest)with the air squeezed out and my trusty rolling pin. If it is bread, just roll until you are happy with the crumbs. This good because it cuts down on mess and waste and you can store the crumbs in the bag if it has no holes. Buns may be harder. I take my food grater and set it on waxed paper, then grate the buns to make crumbs. Good exercise that! (02/19/2009)

By Mary Lou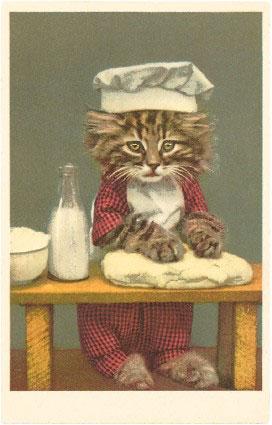 Making Dry Bread Crumbs
I grate mine. It's pretty fast. But stand the grater in a big bowl so the crumbs don't go all over the kitchen. It's so nice having bread crumbs on hand all the time! (02/19/2009)
By Coreen Hart
Making Dry Bread Crumbs
Hey, if you're a "semi-domesticated" woman like me, (lol!) and don't own a rolling pin, you can always roll a glass tumbler over that stale bread...

Or I suppose you could refill a 2-liter bottle and close the lid really tight and use that. (02/19/2009)

Making Dry Bread Crumbs
Pull your bread apart into tiny pieces, let sit out on a cookie sheet until dry and take your rolling pin and crush them up. (02/20/2009)

By Judy S.
Making Dry Bread Crumbs
Any number of ways work. Sometimes I just hate to get out a noisy machine and prefer simpler technology. The same bag/sack/ kitchen towel wrap/ziplock rubbed between the palm of your hands/ or hands (or hammer :-). Air out the the baggie helps. I swear you can even throw the baggie on the floor! (like I've done to crush ice) and it will work too. Drying the bread first as was already suggested is the key.
I've had the very best luck for "soft" crumbs (not dried first) with the grater. Can dry after grating if you like, just be careful of the time drying if you use the oven, they'll burn quickly. (02/20/2009)

By Laura Knight
Making Dry Bread Crumbs
You can put the bread in a gallon size Ziploc bag and put the bag on a cutting board or hard surface, and pound it with a rolling pin. It takes longer than using a grinder, but it still works. I hope this helps! (02/22/2009)

By Abby Bedford
Making Dry Bread Crumbs
OR for those with no rolling pin, put the dried bread back into the bread bag (made a little heavier that food storage bags) and break up what you can with your hands--then use the heel of your hand to crush the rest.

I have a variety of rolling pins, so that is never a problem. Make sure you dry your bread, not toast it. Changes the taste. I put FRESH BREAD on a pan, set in to the oven on low, SET THE TIMER 1 hr at a time, and keep checking for the right dryness. The dryer it is the faster it crumbs up.

STORE your crumbs in the fridge or freezer. I hate the phrase STALE BREAD, as that has a taste attached. I just keep a supply of dried bread ready for use. My meatballs required dried bread but not fine CRUMBS, so I have a container for that. Make sure you check the quality every few months if you have not used it. Give it to the birds and start again. (03/10/2009)

By Grandma J