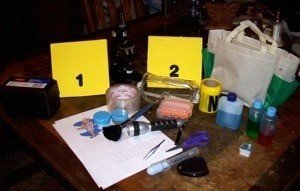 Do you have a budding CSI in your midst? Have you recently priced a toy CSI detective Kit? My 8-year-old grandson William loves to watch CSI and recently asked me to go online and find him a CSI kit. After my near heart attack from sticker shock, I decided that I would do a little research. After watching four back-to-back episodes of CSI on Spike TV and looking at the kits online, I had a little knowledge of what I was up against.
So my brain went to overtime and here is what I came up with from my home and the dollar store and a little help from freecycle. Now you don't have to have much crafting experience to put this together, but you do need to have an active imagination when it comes to making things up to become evidence. I tried to make things simple and easy and non-toxic that is why we used food and baby powder for the fingerprinting. I know when we were in school we used the lead from pencils that we ground up, but in Campfire girls, we used cocoa and baby powder and it worked great and was non-toxic.
After looking at the kits I knew that I could do this and for a lot less than the sixty and up price tags that the stores were looking to take from me. First thing I did was put a request into freecycle to see if anyone had a microscope that they would be willing to give me. With in twenty minutes I had a response from a wonderful lady that had a microscope William could have and not only that, but she offered to bring it to him. You can buy a used microscope from yard sales or thrift stores, just keep your eyes out. Also ask around to your friends and neighbors that have grown kids, they just might have one gathering dust in the attic. New glass or plastic slides for a microscope can be bought a Hobby Lobby or a hobby store or online. They also sell microscopes. Some home schooling stores also have them reasonably priced. As I see it, this is the most expensive part of the kit. I also added some fun things to the kit that were not in the bought kits such as a flashlight, a cheap digital camera and ID badge and fake gangster rap sheet cards. The ID badge and fake bad guy rap sheet cards I made on the computer and one information sheet that I wrote out how to take fingerprints.Here is what I gathered from around my home:
Q- Tips that I cut one end off of (specimen swabs)
spice jars (specimen collection jars)
plastic Ziploc bags (evidence bags) - use the freezer type that you can write on
string for measuring distances of bullets
1 plastic gun (evidence)
1 plastic knife (evidence)
1 piece of rope (evidence)
1 small bug juice bottle which I labeled poison (evidence)
2 large pieces of cardboard, which I used for, evidence markers
2 sheets of yellow fun foam and some foam numbers (I had these from another project), one small notepad for taking notes at crime scene
magnifying glass
baking cocoa and talcum powder white on dark things the cocoa on light colored things one roll of packaging tape (fingerprinting)
A stack of index cards (fingerprint cards) for field kit and lab
sidewalk chalk
flashlight
my first digital camera
Things I bought at the dollar store:
whisk broom (trace evidence collection)
goggles (for evidence collection)
travel bottle kit - one with the small containers for like lip gloss containers. These hold the fingerprint powder. Other bottles can be used in the lab.
food coloring
one black stamp pad to fingerprint bad guys
one crafting bag (the one I have looks like a mini-tool bag with pockets on the side but you could use a tool box with a handle or makeup caddy just spray paint it silver.
I also found some yellow tape that said "No Parking" at a yard sale, but you could buy yellow caution tape at Home Depot or Lowe's or get it a a party store.
index card box
children's medicine eyedropper
This is how I put it all together.
CSI Field Kit
fingerprinting tape, powder and brush (lip gloss containers with cocoa and powder, packaging tape, and make up brush)
whisk broom and more tape for trace evidence collection
goggles
notebook
digital camera
flashlight
Ziploc evidence bags (I took a black Sharpie and wrote "Evidence" on the white strip)
string
evidence markers
soap box from travel kit with Q-tips
magnifying glass
tweezers
index cards
spice jars for evidence collection
ID badge
piece of sidewalk chalk for outlining the position of the body
Lab
microscope
the rest of the travel bottles with colored water put in them
fingerprinting pad
fake bad guy rap sheets
eyedropper
Evidence
I am sure there are other things you can find to add to your evidence stash, but right now these are the only things I had around my house.
Here are the things you need to make:
Evidence Markers: I cut out pieces of cardboard and folded them in half. Using spray glue I covered them with the yellow foam and then using self-sticking numbers I put them in the center of each side.
ID badge: In Word print your child's name, your police dept. name and CSI investigator. Use a fancy font and you can also add some police clipart which you can get for free on the internet. While you're looking for clipart look for some cartoon gangster pictures also, you will need them for the rap sheets
Fake Gangster Rap Sheets: Now if you have a sense of humor you could photograph your brother, husband, and Grandma for the fake bad guys, but if not use some clip art off the internet. You will want to put their picture to one side then add a fake address and height, weight, and hair and eye color. The across the bottom you are going to need to put some fingerprints. Ask around, you probably can get some of your friends to let you fingerprint them.How to use fingerprinting kit:
Find object that likely has your suspect's fingerprints on it. With the brush lightly coat with dark powder if it is on a light colored surface or with the white powder if it is on a dark surface. Cut a piece of tape and gently lift your print now put your tape on a index card and mark the location that you found it with the date and time. Put into an evidence bag.
How to collect trace evidence: Using your tape place sticky side down and collect your evidence. This then can be placed on an index card or on a slide for your microscope.
How to measure distance with your string: Measure from where the body is to the first shell casing. Be sure that you marked all your bullets with your marker. Now you can figure where your shooter was standing.
Comments

August 18, 2008
0

found this helpful
You Go Grandma! That was awesome! I thoroughly enjoyed reading your post with your endless imagination! I'm sure he's going to love it! I know you put some time & effort into it which I'm sure he'll appreciate. It looks like a great kit & probably much better than the high-priced store bought ones! Grissom & his crew might even get jealous. ;) Thanks for posting! :)
Leah

Cyinda
Bronze Post Medal for All Time! 213 Posts
August 18, 2008
0

found this helpful
I applaud you for your creative ingenuity... & I know that these days kids grow up fast... & maybe I'm a bit old-fashioned... But this show seems to be a little to "adult" for an 8 year old child... what with all the dominatrixes, dead bodies & extremely detailed autopsies. In fact it grosses me out so much, that sometimes even I have to turn my head or turn the TV off.
I'm sure you probably have no control over what TV he watches because he's your grandson & most likely doesn't live in your home. But I just had to bring this up because I would worry about nightmares & the child "not feeling safe" even though they may be fascinated with the adult-content show... But you sure did a great job with the kit!
By Annie (Guest Post)
August 19, 2008
0

found this helpful
This is awesome. I'm a 19 year old female and wouldn't mind someone giving this as a gift to me. Good work and excellent imagination.
I was going to go to school to become a crime scene investigator and opted out for nursing instead. This is my favorite post of all time.
By st. nick (Guest Post)
August 28, 2008
0

found this helpful
I have always wanted a CSI kit for my elves. I am Santa Claus.
Read More

Comments