Reusing Christmas Cards as Gift Tags
Solutions
Share on ThriftyFunThis guide contains the following solutions. Have something to add? Please share your solution!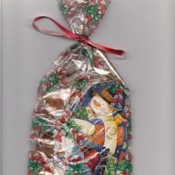 Save your used gift cards. Cut the fronts of the cards to make lovely gift tags using fancy edged scissors if desired. Punch a hole in the top of the tag, then thread a colored string (crochet cotton works) through. Package them 20 tags to a cellophane bag, tie with a ribbon, and give out to friends as little 'friendship gifts' before Christmas. You can reuse all occasion cards too by making gift tags and bookmarks!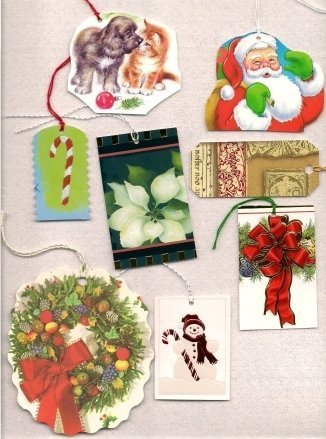 Source: This recycling idea was passed to me by my mother.
By linn.2009 from Dartmouth, Nova Scotia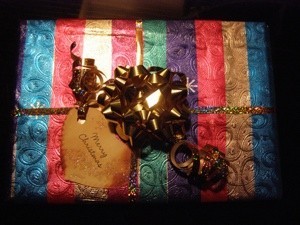 Here's a way to get use of used Christmas cards again. Talk about great recycling!
Save your cards that are mailed to you year to year. Find all the cute and beautiful cards and cut out the parts you like the best. You can cut anything you want out of the cards and use those as gift tags on your presents. After cutting out the images I like, I might use pinking sheers or scrapbooking scissors or just regular scissors. Then I sometimes punch a hole with hole punchers and run a ribbon from my decorative display on the package through the hole and tie it on. The flip side will be for the TO and FROM part.
Note in the photo how nice it looks. Sometimes I just tape them on. Endless possibilities and it saves you from having to buy package tags!
By Michele from Marysville, Ohio
I save Christmas cards (my own and from friends) and cut out any large shapes on the front (nativity scene, angel, snowman, Santa playing soccer or tennis or football, candy canes, reindeer, etc.). I embellish the cut-out with tiny cotton balls (for snow), candy cane (candy), a star for the nativity scene, etc. I punch a hole on the top of the cutout, thread a ribbon through the hole and add a punched shipping tag (on which I've printed the recipient's name). It's fun trying to match the package/and tags with the person receiving the gift, and everyone looks to see which package belongs to them based on the tags! I also write on the blank tag why I chose the picture tag for that person (in case it connection isn't obvious!).
By Casey from Plano, TX
While putting away Christmas this year and taking down all my Christmas cards I decided to cut up the cards and make nice large gift tags for my gifts next year. I did it this year and loved it, because I could write a loving note with plenty of room to write it, instead of the usual "To" and "From". I was able to fill a large plastic bag of gift cards.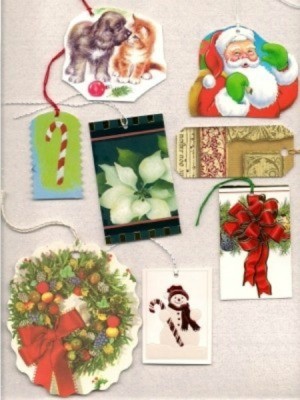 Save your Christmas and Greeting Cards. You can reuse the fronts of the cards by cutting unique gift tag size cards. You can use pinking shears or fancy edging scissors for variety and you should be able to get several tags from the card fronts. Punch a hole in the top of the tag and thread a colorful string through - crochet cotton is good. Package them up in small cellophane bags (24 to a bag) and tie a ribbon around the top of the bag to close. Give these to friends for a little gift or use them on your next year's Christmas or special occasion gifts.
This is a great recycling project for school children after Christmas each year. When word gets out your friends will be giving you their cards for recycling.

Source: I made these with my mother when growing up and I made them with my daughters, so the tradition goes on!
April 28, 2005
0

found this helpful
Cut the top part of used greeting cards off, then cut this down to whatever size (and shape) you wish, depending on the design. (If it's an angel, just cut her out.) I also like to use hearts or other shapes that perhaps match the occasion for the gift you will use them on.
Read More...
Archives
ThriftyFun is one of the longest running frugal living communities on the Internet. These are archives of older discussions.
January 31, 2011
0

found this helpful
Don't throw away last year's Christmas cards. Use the pictures on old cards to cut gift tags for this year. Cut out a star, a tree, a manger, or whatever makes a striking image, then punch a hole in it. Thread through some colored twine, and you've got a great gift-tag for this year's gifts.

By Lucy from Oxford, UK
July 7, 2010
0

found this helpful
At the end of the holiday season, I pack away all the holiday cards received that year to use as a Christmas card list guide for the next year and also to reminisce. When I unpack my decorations the next year, I re-read the cards, cutting them at the creases and disassembling them for crafty gift tags for this year's gifts!

Cut out a picture from the holiday card and use a hole punch to thread ribbon through. Then write "To:" and "From" on the back of the gift tag and attach to your package! No more scrounging for sticker tags or pricier cardstock/decorative tags. Not only am I recycling the paper, I'm also saving $ and enjoying last year's Christmas cards all over again. To be even greener, be sure to recycle the scraps of cards that you don't use for the gift tags.

By Kelli from Tulsa, OK
Answers:
Reuse Christmas Cards as Gift Tags
Good idea :-) As long as nothing is written on the back of the front side they can be cut in half and used as post cards and then use the back side of the other portion as scratch paper :-) (12/13/2009)

By Deeli
December 18, 2009
0

found this helpful
Not wanting to throw them away, for years I have recycled them as gift tags on my Christmas gifts. Select the tag from the front of your card and cut the size needed, tape on package or, using hole punch, can be added to handle on bags.

By Marcia from New Sharon, Maine
Answers:
Make Gift Tags From Christmas Cards
Christmas cookie cutters can be used as templates to cut out the tags. (01/04/2008)

By MCW
December 11, 2009
0

found this helpful
Reuse Christmas Cards As Gift Tags
Each year I save our Christmas cards and use them the next year to decorate the Christmas presents instead of buying bows and name tags.
By Betty from NC
Answers:
Old Holiday Greeting Cards As Gift Tags
This IS a good way to re-use old Christmas cards! Great idea! ...You could also do the same thing with kids birthday cards for birthday gifts!

Another one of my favorite ways to recycle Christmas cards is to Crochet around them to make hanging ornaments for the tree. I just got the idea from here on ThriftyFun from this post from last week: http://www.thriftyfun.com/tf35986354.tip.html (12/08/2008)

By Cyinda
Old Holiday Greeting Cards As Gift Tags
My daughter and I always enjoy making our own holiday gift tags every year, and they are cherished by the gift recipients. This year I received a gift in November that arrived in a department store gift box with a design of dots in holiday colors. Unfortunately, the gift giver had written on the box so I couldn't re-use it. Instead, I cut it up into gift tag-sized pieces, which my daughter and I are now busy decorating (12/09/2008)

By Blue Ginger
Old Holiday Greeting Cards As Gift Tags
I have made gift tags out of old cards for several years now. I just cut out part of the picture, punch a hole with a hole punch and attach with ribbon. This especially works well since I mostly use (and reuse) gift bags instead of wrapping paper. (12/09/2008)

By teddygirl
Reuse Christmas Cards As Gift Tags
My mom has done this since the sixties, and we still all do it. Makes really nice packages. I have noticed that people are not sending Christmas cards as much as they used to- I know I don't- I guess due to higher postage rates and the economy in general. My BIL's neighbors were kind enough to send us their cards after the holidays last year when he told them about our using them for gift tags. What a nice gesture. (01/08/2009)

By Susanna
Reuse Christmas Cards As Gift Tags
This is a fantastic idea! Thank you (01/09/2009)

December 8, 2008
0

found this helpful
Don't throw out your greetings cards once the holiday season is past. When you have sorted out the special ones you want to keep, go through the rest and save any with pictures that can be cut out (i.e. no writing on the back) - which is usually most of them. The cut-out smaller cards you get can be used for gift tags next year. I had this tip from a friend years ago and have done it ever since. I rarely need to buy gift tags at Christmas and it's a good way of recycling those lovely cards we just otherwise throw away or recycle with the other waste paper.
By Gill
Answers:
Old Holiday Greeting Cards As Gift Tags
We did this "back in the day" when I was a little kid....1960s/1970s. Nowadays I do this, especially for larger gifts where I want the tag to be noticed, and use my decorative edge scrapbook scissors to make the cuts. Punch a hole and add some (often recycled) ribbon for a nice touch. This makes a fun rainy day project to do with your kids near the holidays, and can even be done as you're putting things away after Christmas to prepare for the next holiday. They could add stickers and glitter, etc., to embellish. I'm sure other holiday and greeting cards could be used for birthday gifts throughout the year, too. (10/27/2008)

By Judy B in Round Hill VA
December 8, 2008
0

found this helpful
Don't throw out your greetings cards once the holiday season is past.
Read More...
January 4, 2008
0

found this helpful
Click to read more ideas from older posts on ThriftyFun.
Read More...
Related Content