Homemade Creamy Vegetable Soup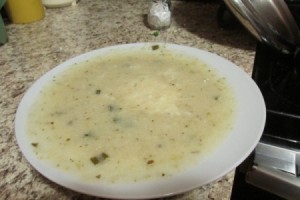 Today I had to shop for vegetables for this soup because I am on a liquid/soft diet due to jaw surgery. So my goal has been to eat healthy. So I picked up all produce, came home and decided to start a potato soup. Wait until you see what I put in this soup? It is so nutritious and full of vitamins.
Ingredients:
2 32 ounce cartons of chicken broth (opt. you can use fat free and low sodium)
2-3 large white new potatoes, peeled, cut-up small
1 medium Vidalia onion, peeled and cut up
2 stalks of celery, cut up
4-5 pieces of fresh broccoli, cut up
4-5 pieces of cauliflower, cut up
4 scallions, snipped
5-6 fresh basil leaves, chopped
3 large cloves garlic, chopped
1 cup half n' half
1 8 ounce bag of shredded white cheddar cheese
seasonings to taste; Go easy on the salt, test taste before you salt it. I used; Old Bay seasoning, black pepper, dried parsley, thyme, rosemary, marjoram, 2 bay leaves and 1 teaspoon of sugar.
Steps:
Using a large soup pot add chicken broth.
Using a chopper or a food processor, puree all the vegetables, starting with the cubed potatoes, to thicken your soup. Then puree onions, celery, broccoli, cauliflower, and garlic.
Add all pureed vegetables to the broth and keep stirring. After it comes to a boil, reduce to a simmer.
Add all seasonings. Let simmer for an hour.
Add the half n' half, snipped scallions and chopped basil.
Just before you are ready to serve add all of the shredded cheese.
Ladle this into soup bowls, you can add extra cheese (opt) and it is great topped with seasoned croutons.
Add your voice! Click below to comment. ThriftyFun is powered by your wisdom!