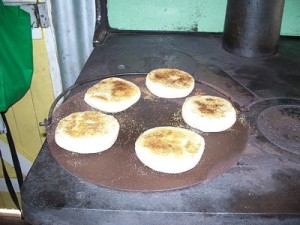 Wholemeal muffins, because you make it at home.
Ingredients:
1 1/2 cups milk
4 cups wholemeal flour (your choice) or bread flour
1 tsp. caster sugar
1 1/2 tsp salt
1 Tbsp. melted butter
1 1/2 tsp. instant yeast
rice flour or polenta (fine) for dusting
flat griddle or heavy base frying pan
Directions:
In a large bowl, sift all the dry ingredients, make a well in the center, add the milk and melted butter. With a blunt knife, start working the liquid into the flour. Hands in now and work the dough into a ball.
Put on to a floured surface and knead for 5-10 minutes, till you feel it becoming very elastic and smooth. (If its too dry to work, add more milk drop by drop. If too wet, add more flour.) Pop it back into the bowl and cover with cling-wrap and put it into a warm place for 20-30 minutes.
After the dough has rested, roll it out 1/2 inch thick, and have a cooky cutter or any 3 inch round cutter. I use an egg ring pressed into the dough to make the muffins just like shop ones.
Then dust each one with polenta or rice flour, put onto a floured tray, cover, and let the muffins rest in a warm place 20 minutes or until they have risen.
Heat the griddle or frying pan on medium heat, only slightly oiling the pan. Cook the muffins for 7 minutes each side, a few at a time. Serve warm. Makes 9.
Servings:
9
Time:
40-50 Minutes Preparation Time
14 Minutes total Minutes Cooking Time
Source: Bread making book
By gail from Qld Australia
Read More

Comments
Is there a recipe to make my own English muffins?
By knitter926

Answers
March 6, 2012
0

found this helpful
There are many online. You can do a Google search for English Muffin recipes but one I like is Alton Brown's from Food Network: www.foodnetwork.com/.../index.html
March 6, 2012
0

found this helpful
I have an English Muffin Loaf recipe if you'd like that.
March 6, 2012
0

found this helpful
The reciped I use is from kingarthurflour.com
The only change I make is adding about 1/4 cup less water than they call for otherwise the dough is very soft and hard to handle.
Answer

this Question