Homemade Journal Ideas
Solutions
Share on ThriftyFunThis guide contains the following solutions. Have something to add? Please share your solution!
Christine Weber
0

found this helpful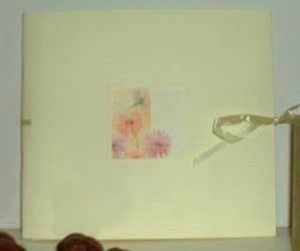 A handmade journal for memories, lists, and recipes. Made of fine paper and a beautiful photo, you may want to make one for yourself as well!
Materials and Equipment:
a large plastic bag or several sheets of newspaper
a thick piece of cardboard or plywood to cut on
a pretty greeting card or photo
a velum envelope (optional)
an X-acto knife
a single-hole punch
a piece of ribbon, 1/4 - 1/2 inches wide and several inches long
craft glue or tape
photo corner stickers (optional)
a 30 inch long ruler with a hard edge
a pencil
an eraser
one sheet of thick, cardstock quality paper, 7 x 17 inches or larger
ten or more sheets of good quality paper of an identical pattern, 7 x 17 inches or larger
a long reach, heavy-duty stapler (like those used in schools) OR a thin, plain paper journal (available at craft or stationery stores)
Instructions:
Before starting, clear the table and cover it with newspaper or a large garbage bag to avoid getting glue on the table. Place a hard cutting surface such as thick cardboard or plywood on top of the table to protect it from cuts made with the X-acto knife.
Place the piece of cardstock quality paper in front of you. This is going to be the cover of your journal. Using the pencil and ruler, measure off and lightly outline an area that is 7 x 17 inches. You will be folding this paper in half to create a 7 x 8 1/2 inch journal. If you would like a different size, you need to adjust the measurements accordingly.
Using the X-acto knife and the hard edge of your ruler, cut along the lines you have drawn.
Place the pieces of good quality paper in front of you. These are going to be the pages of your journal. Repeat steps two and three for this paper (you can usually cut three or more at a time), but this time cut the paper to slightly smaller measurements (about 1/4 inch smaller) so the paper will fit neatly within the cover.
Fold the cover and each of the pages in half. Slip the pages inside the cover. They should just fit neatly inside.
Open the book and staple length-wise along the crease. Three evenly divided staples should do it. If you can't find a heavy-duty stapler or are pressed for time, you can "cheat" on this craft and use a pre-made paper journal. If you do so, follow the next steps to personalize your journal.
Place your pretty greeting card or photo in front of you. This card or photo will be placed in a "window" on the cover of your journal. Decide how large you want the picture to be and outline these measurements on the back of the picture lightly in pencil.
Using the X-acto knife and the hard edge of your ruler, cut along the lines you have drawn.
Open the front cover of your journal and lay it flat on your cutting surface so the back of the front cover is flush against the table. Outline measurements that are about 1/4 - 1/2 inches smaller than the measurements of the picture you just cut. Cut a "window" out of the front cover of your journal using the X-acto knife and ruler.
Glue or tape your picture onto the back of the front cover, covering this opening. The picture will now fill the window when you flip the book over.
Check the book for any stray pencil lines and erase these with the eraser.
If you want to include recipes and clippings in your journal, tape or glue a velum envelope on the inside of the back cover. Use this envelope to store the above. You can also insert photos in your journal by pasting in photo corners and slipping a photo into place. Because they aren't glued in, photos can then be changed whenever you want.
Using a single-hole punch, punch a hole halfway down the right side of the front and back covers. Thread a ribbon through these holes and tie closed in a bow.
Add a pretty pen and give the journal to the writer on your Christmas list!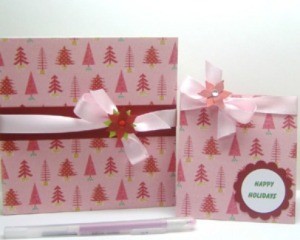 Make a journal and card by using holiday paper and embellishing it with poinsettias and ribbon. It's plain simple and fun to create and would make a wonderful gift to friends.
Time: 45-60 minutes
Supplies:
red and white cardstock
Ready-to-Go! Blank Board Book, 6x6 inches
K and Company Peppermint Twist Paper
poinsettia stickers
pink ribbon
notebook sheets
scissors
paper trimmer
1 inch circle punch
2 inch scallop circle punch
double-sided adhesive
Instructions:
For front and back cover: Trace the book from Christmas tree paper. Cut out. Apply adhesive and carefully adhere to ensure the shape is displayed evenly.
Cut a piece of red cardstock 1 1/2 inch x 6 inch wide. Adhere horizontally on the book front.
For the inside: Cut out six pieces of 6 inch square Christmas tree papers and six pieces of 6 inch notebook sheets. Apply adhesive and cover the back and front of each page.
Embellish: Tie pink ribbon into a bow at the book front. Top it with poinsettia sticker.
Card:
Cut 8x4 inch rectangle from red cardstock. Score and fold into half to make the base card.
Trim 4x4 inch from Christmas tree paper. Adhere to card.
Wrap pink ribbon around the card front. Adorn with poinsettia sticker.
Print or stamp "Happy Holidays" onto white cardstock.
Punch out using circle punch and mat it with red scallop circle. Adhere to bottom right corner of card.
Note: Enclose a pen and wrap them with holiday wrapping paper.
by Maricel of Fairfax VA
Related Content
Categories
Guides
More
Categories