Homemade Makeup Brush Cleaner Solution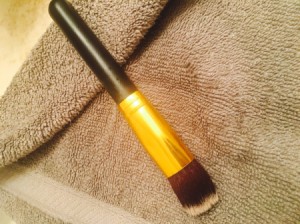 This is my homemade version of a makeup and brush cleanser solution that works as well as the $12 ones at the shops. It's easy to make and easy to use. If you don't have coconut oil, you can also use olive oil.
Total Time: 5 minutes
Supplies:
2 parts antibacterial dish soap
1 part coconut oil or olive oil
luke warm water
1 plate (not a paper plate)
1 lint-free towel, t-shirt, or paper towel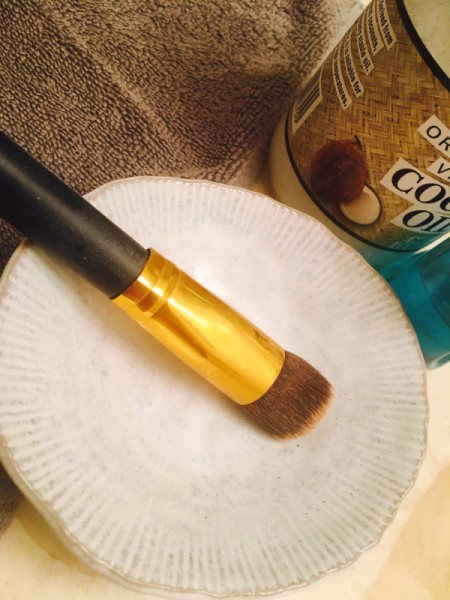 Steps:
For the purposes of this tutorial, I cleaned one brush. In a plate, add one big drop of dish soap and half a drop of coconut oil.
Wet your dirty makeup brush with some lukewarm water.
Dip your brush in the soap and oil solution and gently draw little circles. It will start to foam up and smell good. You can also use just your hand which I usually do-- I just didn't have extra photographer hands!
Rinse bristles under lukewarm water. Swirl the brush against the palm of your hand until water runs clear. Please DO NOT use hot water as the temperature will ruin your brush.
Gently blot excess water with your towel. When rinsed, you do not want to prop it in a cup bristle side up as this will ruin your brush. Instead, fold your towel and lay the brush down at an angle, brush side down. Let dry.
*Foundation and eyeliner brushes should be cleaned often to keep bacteria away from your skin and your eyes.
Add your voice! Click below to comment. ThriftyFun is powered by your wisdom!
September 10, 2016
0

found this helpful
...or just use apple cider vinegar---anti-bacterial too...
September 10, 2016
1

found this helpful
I use baby shampoo to clean my make up brushes. It's gentle for your eyes and does just as good a job (if not better) than any of the cleaners out there.
September 11, 2016
0

found this helpful
now its being stated on the net to use a silicone mat and rub your makeup brushes on that in a circular motion..but i didnt know what to use has a soap and the two that was mentioned is a good idea..most likely will use the baby shampoo because that is what my doctor told to use to wash my face with
September 13, 2016
0

found this helpful
The purpose of the oil used in this concoction is to recondition the bristles after being stripped of oils by cleansing of the soap. Good for the brush, great for your face. This is just my personal fave. The not drying them bristle side up part is super important, too!
Add your voice! Click below to comment. ThriftyFun is powered by your wisdom!
Related Content