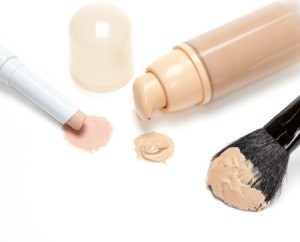 How do I keep makeup off my collar during the day or at night when I go out? No matter what kind I use, it rubs on my collar. Is there something I could spray on my collar so that it will not rub on it?
By Dana Dunn from Tuscaloosa, AL
Answers

November 4, 2009
0

found this helpful
I had that problem so I do not put makeup on my neck anymore, good luck.

Cyinda
Bronze Post Medal for All Time! 213 Posts
November 4, 2009
0

found this helpful
Use "Infallible" by L'Oreal. It will not budge! I guarantee it won't rub off! When buying the product, look at the other L'Oreal "true-match" shades of make-up & use these to gauge what color you'll need. True-Match comes in the same colors as the Infallible does. Otherwise buy the Infallible 2 shades lighter than it looks in the bottle because it darkens up a bit when it sets on your skin.
No color worries, all chain drug stores (like Wallgreens, Rite-Aid & Longs, etc.) will return the opened make-up with no questions asked. You can then exchange it for another color if the first one doesn't work.

November 5, 2009
0

found this helpful
I don't put makeup on my neck either, just slightly under the jaw line. Also have you tried using a light dusting of powder over your makeup to help the foundation set? That might help. There is makeup made to stay put like Cyinda said. Revlon Colorstay comes to mind but I am sure there are others. Or choose a foundation that has a matte finish over the more dewy kinds.

November 6, 2009
1

found this helpful
The key to good "make-up" is blend, blend, blend. After I finish my face I use a tissue under my chin and on my neck area and gently rub a little off, that's the stuff that gets on clothing. You still have the "color", but not the mess.
Gale from Woodbridge, Ca.

Lilac
Silver Feedback Medal for All Time! 450 Feedbacks
May 29, 2010
0

found this helpful
Some people have long necks and they do not have the problem. I have the problem and have solved it two ways. I try to find blouses and tops that have a wide neck, and I have learned to use lovely scarves. I use the scarf especially in the winter to save my coat collar. Just a thin silk scarf makes the difference. Most are inexpensive and come in every color. Another advantage to them is if you go out to eat you can adjust the scarf discretely to cover your chest in case you spill something.

August 8, 2018
0

found this helpful
This is what I use and it still leaves marks

May 12, 2019
0

found this helpful
I use Revlon colorstay faithfully, but yes, it also leaves stains on my white shirts.
Answer

this Question
Does anyone know how to keep makeup off of your blouse collars? I am only able to wear a white blouse or sweater one time because of this. Please help. My clothes are being over washed.
By Julie Z. from Kamloops, British Columbia
Answers

November 6, 2014
1

found this helpful
After I put my makeup on, I take a damp paper towel and wipe my neck and up my cheeks a little. This not only keeps me from getting makeup on my clothing, there is no makeup line left on my face.

Kathy
Bronze Feedback Medal for All Time! 190 Feedbacks
November 7, 2014
0

found this helpful
I use a scarf over my head and face when putting on a sweater with no buttons or zipper. It not only keeps my hair in place, it keeps make up off the collar.
Also, you can try sprinkling a little baby or talk powder on the neck area of the blouse, sweater.
Answer

this Question