My dog was diagnosed with parvo tonight and I can't afford to treat her at the vet, is there a home remedy that I can make for my dog? If so can someone please tell me what I need to help my dog, Honey?
By Denise from Pittsburg, CA
Answers:
Homemade Parvo Treatment
I am so sorry to hear this! The best I can tell you is to read the ThriftyFun archives below this comments section :-( I am saying prayers for Honey! (06/02/2010)

By Deeli
Homemade Parvo Treatment
There really is no home treatment. Ask you vet if you can do sub Q fluids to prevent dehydration. this is easy and cheap. Perhaps he can suggest electrolytes (sugar, salt and potassium) mixed in water that you can give Honey for the diarrhea. This should be inexpensive also. sometimes you can find these at Feed stores. Some dogs do survive parvo. Good luck to you and Honey. Let us know how she does. (06/02/2010)

By Lizzyanny
Homemade Parvo Treatment
I am not a Vet, or a Vet Tech. I own no stock in anything related, however, I would NEVER compromise the health of one of my beloved pets by "self treating". That is a roll of the dice I want no part of; I love my pets too much to take that chance. (06/19/2010)
By ILuvDobes
Homemade Parvo Treatment
Veterinarian are just like anybody else. There are those who do the work because they honestly love doing the job and there are those who do the job because they were under the impression starting out that they could get rich. It takes just as much education to become a veterinarian as it does to become an MD. I don't know too many people who would say, "Just shoot him, doc." if they were told they needed an expensive treatment for their child but it's said everyday about their "pets". I don't know of any drug companies who will donate medicines to veterinary offices to treat animals belonging to people who can't afford treatment. I don't know of many people who will work for very long without pay because the veterinarian didn't charge the owner or the owner decided not to pay. People (some not all) seem to think if the animal dies the doctor failed. Vets aren't God and even God's children die.
Yes indeed there are vets who will charge way over the top for services! Have you thought about what equipment a veterinarian has to have in his office that an MD doesn't? He/She must have an x-ray machine and developer, surgery suite, lab equipment, surgical prep area, should I go on or do you get the point? Yep, some of them will gouge and some owners will cheat and steal services. Please don't paint all veterinarians with the same brush filled with tar. I've known one vet who would sneak back to the kennel at night so he could hand feed a sick dog. This same vet brought sick animals home at night so they could sleep beside his bed. He had to be at work the next day and had to get some rest. The same veterinarian has shut himself in his office abd cried when he had to call an owner with bad news. I know this veterinarian very well because I've been his wife for 25 years. Yep, some gouge, others do not. (06/19/2010)
By Glenn'sMom
Homemade Parvo Treatment
Hello everybody, I just wanted to say thank you to everyone for your support. My dog "Honey " was diagnosed with parvo a few weeks back, and I asked for some advice on home remedies for treating my dog at home, because I couldn't afford the pet bill. Well I just wanted everyone to know that Honey is doing very good today! I found a vet that sold me the IV for Honey and showed me how to give it to her, and only charged me $15.00. As soon as I gave her her first treatment within 45 minutes she was eating on her own, and playing. She was back to herself in no time. So honey and I wanted you all to know how much we appreciated your feedback.

Thank you all and god bless.

Sincerely, Denise, and Honey (06/20/2010)

By missruiz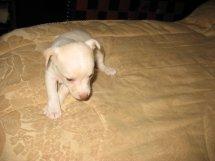 Homemade Parvo Treatment
Oh, Denise, this is the most wonderful news and so very sweet and special of you to have shared this happy ending with us! Most people don't share and it is so refreshing when someone does!
God Bless that vet and please tell him/her that a total stranger here at ThriftyFun is giving them huge hugs for their kindness and caring!

Enjoy the many years of love and friendship to come between you and Honey! (06/21/2010)

By Deeli
Homemade Parvo Treatment
Hello everyone. My little Chihuahua Cookie had Parvo. I tired everything the vet told me to, and despite everything we did she lasted 27 hours from the first time she started vomiting . She was over a year old and my little buddy. I kick myself over and over for not having her shots up to date. My other 2 Chihuahuas are current on their shots, so what the heck was i thinking not having hers? This was the worst thing I have ever gone through and never want to do it again. Please as a pet owner do the responsible thing and have your loving pets vaccinated against the unseen killer they call Parvo. I miss you my lil Cookie Bookie and love you very much . (07/24/2010)
By akerns73