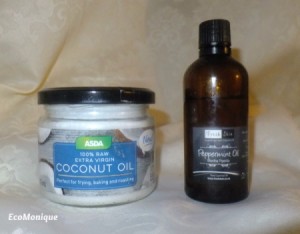 I've just made another batch of toothpaste for myself. It's very simple to make and the ingredients are natural and thrifty - the perfect combination!
In a clean, washed and dried, empty jar I scooped in some tablespoons of extra-virgin coconut oil (£2.35 for 283g Asda) then added about 20 drops of peppermint oil (£7.49 for 100ml Amazon). Use less if you prefer a less peppermint flavour, I like it quite strong.
I put the jar in the microwave for 30 seconds and then stir the mix together. You could use it straight from the jar (pop it in the fridge to set) or do as I have and put in a clean syringe when the mix is liquid. I find this a great way to squeeze a little onto my toothbrush and the syringes were very cheaply bought on Amazon. (£2.99 for 5).
It tastes lovely and it's all natural ingredients. And there's no fluoride which is the main reason I wanted to make my own.
Happy, clean and cheap smiles! :D