House Training a Year Old Dog
My son moved home and brought along his 1 year old female Yorkie/Chihuahua; she's mixed. She was never house trained before. I have a 4 year old well trained female Yorkie and I am having a horrible time training the Chihuahua. She peed all over my other son's bed and pees and poos every where in the house. I put her in one of the bathrooms along with a training pad and her bed, food, and water. I take her out in the morning with my Yorkie at 8 am for 15 -20 minutes and again later at 1pm for 30 minutes, at 6pm for 20 minutes and even at 9pm for 15 minutes. I see her going pee and poo outside, but she still pees on her bed and the bathroom smells awful. I have to keep washing her bedding. She used to pee in carpet before she came to me. How can I train her? On top of this "now" my Yorkie is peeing inside too. Help I'm so desperate, but I love them both.
By Patty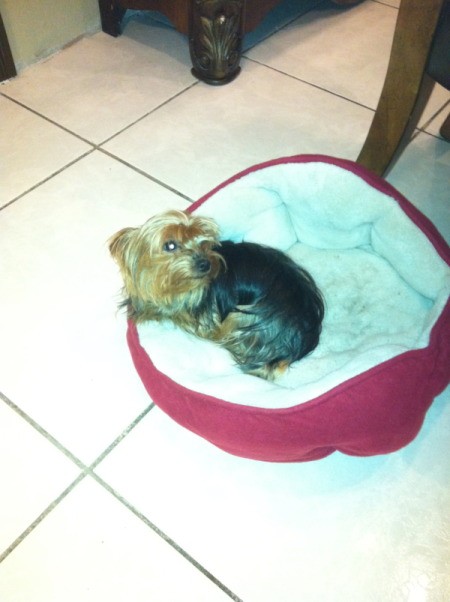 Add your voice! Click below to answer. ThriftyFun is powered by your wisdom!
October 9, 2014
0

found this helpful
Best Answer
I would have her checked out for urinary problems. Then I would consider crate training although with her willing to pee in her bed this may not be the right method. But be sure to have her checked out well by a Vet. They often have good ideas on house training too. Also the incontinence pads at WM are cheap and could save you a lot of laundry while you figure things out. Good luck!
October 9, 2014
0

found this helpful
It was very easy to train my three pups. Take your pup outside when she wakes up, after playing, after eating, before bed and when you go. I figured if I have to go then they must have to go too. Their bladders are little and I waited outside with them to do their business and praised them when they finished. By me waiting outside helped them to relax cause they didn't want to be outside alone. Be patient. If you see your pup trying to go in the house, just give a firm no and take your pup outside. Do not hit your pup. That will increase the stress and she will become afraid of you. I hope you have a doggy door for your pup because pups want to please their masters but if you don't understand your pup's body language and there is no doggy door than you are giving your pup mixed messages. I won't want to hold my business until someone lets me out. I hope this helps. You will have success but give your pup time and I am talking maybe weeks or months. If your other dog does her business outside, the new pup will watch and catch on.
Add your voice! Click below to answer. ThriftyFun is powered by your wisdom!
Related Content