My dog is a Silky Terrier. He is almost 2 years old and afraid of everything. We rescued him from being abused. He loves our whole family, but he pees everywhere. If we try to pet him, he pees. If we are walking him towards a pole, sewer, tree, car, any large object he freaks out. 50% of the time he pees because he is afraid and we can tell because his ears go down. The other 50% is the fact that he just goes up to my mom's nice furniture and lifts his leg and pees in front of us.
We ask everybody what to do. Everybody says he is marking territory, because I also have a Bishon. I need to get him to stop peeing. One last thing, my brother doesn't abuse him but he does play rough and chase him everywhere.

By ryan from Sparta, NJ

Answers:
Housebreaking an Abused Dog
My take on it is he's not marking his territory (unless he's NOT fixed, then maybe he is!) but that he's afraid. My adult son's roommate rescued a large dog with the same problem. Every time he gets a tiny bit excited, he pees. This has tapered down just a bit over the last 4 years, but he still does it when he gets excited or someone raises their voice around him.

On the TV show (on national geographic) "The Dog Whisperer," Caesar Milan (the host) says that it's MUCH harder to teach a scared dog than it is to train a mean dog. He says it usually takes a long, long time and a whole lot of patience to help a dog like yours. (They have examples just as you've explained on the show.) I'd recommend you find a good dog psychologist in your area to give you some pointers and it might also help you to watch his show on Fridays on the national geographic channel. I've learned a lot from it! (06/01/2009)
By Cyinda
Housebreaking an Abused Dog
You need to raise the dog's confidence level. Try some agility training. Or even just some training, with LOTS of praise when he/she does good. Walk on a leash, sit, stay, down, shake, sit pretty. All good things to teach him/her who's the leader of the pack. Remember the praise. Also, you might consider crate training. The crate should be his/her safe place. Maybe partially cover with a towel or blanket for privacy/security. Good luck. Clicker training is good. Terriers are smart dogs with lots of energy - keep him/her engaged and active. They are not the lap dogs they appear to be. (06/03/2009)

By anne
Housebreaking an Abused Dog
This dog knows he's the bottom of the pecking order, he's saying "don't hurt me," even now that the abuse has stopped. Imagine how you'd feel. It takes a long time to build trust in a rescue dog and loads of patience but so worth it. I take it your brother is young, could he be encouraged to be a bit more gentle? Best of luck, I've been there. (06/03/2009)
By Marg
Housebreaking an Abused Dog
First, stop your brother from adding to the dog's stress by chasing and frightening the poor dog. Secondly, I would suggest seeking an animal behavior person. They would be the most effective socializing your dog with other dogs, people and getting it to overcome its fear of large objects.

Good luck. I hope this little dog gets the help it needs. (06/04/2009)

By lesley
Housebreaking an Abused Dog
This little dog has been traumatized so the trust factor will be a very slow process to rebuild. Your brother has no idea, he is adding to the dog's insecurity by chasing him, I'm sure. Talk to your veterinarian and they can help and refer you to other help. Bless you for rescuing the dog. I think if someone will abuse animals, children are next. (06/04/2009)
By pamela
Housebreaking an Abused Dog
Abused animals need gentle handling, plenty of exercise and routine consistency to feel secure. I think your brother just needs to be informed how to handle your pet. I also rescued a cocker spaniel 7 month old pup. She was very traumatized and neglected, maybe abused also because she would just stare into space, no communication or response. It would take over a year and a half for her to become stable emotionally. She also would pee from excitement but it can be controlled. I usually don't make a fuss when she greets me at the door but put my things down calmly and quickly let her outside as soon as possible to urinate and praise her every time she goes outside for pee or poo (she goes on command now!).

If people are visiting I go outside with her to greet them before they come into the house so she pees outside. It took a little time and patience but she is so much more secure now at 6 years old and occasionally will have an accident. Training your dog to come, sit, stay and other commands is worth the patience because they learn what to expect and how to communicate. Here is Sassette with "her" kitty cat companion. She is such a smart girl, knows lots of tricks/commands and is very agile. Good luck with your dog! (06/04/2009)
By melody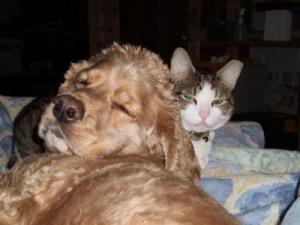 Housebreaking an Abused Dog
Don't let your brother play rough with him or chase him. This is a lap dog. Pick him up and cuddle him often and reassure him and he will feel more secure. If your brother wants a dog to play rough with, he needs a big dog like a lab, not a frightened silky. He is urinating because he is frightened and nervous. Take him to your vet and tell him what is going on with the dog.
He will give you excellent advice and possibly some medication to temporarily calm the dog. He's been through a lot. Get on the internet and read up on silky terriers so you will know how to deal with your dog. You didn't say if he's been neutered or not. They mark less when they have been neutered. (06/04/2009)
By Nan Corpe
Housebreaking an Abused Dog
If he checks out okay at the vet for bladder or kidney problems I would start Benadryl at 1 to 2 mg. per pound of body weight up to 3 times a day. I would not do the three times a day but the two times a day. The dog needs a chance to rest. Start making him have a fun but strict schedule and don't deviate from it. Have treatment of him be very gentle and regimented.

Feed him at a certain time. Treat him at a certain time. Teach him marker training or clicker training. This is so fun for little dogs. See leerburg.com. Make the schedule something you stick to every day. Buy some special toys and enforce a nap or quiet time each day with a special stuffed animal only given to it at that time.

Have a time when you hold him and whisper to him. Take him to the mail box at the same time each day in your arms. Take him to the store or such in the evenings and bring him a cheap treat. He needs something to look forward to and trust in. I hope you start making wonderful memories together and I feel for you. As far as the peeing, I might consider crate training, because as much as they protest, they need to know there are limits and crate training might settle him down and they usually won't wet where they are laying. leerburg.com is great and it deals with all sorts of issues. It applies to all dogs! God bless you and lots of love. (06/06/2009)

By Robyn Fed
Housebreaking an Abused Dog
Above all is patience. I love the Dog Whisperer too, I really admire his patience. It has helped me with my dog, and I know for sure the next dog I have will be raised properly from the start, now that I have the knowledge.

I did housebreak my little girl, but I do have the luxury of being home 24 hours, so it is easier to stick to a schedule. In the beginning I took her out every hour, lots and lots of praise if she did anything. She slept in a crate overnight or when I had to go someplace for longer than an hour. She is getting to be an older lady now, and hasn't had an accident in years. But even when she did get excited about a strange person, she peed on my daughter's boyfriend's lap (since he is old news now we all laugh about it). It's pee, so what, you clean it up and go along with your day. No big deal.

Over the course of a life as a woman you have to clean some rather disgusting things, but a little pee or poop from a little doggy isn't too bad on my sicko-meter. Keep the little tyke safe overnight in a crate, it's like a den to them. Make sure it is nice and cozy even put a blanket over it, and give him a little plush toy as a cuddle buddy, and first thing in the morning take him/her out. Soft voices. A schedule will turn everything around. I bet you will see a difference after a few weeks.

Watch "The Dog Whisperer" on National Geographic and "Dogtown," my favorite shows. Good Luck and Blessed Be. (06/17/2009)

By Gina L
Housebreaking an Abused Dog
I love your dog, racer7, she looks a lot like mine. She has cocker spaniel in her and or bichon frise. They are little angels when they sleep, aren't they? (06/17/2009)

By Gina L
Housebreaking an Abused Dog
My Lucy. She's a Momma's girl! (06/17/2009)

By Gina L