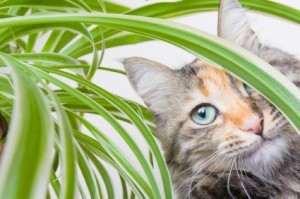 For many of us, the perfect houseplant is one that looks great and continues to thrive without requiring a lot of extra attention. It needs to forgive us if we forget to water it occasionally and it should be able to hold its own if we accidentally put it in the wrong place. Although no houseplant is completely indestructible, here are eight that have earned a reputation for their adaptability and tolerance for neglect.
Cast Iron Plant (Aspidistra elatior)
Cast iron plants have dark green or variegated leaves that rise from their crown and grow up to 2 feet long. Like their name suggests, these plants seem to be forged from iron and almost thrive on neglect. They can withstand pollution, dry soil, and perform well in a wide range of light conditions. Clean the dust from their leaves occasionally and use them in shady corners where nothing else is willing grow.
Dislikes: constantly wet soil and frequent repotting.
Chinese Evergreen (Alglaomema modestum, A. simplex)
Chinese evergreens have large, oval-shaped, glossy, dark-green leaves. Mature plants can reach heights of 2 to 3 feet, and because they are slow growing, they can live an astounding 25 to 30 years before they need repotting. With a reputation for tolerance and reliability, this house plant is truly one of the best green-leaved investments you can buy.
Its main virtue is the ability to thrive in poor light conditions, but this is only true of the all-green, non-variegated varieties like A. modestum. (Varieties with white or yellow variegated leaves require brighter light.) Water Chinese Evergreen thoroughly. Give them warm, moist air in winter, and place them in either bright light or semi-shade.
Dislikes: direct sunlight; dry, winter air; cold drafts and smoky air.
Heart-Leaf Philodendron (Philodendron oxycardium)
Despite being natives of the rain forest, philodendrons seem to adapt well to the less humid environment of our homes. Of the over 200 varieties available, the Heart-Leaf Philodendron is the old standby for those looking for an indestructible climbing vine. Plant them in regular potting soil, keeping the soil consistently damp, but not soggy wet. These plants will tolerate low light conditions, but appreciate well circulated air, especially when temperatures start to climb. Keep Heart-Leaf Philodendrons away from frosty windows in the winter to avoid damaging their leaves.
Dislikes: direct sunlight; water-logged soil in winter.
Marble Queen Pothos (Scindapus aureus)
The Marble Queen Pothos is another one of the hardest working indoor plants you can find. Virtually indestructible, they will fight to stay alive no matter what their environment throws at them. Marble Queen is a trailer/climber with aerial roots.
Mature plants can reach 6 feet or more under the right conditions, so provide them with a sturdy moss stick for support. Plants will grow in low light, but their green, marbled leaves look best in moderate, indirect sunlight. When watering, drench the soil thoroughly and then let it dry out between watering. Mist leaves frequently in winter, but water soil sparingly.
Dislikes: dry air; constantly wet soil.
Piggy-Back Plant or Mother of Thousands (Tolmiea menziesii)
The piggyback plant is native to the north coast of North America and Alaska, so it's no surprise that it is one of the hardiest of all houseplants. It actually relishes a well-ventilated environment that is cold and sunless. The plants have hairy green leaves and carry their young on their back. When mature, the plants look very attractive in hanging baskets. Give Piggy-Back Plants medium light; cool, well circulated air; and well-drained potting soil.
Dislikes: warm, humid air.
Rubber Plant (Ficus elastica)
The Rubber Plant is one tough cookie, and for a large specimen plant, a great economic value for the money. Ideal growing conditions include dry, well-circulated air and bright, indirect sunlight. Drench the soil when watering, but let it dry out slightly between each watering. Wash the large, glossy leaves occasionally to keep them free of dust. Plants can be cut back to encourage branching.
Dislikes: over-watering (bottom leaves will turn yellow and drop); cold drafts; frequent repotting.
Snake Plant or Mother-In-Law's Tongue (Sansevieria trifasciata)
If all other plants fail, grow sansevieria. This tough plant, known as Mother-in-law's Tongue in Britain and Snakeskin in the U.S., deserves its reputation for near-indestructibility. It will grow in both bright sunshine and shade, and withstands dry air and fairly long periods without water. Even better, it rarely need repotting. Use a regular potting soil, and keep plants away from cold drafts. Water well and let the soil dry out between watering.
Dislikes: prolonged over-watering in winter; prolonged exposure to near freezing temperatures.
Spider Plant (Chlorophytum elatum)
The fast-growing and extremely adaptable spider plant has long been a favorite with houseplant growers. The plants grow long, cascading stems that produce small white flowers and tiny plant-lets, which when removed from the mother plant, can be used to produce new plants. Spider plants make an attractive display - especially in hanging baskets. Feed them regularly, mist their leaves occasionally, and if necessary, repot annually each spring.
Dislikes: dry soil; too much heat; bright light; over-crowding.