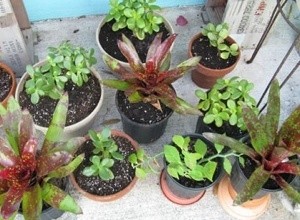 Free plants! All these plants came from one original plant! Bromeliads are great for this because they naturally produce "pups" and you just break them off at the base and put the new pup in potting soil and you have a new plant!
I've also had huge success with jade plants by clipping off a piece and putting it in potting soil. I do this regularly, and I've found they come in very handy as gifts for house warming presents or get well soon gifts or any occasion. This is the ultimate in thrifty fun! You can get clippings from neighbors' plants and do trades, too. Most people are happy to share, just ask and then offer some from your own garden/yard.
By Lee Taylor from Indialantic, FL
Comments
December 2, 2010
0

found this helpful
Top Comment
Bromeliads are a large family, so only general guidelines can be provided. However, the following covers many or most kinds of broms. Breaking off a pup isn't such a good idea. Let's summarize the life cycle of a brom: The mother plant flowers, and then slowly dies while producing pups or offsets. The rule of thumb is to remove a pup when it's reached 1/3 the size of the mother. Using a very clean, sharp blade, cut downward between the pup and the mother, into the soil, and remove the pup along with some roots, and pot that up to start another plant which will eventually mature, flower, and produce more pups. Happy gardening!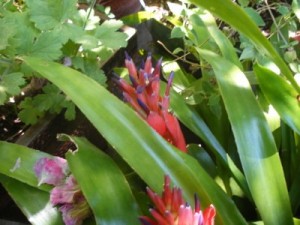 December 2, 2010
0

found this helpful
Ya, did that with my Jade plant some years back-works great. Forgot about that - thanks