June 29, 2011
0

found this helpful
I hate when people dictate what you should "gift them." I think if someone asks you if gifts are necessary. I would just tell them flowers to landscape your new house would be welcome.
January 22, 2017
0

found this helpful
I have to agree that its kind of rude to ask for specific things. Now, if they specifically ask what your want or need then go ahead but otherwise dont dictate to people otherwise. It rubs some people wrong. :)
June 29, 2011
1

found this helpful
If you are planning a "party atmosphere" in your new home. That's what it should be a party.
You supply the gifts. Do not ask your guests to bring a plant or anything, just their friendship. Glad I'm not on your list of guests.
June 29, 2011
1

found this helpful
It is unheard of to ask friends to bring gifts to your housewarming or open house. If you are having a party you never ask for gifts. If you are given a gift consider that a kind and generous thing to be grateful for, but one should never expect a gift. The favor of their company is all that you should expect from your guest.
June 20, 2017
2

found this helpful
Guess I'm from the old school of etiquette but you take gifts to house warming. I believe open house is a party and the hosts shows you their home and you may or may not have nic nacs for the guests. Its a party.
June 29, 2011
1

found this helpful
Although I'm pretty old, but in my day, a housewarming party was an event given by a new house or apartment owner to "warm" their new home. Gifts were often something you knew or thought they might need; often it was a plant or even something used from your own home, or a homemade food item.
An open house is given within a time frame, such as 4-8 p.m., and most attendees would come for about 1/4 of the time, anytime within the stated period. (If the time was 2-4 p.m., you'd just stay about 1/2 an hour.) There are generally refreshments and something or someone to see, such as a newly decorated room, an art display, or special visiting relatives.
January 22, 2017
1

found this helpful
Very well said! I'm not older well 39 lol but I'm pretty traditional or old soul. You dont ask for things no matter if its a party or open house or whatever. If people are gracious and bring a gift thats nice of them and send a Thank You note but its never put on invitations or anything. You dont ask for things. Your showing off your new home. Gifts dont come into play.
September 24, 2017
0

found this helpful
If I were to have an open house for my friends and family would it be acceptable to say "no gifts"? And how would I let people know about it if no invitations are sent?
By word of mouth, e-mail or Facebook? Also the house will not be decorated or furnished much. I am taking my time with that part so I have the house fitted up the way I want. Having a house opening without the house done would that be OK to do?
June 29, 2011
0

found this helpful
The difference between a house warming and an open house is a house warming is a party to celebrate a new residence. An open house would be an open invitation for a specific date to stop by anytime, as in a Christmas open house ...stop by when you can. I have to agree with the previous posters that requesting gifts is not very hospitable. If you want flowers for your yard, may I suggest getting to know your new neighbors and getting clippings or joinning a local garden club. Also, many swap meets and the like sell plants very inexpensively. Another option would be to ask your guests if they have a cutting from their yards that they would like to share with you.
June 29, 2011
0

found this helpful
I may be old but when you had a house warming, it was so your friends could come and see your home. They didn't have to bring a gift but they did and it was always welcome.
I had one when we built our home. All you supplied was the food and drinks. Good luck in your new home.
June 29, 2011
4

found this helpful
Please be kind people! This young lady is just that, young. She is asking for advice, not a talking down to.
Judy, stop and think what you would do if you were invited to an Open House or a Housewarming party. Times change and what was polite some years ago has changed for some people. Mainly young people who have not been taught manners. In my time, an Open House was when someone was having refreshments/ food for a certain time, say 4- 8 pm (all day for Thanksgiving/Christmas) people could come, stay awhile, eat and go during that time. Most would bring what is called a Hostess gift. Maybe a bottle of wine or sparkling cider or flowers.
A housewarming is to show your new home to friends and family. This hostess gift should be something that you know your hostess would like or be able to use in their new home. Like tea towels/set of guest hand towels, potted plant, a nice candle set, something a friend/family would know would please them. Doesn't have to be expensive, a hand made doilie, or a nice picture frame. I hope this helps and that you have a wonderful time enjoying the friendships and family. Great Granny Hugs, Vi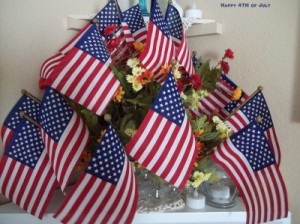 June 30, 2011
2

found this helpful
If I was invited to a housewarming I would want to bring something for the house. So why not make it a themed house warming.
How about "Plants and landscape ideas for the flowerbeds welcome." That way guests would know what to bring that would truly be appreciated.
June 30, 2011
4

found this helpful
Applesauce, I know where you're coming from but I don't feel asking for clippings or starts would be unreasonable. Afterall, the guest list is full of people who I have gifted many times in the past for celebrations that I will never have - bridal and baby showers, children and grandchildrens gifts for years for birthdays, graduations, holidays, weddings, not to mention the numerous Tupperware/candle/Pampered Chef parties over the years.
I thank all of you for your input. I will give my mom a list of things I could use in case anyone should ask specifically. I believe I will include this statement in my invites: The favor of your company is all that is requested. Any landscaping ideas or cuttings/starts of your favorite plants would be welcome and appreciated.
Bless you all and have a wonderful 4th of July holiday!
January 22, 2017
0

found this helpful
I know this was several years ago and things have changed. Its considered bad etiquette to ask for specific gifts for a house warming or open house heck even a birthday party. Bridal showers, weddings, and baby showers are a little different and its ok to list a few things you might need. List on invitations "Gifts are not required but appreciated" I guess it really depends who your friends and family are. If your comfortable listing what you want/need then by all means. Otherwise I wouldnt do it. They might not come to another thing of mine again. Ha.
June 30, 2011
1

found this helpful
Apparently there are different customs depending on your age group and/or geographic location. I live in Ohio and I'm 30. I've attended many open houses/house warmings, had one myself when I bought my first home. The main point is for people to see your home. But also, when you buy your first home you need so much. Of course gifts are not required but generally if you know some one well enough to want to go to their house warming, you're going to want to give them a gift. I personally really think its nice when the invitation gives some clue as to what the person wants/needs. Perhaps you could request that if anyone has plants from their own garden ready to be divided they could bring "a bit of their garden to yours".
June 30, 2011
0

found this helpful
Well, I hope you have a lovely housewarming. And in my circle of family and friends, I know that a lot of people would bring gifts, and so I would tell my mom and best friend that I would really like flowers for the yard, and they would put the word out. I, personally, like to know what people would like. It is so disheartening to spend time picking out a gift, and then find that the person already has twelve or is allergic or has no interest or has themed their tea towels and only uses ones with ducks on, and I have purchased ones with cows. Enjoy!
October 21, 2015
0

found this helpful
Both a housewarming and an open house are to celebrate your new digs with friends and family. I always thought that a housewarming was hosted by a close friend, kind of like a wedding or baby shower, but with much lower expectations of gifts. That way guests could contact the official host about appropriate gifts. Generally, it is not good manners to solicit gifts for oneself. An open house, on the other hand is just a party celebrating that you have a new home and guests come and go during the posted hours. The open house is hosted by the person who has the new home. Usually, the only gifts are food brought by the guests to be served during the party, but no gifts of any kind are expected and the host should have plenty of finger foods on hand for the party. Best wishes in your new home.