We get a lot of requests from readers looking for wallpaper that has been discontinued or is just hard to find. Feel free to submit your request for wallpaper in the feedback forum below.
Here are some good resources for finding Wallpaper. Please try here before posting:
Wall USA Website
You can try http://www.wallusa.com. They have quite a few discontinued wallpapers, starting at $3.99. Good prices, but the shipping is a bit expensive.

By Alex K
Ebay
Have you tried the auction site eBay? You can find just about anything you want or need there, a lot of brand new, but discontinued items, and a lot of items that are current and still available for sale, and even with the high cost of shipping, you can pick them up for a fraction of the cost of buying them from the companies. I would try a search for just wallpaper at first and see what comes up. If you don't find what you're looking for the first time, keep checking back. Sellers list new stuff every day and something might turn up. I have been able to replace items I thought I'd never see again. When I need something, that's where I look first.
By gizmo81795
Decorate Today Website
Check out decoratetoday.com. They carry a lot of brand names and should be able to help you find that paper that you need. They have a personal assistant that will answer your emails if you write to them.

By Cheryl
Posting Email Addresses:
If you want to post your email address, we recommend posting it like this... name (at) domain (dot) com so that spammers don't dredge your email address from this webpage.
Responding to Requests:
If you have some information about where a person can get a particular kind of wallpaper or have some for sale yourself, feel free to post that information below.
Answers:
How Can I Find Discontinued Wallpaper?
Goodwill stores most often have a lot that people have given either opened and partially used or unopened. It may not be a pattern you prefer, but it's worth stopping by there stores to check on. At least our Goodwill stores have them from time to time. (11/09/2007)
How Can I Find Discontinued Wallpaper?
1-800-Wallpaper.com has great buys for all wallpaper and borders and includes "free shipping"! (04/24/2008)

By Amy
How Can I Find Discontinued Wallpaper?
I desperately need 3 rolls of this discontinued Super Fresco wallpaper, pattern number 14224, brought from Focus or B+Q. Required due to damaged wall. If anyone has any or knows a place who might have some. Please get back to
me. Thanks. (02/21/2010)

By desperate 2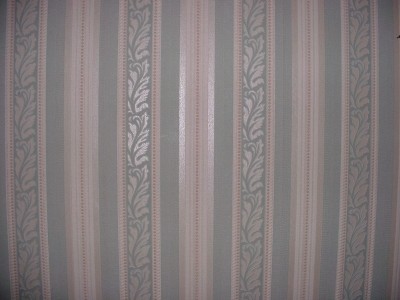 alt="RE: How Can I Find Discontinued Wallpaper? " />
How Can I Find Discontinued Wallpaper?
I have been searching for a discontinued Schumacher wallpaper called Tehran. It is predominately deep red with what I will call a middle eastern design in cobalt blue.
Please, any help appreciated.
(06/19/2010)

By Norma
crazy old wallpaper
A relative has this wallpaper in their home and they can't remember where they got it or what it's called. It's fascinating, and I'd love to get a roll of it. Any thoughts? (08/12/2010)
By pinkypants
src="http://img.thrfun.com/images/database/tff75109862.JPG" width="400" height="300" alt="crazy old
wallpaper" />
How Can I Find Discontinued Wallpaper?
I'm looking for a Laura Ashley wallpaper, made in the 1990's, pattern Number UMT9271. It had a white background
with a green and blue stripe next to each other with one inch spacing between the sets of stripes.
Thank you.
Corie (09/08/2010)

By foxc