I have been reading the articles on faux painting kitchen laminate countertops. My question is this: my wife and I are on a tight budget and were considering paying someone to come out and spray on the faux acrylic solid surface counter tops. Is the process discussed here similar to this process? And if so, how easy is it truly to do for beginners to the faux paint world?
Thanks.

Matt

Answers:
How Difficult is Faux Painting on Laminate Counter Tops
I painted mine, and I also painted one of those plastic white patio tables, that are super cheap.
(it's now my dining table, everyone loves it)

I started by lightly sanding the surface (to rough it up) then I used the plastic spray paint as a base coat. Then you are good to go, you can do whatever faux technique you want and it will stick to the surface. After I finished mine I sprayed the surface with a clear non-gloss washable spray paint so that it would be more durable.

I used a faux stone technique on mine. I got the instructions from HGTV. I just tore my pieces of tape up and put them at angles. It was tedious to get the tape off though, just so you know. (11/25/2007)

By Verybella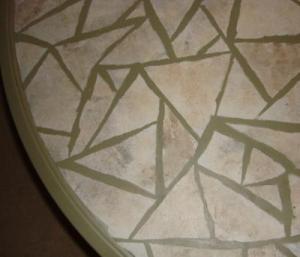 How Difficult is Faux Painting on Laminate Counter Tops
Have you also thought about tile. On HGTV they do some low cost covering on counter tops with the self sticking floor tiles you can get at Home Depot. (11/27/2007)

By gracie23
How Difficult is Faux Painting on Laminate Counter Tops
Laminate (Formica, etc.) will need to be sanded well to roughen it up enough to be gripped by a new finish. Be careful not to breathe the dust. Also be careful not to lay food directly on a countertop that you have refinished yourself. It could absorb toxic substances. (03/19/2009)

By Red Neck