How do you paint countertops to look like marble? What do you use, and what do you do with it?

By Susie from NC
Answers:
Painting Laminate Countertops
All of your countertops look great and I can't wait to do my kitchen counter. I'm not very artsy, and I need some advice on the colors. Apparently, the people who owned the house before us were completely colored blind, because the kitchen is just a hodge-podge of colors. We have a really beautiful dark blue stone island, very pale tannish/yellowish countertop (with some weird stains on it) ,black appliances, and white and black linoleum on the floor. The walls are... get this, gray?
We're planning on repainting the kitchen and putting actual tile down (not flimsy linoleum). We bought Rustoleum Countertop paint in Haystack. I would really like to bring out the blue of the stone island, so what other color or colors should I use to "marbleize" the countertop? I was thinking maybe a really dark navy blue, but I'd like a third color to give it some real depth.

Plus, I need the fastest drying way to make the top shine. I'll be honest, I don't have time to use Enviro and I have a cat who just loves to jump up on the counter. I would hate to relive some of the nightmare-ish tales you've all told. So what is the fastest way to do the hard shiny top for it?

Thanks in advance for all your help! (10/27/2009)

By ClarionCutie
Painting Laminate Countertops
I just now ran across this:

http://www.curbly.com/DIY-Maven/posts/7477-jonesing-for-granite
Granted it's to look like granite instead of marble but perhaps that's a way to do something close to what you want. (10/29/2009)

By COflower
Painting Laminate Countertops
Hi everyone. Been reading here for a week or more now. Bought everything to do faux granite on my kitchen counters. Planning on using Famowood Glaze coat from Lowes to seal. It's like enviro, but cheaper. Before using, I just wanted your opinions re: the epoxy vs. Varathane. My concern is the epoxy will scratch easily. Love the look of the epoxy, but like the idea of the Varathane being scratch resistant. I'm not planning on babying my counters. Meaning, I use a crock pot, electric pressure cooker, kitchen aid mixer, deep fryer, etc. on my counter. Plus my 3 year old son climbs on counter daily to watch me cook. I do not cut on my counters, and do not put hot pans on them. So, will the epoxy hold up to all this? (10/31/2009)
By skanepa
Painting Laminate Countertops
Thought this link may help those wanting to faux paint granite. I think they also have a method for marble.
http://www.decorative-faux-painting.com/faux-granite-painting.html (10/31/2009)

By skanepa
Painting Laminate Countertops
I want to thank skanepa, that is a wonderful website. I was almost ready to quit on my counters before I got started. The tip about the gold glaze as the base coat was the answer I needed! (10/31/2009)

By queenie123
Painting Laminate Countertops
Queenie, you are welcome! I too found the website quite helpful. I did a test run on two wooden T.V. trays yesterday, and used a pearl metallic rather than gold to mimic quartz flecks. The effect was more of a subtle shimmer. Hopefully I'll get pictures up soon. The video is great too. (11/01/2009)
By skanepa
Painting Laminate Countertops
Finished results. I am so pleased. I used glaze coating and it shines so good. (11/01/2009)

By kkdundo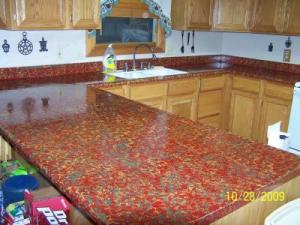 Painting Laminate Countertops
Plan on doing my island within the week and have decided on using pour on epoxy like enviro. However, for those of you who have used envirotex, what has been you're experience with microwaves, crockpots, and other small appliances that create heat on the enviro finish? Do they affect the finish at all, and do you have to use something protective under these small appliances? (11/04/2009)
By skanepa