How do I paint laminate countertops?

By lornadoone38 from Boston, MA
Answers:
Painting Laminate Countertops
There is a product out there called Prime eze. Very simple to do. Sand the area lightly 180 or 200 grit and clean with a tack cloth to be sure all dust and sediment are gone. Apply the prime eze to the area, I found with a brush works best, apply 2 or 3 coats and let dry in between each coat thoroughly. Once dry, sand with a very fine paper 220 grit, wipe off with a tack cloth again. Paint the color you like but be sure to get a paint that is for kitchen / bath, apply 2 coats, completely dry in between coats. Once finished apply a couple coats of a good quality sealer that gets hard, ask your hardware store for recommendations.
Lightly sand in between coats with the 220 grit and wipe well with a tack cloth in between coats and on the final coat. I have done this and it worked beautifully as long as I have used the prime eze. I used a spray on texture paint as I wanted texture to the finish, I used a hammered metal finish on mine and I love it still after 7 years! Good luck and remember to follow all directions carefully and have plenty of ventilation as well! (09/17/2009)

By Beau D
jesse
I was wondering what you exactly used on your counters? I love the way they turned out and my husband and I were thinking of doing the same. (09/17/2009)

By masonrkelly
Painting Laminate Countertops
I have been reading through all of the archived posts and you all have inspired me to paint my bathroom countertop. I am so excited! I just have a couple questions that I was hoping you could help me with!

1) Some of the posts said you could just tape around a sink, others said you should remove the sink. I am not all that plumbing savvy so I am nervous about removing the sink. Those of you that taped, did you end up with a funny edge/lip in the envirotex around your sink? Can you just reapply silicone caulk around the sink afterward?

2) Someone mentioned "framing their mirror." I have a large edgeless mirror and I would love to have the look of a framed mirror without having to spend all that money. Did you just cut frame molding to size, stain/paint it, and glue it to the mirror? What did you use for adhesive? How did you then mount the mirror to the wall without those stupid looking mirror clips?

I really appreciate all the advice on this page, and the pictures look fabulous! (09/27/2009)

By NJdiy
Painting Laminate Countertops
Hi all,
All these photos are so amazing! We just bought a house and I can't wait to do this to our kitchen. I got a little lost with all the tips and postings. How exactly do I get a beige granite looking counter top, and how long should it take? I have 6 months old twins, so I'm not sure if I will have the time and energy to do it. Any advice is very appreciated. Like what materials, type of paint do I need, brand, color, amount, etc.? Sorry to be asking for so much info, but with the twins my time to be reading is very minimal.
Danielle (09/28/2009)

By danycsrj
Painting Laminate Countertops
Everyone on here (I have read all these posts like 100 times) has inspired me to do my ugly countertops! I bought all the stuff, and I am doing it on Columbus weekend.

Here lies the problem: I have 3 cats that like to jump on the counters! I live in a small place, and the kitchen to dining room to living room has no doorways to shut, and I cannot lock my cats up for 3 days. They will destroy my rugs after 1 hour! My husband might get some bubble wrap and we can just seal off the whole room I guess, but we will need a lot of bubble wrap! Anyone have any suggestions?

I was also thinking about taping aluminum foil from the top cabinets to somewhere on the floor, so they don't jump up, but won't blocking in all the air to a small area be bad? I am using Parks Super Glaze. Can anyone help? (09/30/2009)

Painting Laminate Countertops
I've been lurking here for a couple of months and studying everyone's pics and techniques. I want to thank everyone for posting your information and pics. You all have given me the courage to try this on my own and I want to share my pics with you and to anyone else who is thinking about refinishing their counter tops. This was my 1st attempt and I have 6 more counter tops to go. Thanks so much for all of your help! (10/04/2009)

By Lucky'smom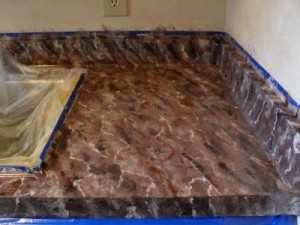 Painting Laminate Countertops
I tried to post more than 1 picture at a time. Here's my before picture. (10/04/2009)

By Lucky'smom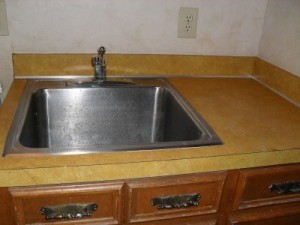 Painting Laminate Countertops
Just finished my first countertop. I live in an older mobile home that is sometimes hard to find replacement items for, not to mention I am on a tight budget! I removed the sink as suggested by others so as not to have a lip when the Envirotex was poured. It was primed and painted then I poured the gooey stuff, just make sure you have all necessary tools handy to pour. I used a sponge brush to move the product around, it worked well for me, but then it was a small space too.

The torch to remove bubble is a must! Easy to use, and works them out much quicker. Just have to let it cure a few days and I will drop the sink back in that is already to be hooked back up. I will post a pic, trying to before and after, new at this and it isn't working for me. Anyway, give it a try, it works. Just have to cut off the drips on the bottom edge, as I didn't watch it as closely on the first pour as I did on the second! I just have to repaint the room now! (10/08/2009)

By Jstcheeky63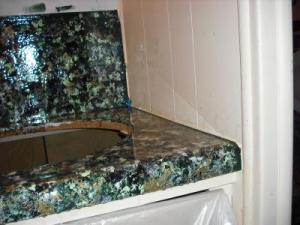 Painting Laminate Countertops
Here is my before shot of the ugly countertop. (10/08/2009)

By Jstcheeky63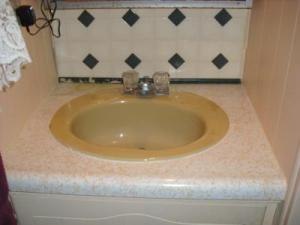 Painting Laminate Countertops
OMG, I just finally took the plunge and it looks awesome. I used Envirotex and will post before and after pics soon! Don't be afraid, just do it. I have been reading this site on painting countertops for a year and finally did - I couldn't be happier! Thanks all for sharing your stories and courage. Pics will come in a few days, one final touch of trim to put up once the enviro cures before I have the final after pic :-) (10/10/2009)
By hottpepper
Painting Laminate Countertops
I spent the weekend doing my countertops, thanks to this site giving me the courage to dive in. After being unhappy with the poly covering, I went with the envirotex, and it looks great! I used dark primer, then black metallic spray paint, and then once I had flooded the area with envirotex, I sprinkled black and clear fairy dust glitter on the envirotex. It sank so the surface was smooth, but was sort of suspended, which looks great. My only issue is being afraid to pull the tape off the wall. I scored it, but I think I will wait for the thing to be hard cured to mess with it further. Wish me luck. (10/12/2009)

By aaynne
Painting Laminate Countertops
I've painted my laminate and I'm thrilled! (10/21/2009)

By jammons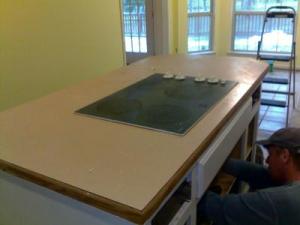 Painting Laminate Countertops
Obviously, the previous picture was "Before". (Forgot to put that). Here's an "After". (10/21/2009)

By jammons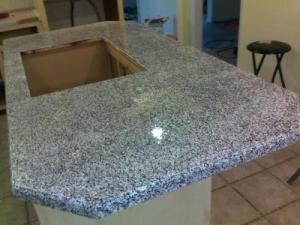 Painting Laminate Countertops
And here's a close up - the light is shining down from directly above (that's the white spot). (10/21/2009)

By jammons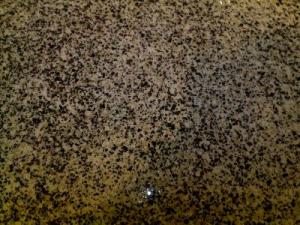 Painting Laminate Countertops
Jammons, that looks awesome! I am finally posting my pics tonight as well, I am very happy with the results and I also used the envirotex light - what a great product even if it is a little scary, it is so well worth it! Here is a before (I also painted the cabinets and replaced the sink). (10/21/2009)

By hottpepper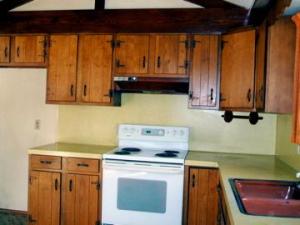 Painting Laminate Countertops
And here is after. I did a white base with two shades of gray and finally splattered black on the counters, and instead of attempting the entirely laminated back-splash I went over it with bead-board and I love it! (10/21/2009)

By hottpepper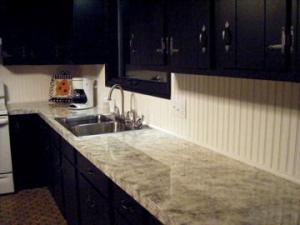 Painting Laminate Countertops
Hottpepper, those are gorgeous! Probably the prettiest I've seen. I was scared to use the sponge painting technique on mine - I was worried it would look like I sponge painted my countertops. LOL. I used garage floor paint and sprinkled the texture flakes all over mine. My fiance thought I was nuts at first. He loves it now though. We also did the wainscoating backsplash and I'm painting and distressing the cabinets. Will have to post pics of entire kitchen once done. Your kitchen is gorgeous! Great job! (10/22/2009)

By jammons
Painting Laminate Countertops
Forgot to add for those of you that are interested, we used a pour on epoxy glaze from Lowe's. (10/22/2009)

By jammons
Painting Laminate Countertops
Painted my countertops just as I read here but, I have some lines from the polyurethane (used a sponge applicator). So my question is, how do I get those lines off there, do I use 220 sand paper? I'm worried it's not curing right, it's been going on 2 days. Need some advice guys. (10/27/2009)

By kkdundo
Painting Laminate Countertops
All of your countertops look great and I can't wait to do my kitchen counter. I'm not very artsy, and I need some advice on the colors. Apparently, the people who owned the house before us were completely color blind, because the kitchen is just a hodge-podge of colors. We have a really beautiful dark blue stone island, very pale tan/yellowish countertop (with some weird stains on it), black appliances, and white and black linoleum on the floor. The walls are... get this, gray?

We're planning on repainting the kitchen and putting actual tile down (not flimsy linoleum). We bought Rustoleum Countertop paint in Haystack. I would really like to bring out the blue of the stone island, so what other color or colors should I use to "marbleize" the countertop? I was thinking maybe a really dark navy blue, but I'd like a third color to give it some real depth.

Plus, I need the fastest drying way to make the top shine. I'll be honest, I don't have time to use Enviro and I have a cat who just loves to jump up on the counter. I would hate to relive some of the nightmarish tales you've all told. So what is the fastest way to do the hard shiny top for it?

Thanks in advance for all your help! (10/27/2009)

By ClarionCutie