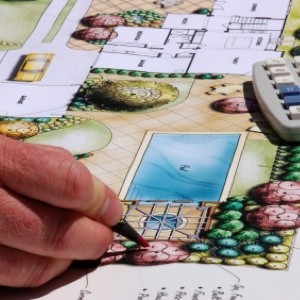 The American Society of Landscape Architects (ASLA) recommends that homeowners invest 10 percent of the home's value into professional landscaping. Not only does professional landscaping give your home instant curb appeal, but it can add as much as 15% to the resale value of your home. If you have a project in mind for your backyard and you've decided it is too big to tackle on your own, here's some advice for how to hire a professional.
Different Types of Landscaping Professionals
Landscape Architects: Landscape architects hold 4-year degrees in architecture, construction, urban design, horticulture, and/or landscape design. These professionals are licensed and certified and typically tackle the "big picture" projects, such as developing a comprehensive plan for your entire outdoor space-designs that may include lighting, decks and patios, overhead structures, swimming pools, fire pits, etc. Many also do consulting work, such as reviewing your own design plans for problems before you begin a project.
Landscape Designers: Landscape designers engage in the planning, design and/or construction of outdoor living spaces using plant materials and smaller, supplemental hardscape materials like garden paths, arbors, etc. They may or may not be licensed or regulated by any agency, although many have at least some degree of formal training in design and may belong to professional organizations that offer continuing education or review. Landscape designers are generally very good at creating planting plans more so than overall landscape designs.
Landscape Contractors: These are the hardworking professionals that typically carry out the plans of a landscape architect or a landscape designer. They are hired to install design elements such as a paths, retaining walls, and planting beds. Depending on your location, they may or may not be overseen by a licensing agency or governed by state regulations.
Determine Your Needs
The first step in hiring a landscape professional is to determine your project goals. Are you looking for someone to completely redesign your outdoor living space, or someone to install a few specific elements like a stone path or a retaining wall? Will you require installation and ongoing maintenance, or do you plan to do some of the work yourself? Mapping out what you need along with your budget will help you save time as well as foster clear communication between yourself and the professional you end up hiring.
Where to Start Looking
The best place to start looking for a landscape professional is to ask your friends and family. If they don't have a good recommendation for you, drive around your community and look for landscaping that you like. When you find something that appeals to you, stop and ask the homeowners if you can talk with them about who did the work. Most will be flattered with the compliments and happy to talk with you about their experiences.
Finally, check with local garden centers. Many have referral agreements with local landscape professionals. Pay attention to the names that seem to keep coming up repeatedly from various sources. They may represent the most trusted professionals in your area.
Questions to Ask
Before you hire anyone (regardless of who recommended them), you need to ask your potential hire some tough questions. It's a great idea to make a list, leaving space to write the answers as you interview prospective hires. Here are some questions to ask:
What professional titles/certifications do you hold?
What professional training have you had?
Are you certified or licensed by any group or organization?
Do you have a portfolio?
Can you provide references?
Can I talk to some of your clients?
Can I get a written estimate?
What's the average cost of one your projects?
Can you stay within my budget?
Do I pay all at once, or in stages as the work is completed?
Can I do any of the work myself to reduce costs?
Are you bonded and insured?
Who is responsible for securing necessary permits?
What sort of guarantee do you provide on workmanship and materials?
Can I get that in writing?
Do you provide maintenance after the project is finished?
When will the project start and when will it end?
Can this project be done in stages?
How soon can you provide the written contract?
Other Things to Consider
Do they appear professional (show up on time, ask questions, listen to your needs)?
Do they have good communication skills?
Check with consumer protection groups and your local building department to see if any unresolved complaints have been made against their company, and if they have met the local licensing and registration requirements.
After The Project is Finished
Keep in mind that a landscape is a dynamic, living thing. No outdoor project is ever really finished. The long term success of your project depends on routine maintenance; weeding, pruning, occasional repairs, etc. If you're not prepared to keep up a regular schedule of maintenance, make sure you state that upfront with your contractor or you're sure to be disappointed down the road.