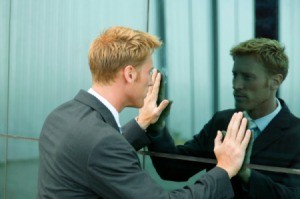 When we visit toilets, bathrooms, hotel rooms, changing rooms etc, how many of you know for sure that the seemingly ordinary mirror hanging on the wall is a real mirror, or actually a two-way mirror?
Just conduct this simple test: Place the tip of your fingernail against the reflective surface and if there is a GAP between your fingernail and the image of the nail, then it is a GENUINE mirror. However, if your fingernail directly touches the image of your nail, then BEWARE, for it is a two-way mirror!
By Marti M.
Editor's Note: Another way to detect whether a mirror is a two way mirror is to turn off the lights and put a flashlight up against the mirror. If there is a room behind the mirror, you will see it.