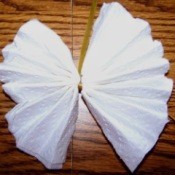 Many of you remember the crepe paper or tissue bows; this is the same principal but made from paper towel with a twist.
Fold one double-layered paper towel or two thin paper towels in half then cut along that fold. Do the accordion folding making 1/2 inch folds going back and forth working the narrow end.
Fold lengthwise and clip both sides of the fold into a V, be careful not to make to deep a cut. Place the middle of a 2 foot piece of curly ribbon on that cut, take another 2 foot piece and tie around the paper towel securing the curly ribbon in the knot.
Open the paper towel fan up and slightly bend back over the center carefully to smooth out the folds. Now very carefully separate the layers as far as you can toward the center to both halves.
Pull your curly ribbon to one side out of the way and gather your "petals" into a bunch in your hand. You are ready to dip the edges in food coloring; just a drop mixed with a tablespoon of water will do so just barely have your solution in the bottom of a container, now barely touch the edges. The color will quickly soak up the layers.
Lay aside to dry then pull the curly ribbon you didn't tie with, to the top and run a sharp edge to curl it for the center of your flower. You could put a button in the center or a cotton ball dipped in another color of food coloring, how about a colored marshmallow? Use the other ribbon to tie on your package and curl the ends.
Enjoy!
By Ann Winberg from Loup City, NE