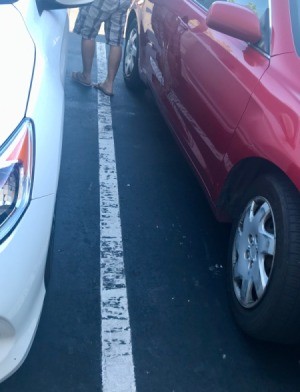 When I park my car, I always ensure that I am parked in the middle of the lane as possible. Sometimes the parking lots are small and I can't do anything about it but I will re-adjust my parking to make sure that the cars surrounding me can get in/out with enough room because I don't want any damages to my car. Same applies to parallel parking.
Unfortunately being nice and considerate of others, doesn't mean other people are also. I have had a couple of incidents of minor hit/run incidents where the cars parked beside me hit my car as they reversed, or parallel parked resulting in minor dents, scratches, dings and none left any notes. There weren't any witnesses, proof or cameras nearby. And the accidents aren't big enough to deal with my insurance company because my deductible is $500.
Once in a while, when I see a vehicle I park next to that is not in the greatest condition or poorly parked, and, just following my gut I will snap a couple of photos and their license plate just in case. If all is well, I will just delete the photo. After all, photos are digital and can easily be deleted.
For instance, today while going grocery shopping, the vehicle beside us (the red car) is not parked straight in the lane. You cannot see from the picture but the front end, rear end had damages. The side of the car passenger had white paint scratched and since our vehicle is white, I also wanted to document that our car was not involved with their paint. By snapping a photo, it keeps me at ease.