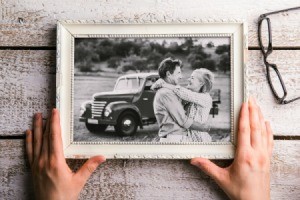 I have photos that are stuck to the glass in the frames. I guess they got moisture in them. How can I get them out without tearing the picture?
By Elly Oliver from Irving, TX

Answers:
Pictures Stuck to Frames
Don't try to pull the picture off the glass. Remove the glass from the frame, and make copies like that! Either at home, or somewhere else. To help prevent this in the future; glue strips of felt that match the color of frame, on the inside, between the glass and the photo. Let dry for several days, then replace. (10/17/2009)

Pictures Stuck to Frames
I have taken advice from archivists and have learned that water alone doesn't hurt prints. In the days of old my Dad, in his dark room, used to run the prints through various solutions and hang them to dry.

I took old albums of black paper where some members had glued the pics to the album. We soaked them in the sink in warm water and they eventually loosened and freed themselves from the paper. We then laid them carefully on wax paper and laid another layer of waxed paper over them. The next step was to weigh them down so they dried flat.

After all this we identified each one in the pic and put them in new albums from Walmart. My aunt and I no sooner finished this huge project which took us 3 weeks and she became ill and passed. The albums are a wonderful gift to the family as she was the last one who could ID the pics. (10/18/2009)

Pictures Stuck to Frames
Water will not hurt the prints. In fact, that is the last solution that they are run through during processing.

However, if they are printed from your desktop printer, water will ruin them, and it would be best to re-scan them while under the glass or print a new copy from the file. (10/18/2009)

By Noella