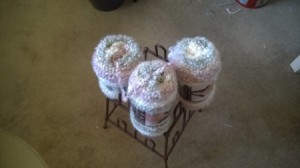 I found this in the free zone yesterday. I thought it was cool for other things than shoes, since I own 3 pair!
You will have to forgive my impromtu chess/checkers board, but you could have a nice game and then it can go back in the shed or closet.
If you have a sturdy board, it could be a table you set up and then break down when you don't need it.
One thing you can do is use it for unrolled yarn. Just put the skein on one of the shoe posts and you are ready to knit/crochet. This is particularly handy when you are making something with three strands and you can work them all at once.
Another idea is for the shop. This is a great way to wind your electrical extension cords. You can either wind it like I did or hang 3-4 on the posts.
While I didn't have any flowers to dry, you could hang this upside down from a wall or ceiling, and hang your gathered flowers.
You can hang it upside down from your closet for scarves, belts, etc.
I am sure I will think of other things to do with it when I have already posted this tip, but now it's your turn! N-JOY!!