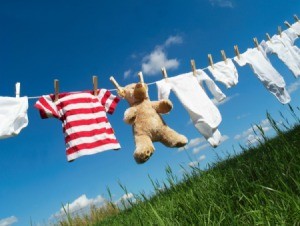 How can I soften wind dried laundry?

By Jenny from Eastern Shore of VA

Answers:
Softer Line Dried Clothing
When I had clothes lines, all I ever did was use liquid fabric softener in the laundrey. However, the clothes do dry nicer if there is a fairly brisk wind. I never had any trouble with the towels or anything feeling stiff. (04/18/2010)
By Joan
Softer Line Dried Clothing
It's not easy, but you can try using 2 parts water with 1 part fabric softener and 1 part of rubbing alcohol or 100 proof vodka. Mix these together and put in to a spray bottle. This is the recipe for the "wrinkle remover spray" but I bet you could spray your wash while it's on the line and already dry, about 10 or 15 minutes before you take it down. The alcohol is added to make it dry faster.

You might also try using "Calgon" water softener in your wash or rinse cycle. With Calgon in your wash cycle you'll only need half your normal amount of laundry soap. Also, it helps to shake your clothes as you take them down.

My dryer has been broken for many years and I always hang my clothes in the shade on my porch and or indoors and mine are never stiff. (but maybe I don't notice after all these years!) I will say, that I save LOTS of money on my power bills by line-drying!
* Also, hang your dark clothes inside-out so the UV rays don't fade your clothes. But the UV rays are wonderful because they kill bacteria and viruses! (04/19/2010)

By Cyinda
Softer Line Dried Clothing
Try putting the line dried clothes in the dryer for 5 minutes and taking out immediately, and hanging or folding. Saves a lot of electricity, but gives you softer clothes and linens. (04/19/2010)

By jean leiner
Softer Line Dried Clothing
If you make homemade laundry detergent, as per some of the recipes from this site, the clothes will stop being stiff. It's additives in the store bought detergent that cause this. It takes a while to wash out of the towels, but it comes out eventually. As a bonus, it makes things much nicer for sensitive skin! Think of this, if you go out in the rain, do your clothes turn to cardboard on your body?
Best wishes! (06/19/2010)

Softer Line Dried Clothing
Remember with allergies, asthma, pollution, etc, the amount of time you want your clothes on the lines. We have highway traffic going by. If I can smell their diesel, I know it is on my clothes. I get a daily allergy alert from Pollenex. On low count days, I know it is safe to hang out laundry. It gives a couple days ahead of time potential amounts. This also means the environmental contaminants will be less too.

Don't leave them over night, your morning clothes will be full of pollens, possibly sap and bird poop. (06/21/2010)

By Grandma J