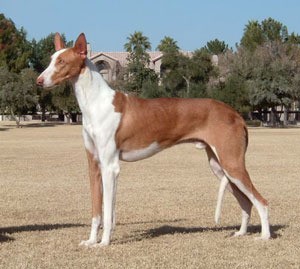 Breed Description:
The Ibizan Hound is tall, elegant, and athletic in appearance. Originally bred for hunting rabbits, the sight hound also relied on its keen sense of smell and large erect ears and to help track his quarry. Today the Ibizan is largely kept as an affectionate and loyal family pet.
Group: Hound Group
Purpose of Breed: Hunting Rabbit
Country of Origin: Spain
Average Size: Ranges from 22.5 to 27.5 inches tall and weighs from 42-55 pounds.
Color(s): Red, white, fawn, white and red, white and fawn.
Coat Type: Their coats are either short and smooth or wire-haired. Both types of coat are hard in texture.
Grooming: The Ibizan hound is known for cleaning itself somewhat like a cat and needs very little grooming. This breed requires standard care for eyes, ears, pads, and nails.
Exercise Needs: This breeds requires a great deal of exercise to stay mentally and physically fit. They have an instinctive tendency to chase after moving prey and should only be allowed off a lead in a safely enclosed area that is at least 6 feet tall.
Temperament: The Ibizan is even-tempered, affectionate and loyal to his family. They are playful, exuberant dogs and enjoy the company of children. This breed is extremely versatile and athletic-excelling at obedience, tracking and lure-coursing. Their alert, watchful nature makes them good watch dogs and they are very easy to train.
Common Ailments: Susceptible to seizures, deafness, eye disorders, and allergies.
Life Expectancy: Averages 11-14 years.
Trivia: A Statue of Anubis, "The Watchdog of the Dead," was found in the tomb of the Egyptian Pharaoh, Tutankhamen, in 1922. The statue bears almost an exact likeness to today's Ibizan Hound.
More Information: The Ibizan Hound Club of the United States
Photo Credits: The photo is of Hunter, courtesy of the Ibizan Hound Club of the United States.