Here's a lovely decoration for your next party, indoors or out. They are super easy to make and will be a great conversation starter.
Supplies:
balloons
water
votive candles
Instructions:
Fill the balloons with water. Leave a little air in it so the votive will have a place to sit.

I found that filling the balloons with the sink sprayer worked best, but you could also use the faucet, a funnel, or even a watering can with a narrow end.

Put the balloons in the freezer. However they sit, is the shape they will take as a candle holder.
Once they are frozen all the way through, peel the balloon off to complete your candle holder.
Set in place and light a votive to put on top
When you first put them out they will be frosty on the outside as pictured below. As they melt, the frost will disappear revealing the unique and intricate patterns of bubbles and cracks within the ice.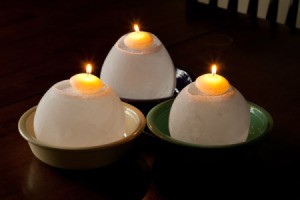 For an indoor decoration, I used floating votives and placed them in bowls as a centerpiece on the table. For an outdoor decoration, you could use a tea lights and place the ice on your patio or deck railing. They will add a magical light that evolves through the evening.
By Jess from Hillsboro, OR