Besides the cute Diaper Cake, is there anything other baby gift I can make with disposable diapers? I have a shower coming up, but another friend does diaper cakes so I wanted to do something different with them. Thanks.
Jacqui
Answers:
Ideas for Diaper Gifts?
I have seen a very cute diaper wreath on the internet. I even made one once. Everyone loved it. I am not artistic. It was on a round wire base you can get at craft stores. Just hang small size disposable diapers on it. They pinned it so they wouldn't come off but it wasn't necessary. Decorate with baby items like rattles, tiny soft shoes etc. Put a bow on it to hang. Mom could take it to the hospital as her focal point for Lamaze. (09/15/2004)

By claudiacy
Ideas for Diaper Gifts?
At a recent shower someone gave me an opened package of diapers. I thought that was kind of weird until she told me to take out a few diapers and look at them. The had used Sharpie pens and had written something cute or funny on every single diaper (the jumbo size 80 pack). They wrote things like "You shoulda changed this one sooner" and "This one is Daddy's". (09/15/2004)
Ideas for Diaper Gifts?
Many times I have gone to Walmart and bought their $3 wicker "laundry" basket. It is oval and has handles and I have also bought those baskets that look like the shopping hand baskets only a little larger. I buy fleece inexpensively and save back for gifts. I make a blanket to line the basket (you could buy one too) and fill with a package of diapers, lotions, etc.
I have mainly done this for someone really close to me (it can be costly to fill) or someone who otherwise does not have much and is in need. Especially those that never get a baby shower. But you can fill the bottom of the basket with tissue paper and then line it with a blanket so you don't have to fill so full. I then take the corners of the blanket and bring to the center and tie with ribbon and tie on a set of teething keys, or baby rattle, etc. (09/18/2004)
By Tawnda
Ideas for Diaper Gifts?
Here is one idea I stored away for future use.
Maybe make a small cake to give to the mom to be and have the baby bootee cup cakes sitting around it. When it is time to serve the cake, each guest gets a cupcake and mom to be can take the small home the cake for hubby.

Baby Bootee Cakes
Contributor: Mazirene From the Book: "What Should I Bring" by Alison Boteler This baby-shower classic is made by cutting cupcakes into the shape of little shoes. Baby bootees may be pink or blue, cherry or blueberry. Not sure of the baby's sex? Bake a batch of both or use lemon cake mix for yellow booties.
1 (18.5-ounce) box white cake mix prepared as directed with egg whites, oil and water
1/2 cup chopped maraschino cherries or fresh blueberries
30 cupcake liners
3 (16-ounce) cans of vanilla buttercream frosting
red or blue gel food coloring
small pastry bag with round writing tip
Preheat oven to 350 degrees Fahrenheit. Prepare cake mix, folding cherries or blueberries into batter. Line 30 muffin tins with paper liners and spoon batter into cups about half full. Bake 20-25 minutes, or until a toothpick inserted in center comes out clean. Cool completely. Remove paper liners from cakes. Cut 10 cakes in half. Cut other 20 cakes, slicing off 1/4. Use the 3/4 as the "heel". Place half cake cut side down next to cut-part of heel for "toes" on sheet of waxed paper. Reserve 1/4 cup white frosting and tint remaining frosting either pink or blue. Frost booties. Fill pastry bag with reserved white frosting and pipe laces on bootees. (You can make 2 small x's and a bow) Place cakes in freezer for a few minutes to set frosting. Makes 20 cakes. (09/19/2004)
By LadyD2002
First Diaper Baby
This is my first diaper baby (09/10/2006)

By Lisa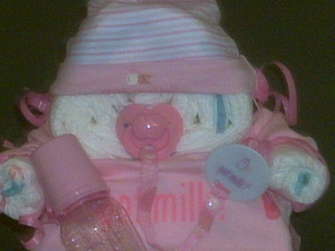 Ideas for Diaper Gifts?
Ice Cream Creations
4 diapers
1 bowl
1 spoon
ribbon
2 wash cloths rolled up with a pin
(10/27/2008)
By baby and me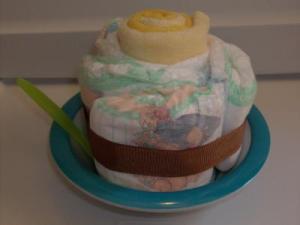 Ideas for Diaper Gifts?
These are a little expensive, but you can maybe get more ideas and then copy them.
cornerstorkbabygifts.com (04/24/2009)

By kasullivan
Ideas for Diaper Gifts?
Diaper wreaths are nice. This is my first one. It was really easy to do and all the nurses at the hospital loved it. (05/24/2009)
By tambri