September 20, 2022
0

found this helpful
Best Answer
I'm not sure if we can help you without more information, and a close up picture would show the body and legs.
You do not say if they bite, just crawl around, fly or smell.
Where are they on your bed? Top of covers?
Anywhere else in your house?
Have you checked to make sure they are not bedbugs?
This is only if they bite, or you are finding red bite marks that itch.
Your best bet is to try and capture one or more and place them in a small jar or baggie and take them to your local Ace or True Value hardware store, as they will be able to help you find the name of your bug and also what to do to get rid of them before they multiply.
They may be able to help with a good description.

September 21, 2022
0

found this helpful
Best Answer
I think you have thrips (order Thysanoptera):
upload.wikimedia.org/.../220px-Ponticulothrips_diospyrosi...
They are minute, mostly 1 mm long or less. They are elongated with transversely constricted bodies. They range in size from 0.5 to 14 mm (0.02 to 0.55 in) in length for the larger predatory thrips, but most thrips are about 1 mm in length. en.wikipedia.org/.../Thrips
Perhaps you have flowers in your bedroom or plants nearby.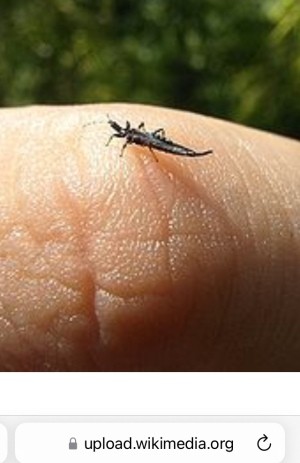 Judy
Gold Post Medal for All Time! 677 Posts
September 19, 2022
0

found this helpful
Without a picture it is going to be hard to identify. They could be gnats.

CDC
Bronze Tip Medal for All Time! 59 Tips
September 20, 2022
0

found this helpful
The bugs may possibly be head lice. Here's several photos of them:
www.google.com/search?sxsrf=ALiCzsbYgEv0KqmCODiGQEpYdCnZgOXtfg...

September 20, 2022
0

found this helpful
Perhaps you have millipedes?
They can be very tiny
twitter.com/.../994782625222062080
hortnews.extension.iastate.edu/millipedes

September 21, 2022
0

found this helpful
There is a similar question:
www.reddit.com/.../
Perhaps this is a thrips (thunder bugs). Adult thrips can fly, but houseplant thrips tend to crawl as their main mode of transportation, rather than flying.
They are harmless.
You might post your question in reddit community 'whats this bug'