May 15, 2018
0

found this helpful
Could you post the dimensions? My first thought was bottles but why have a drawer? Bottle opener drawer? Maybe a wig holder with a place for their pins?
May 15, 2018
0

found this helpful
The box is 12" wide 13" tall and the openings are 3 1/2" wide and 11 1/4" deep. All ideas are welcome. I am intrigued with this item.
May 15, 2018
0

found this helpful
Well, you certainly found a very unusual item. My first thought was some sort of document carrier but the size may not be good for that.
I would suggest you ask for a free appraisal and see what they can tell you.
Here is a site that offers "free" appraisals but always make sure there is no cost before submitting.
May 16, 2018
0

found this helpful
I also thought it looked like a wine holder but from the measurements posted, I no longer think so as I cannot think of a wine bottle that would fit into a 3" opening unless it was a "sample" and since this appears to be a traveling case, I do not think wine would be any good after a traveling trip and in any weather?
The box is 12" wide 13" tall and the openings are 3 1/2" wide and 11 1/4" deep.
May 15, 2018
0

found this helpful
I thought that too, the holes being for bottles. Maybe some kind of bottled wine carrier, and the drawer for the corkscrews?
May 15, 2018
0

found this helpful
My guess is a wine holder.
For curiosity sake, I measured a wine bottle just now, and a typical
wine bottle's diameter is just under 3 inches *about 1/8th to 1/4* less than the 3" diameter, and it measured 12 inches high.
I sure don't know if that's some kind of a wine carrier, but I will say, it's very different.
I just searched some more and, maybe it really is a "wine rack", I guess having the handle enables it to be an "on the go" wine rack/carrying case.

See this link, there's all kinds of "wine racks" they call it, and available here.
(Describe Your Image Here)

Oh goodness, I don't know where my post went, but I was just saying (I've looked high and low) and so far, the only place that seems to have anything similar to yours pictured here Veronica is this link. The other pictures wouldn't copy, so I only posted a picture of the one wine rack that would copy from (Images in Google).
www.boxman.ca/.../
May 17, 2018
1

found this helpful
so there's the issue of the 4 bottle sized openings, but there's also the issue of the small drawer at the end. It also looks old AF
whatever this is, it is something meant to carry something that requires storage for 4 cylindrical objects and a number of small items such as screws, pins, needles, etc.
My vote is that this is a carrier for the cylinder recordings of the ancient precursor to the Victrola phonograph, Edison's cylinder phonograph. IMage attached. The holes are meant for the cylinders and the drawer is meant for the needles to operate the machine
here's a fun link to the cylinder audio archive cylinders.library.ucsb.edu/history.php
FWIW it probably IS worth some money, or it can become your first piece in collecting a cylinder phonograph and actual cylinders www.ebay.com/.../edison-cylinder-phonograph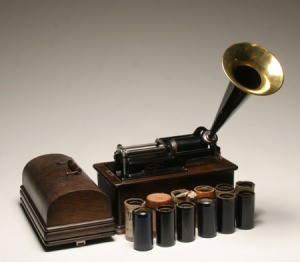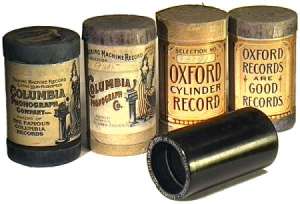 May 17, 2018
0

found this helpful
Your idea is something I never would have thought of. I'll do some research on carriers for cylinders. Thank.