For my high school reunion, I made a centerpiece using a few stacked "presents" wrapped in graduation-themed paper and ribbon in our school colors. My presents were empty, but you could put anything you want in them, especially if the party is for an individual.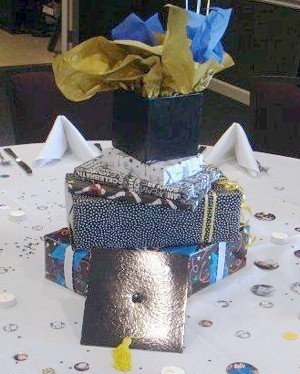 Read More...

An inexpensive and cute centerpiece that I did for a birthday party was using the 32oz chinese take out containers! Since they are white, you can decorate it to your decor.
I cut and taped clear party bags to one side and used stickers on the other side and filled it with candy (or cookies, or your idea.)
Read More...
I have just been called upon to make centerpieces for a up and coming church banquet. I need to make fifteen centerpieces and they have to all be under five dollars each! We are going with a fall motif.
I have looked all over the internet craft sites and my magazines at home for ideas. The problem is that nothing is cheap enough.
I was hoping my thrifty friends could help me come up with some inexpensive ideas. Have a great day!
Kim
Answers
Best Answer
Ears of dried yellow or "Indian" corn can be mounted on small squares of thin wood (cut from paneling scraps, plywood, etc.). The ears can be mounted with a drywall screw through the bottom of the board and the large end of the ear. Then add straw hats, or other decorative hats to the thin end of the ear of corn. Mount craft eyes and a piece of pipe cleaner shaped like a mouth to make the face. Then tie fall fabric about two-thirds down on the ear to make clothing. The material should be wide enough to cover the wood base. Additional fall leaves, silk flowers, etc. can also be glued to the center piece. I usually place small gourds, nuts, silk leaves, etc. around each of the centerpieces.
Deanne
Best Answer
We just had to make centerpieces for an upcoming convention at our church and we needed them to be inexpensive as well. We bought ivy bowls from the craft department at Wal Mart (77 cents a piece). Cut sheets of colored tissue paper (to match our theme) and laid it on the bottom of the bowls. We went to a local craft store and found small bunches of flowers for $1.47 each. These went in the bowls and we had inexpensive but pretty table decorations and all the parts are reusable for future events!
Connie
Best Answer
Try using gourds, mini-pumpkins and Indian corn. Hopefully one of your members has some from their garden to donate, otherwise they are relatively inexpensive. Lay a few fall leaves on the table and arrange a few gourds and pumpkins and corn on top. Or take a small pumpkin and hollow out the center; then put a small piece of water-soaked oasis in the hollowed-out part; then, using leaves and greenery from your yard and a few fall colored mums (also hopefully from someone's yard) make a small floral centerpiece in the pumpkin.
Perhaps you even have some other nuts, berries or dried materials in your yard. Have fun and be creative!
Sue from Wisconsin
Best Answer
Use Mother Nature's bounty! Hollowed out mini pumpkins, gourds, zucchini, apples etc., can become containers for flowers or candles. Be sure to take a thin slice off the bottom to help the veggie/fruit sit up straight. If you don't have a garden, ask around, I bet someone has extra they can share. You could also use leaves and other outdoor treasures. As for flowers, the cheapest would probably be daisies or chrysanthemums.
Candles are very reasonable at the dollar store. Stores might even donate goods since it is a church affair, especially if you create a nice sign that tells who donated the goods. A thank you note afterward helps to pave the way to future donations! Good luck, and most of all have fun with the decorating!
Candice

April 11, 2007
0

found this helpful
Best Answer
Every fall we host a harvest party for our church. I get containers of any kind at dollar store. Fill them with fall artificial fall leaves and flowers. If your event isn't until fall, you can get very small real pumpkins and cut top off and fill with artificial fall flowers. I also have used those wicker type paper plate holders, and hot glue flowers from Walmart all over them. Hope you have fun.
Margeth
Answer

this Question

I have been asked to decorate a very large dining room. It is our annual final ladies golf awards evening. The captain has requested a very glittery gold evening. The table cloths will be white, with white napkins. Does anyone have any ideas on table decorations that are glittery gold? Thank you.
By Linda A
Answers

September 2, 2013
0

found this helpful
You could find some used golf balls and paint them with glitter paint, available in your local paint/craft store. The spray on kind would be messy and is expensive. You can always paint them with regular gold fleck paint and then sprinkle glitter on when they are still wet.
To keep them from rolling, glue a large button on the bottom and you can set them anywhere. They can be stored and used again when you have another event. I hope that gets the "ball" rolling!

September 11, 2013
0

found this helpful
Buy plastic/porcelain horse figurines/toys and spray paint them in gold. Will look extremely elegant yet cheap.
Answer

this Question
msjodiwms
Bronze Feedback Medal for All Time! 182 Feedbacks
The wild dogwood tree in my yard is filled with the symbol of Easter with the cross shaped blossoms it radiates the meaning of spring with new beginnings in our lives, garden flowers and the pastel coloration of spring florals that makes us smile. I used them as part of my spring dining room table decor.