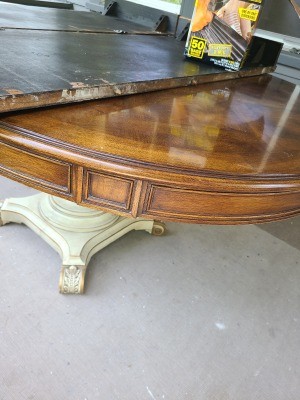 We had to gut out a 1920s house. This was left behind. It weighs a lot! Just wondering if anyone knows approximate value, age or type of wood? Thank you!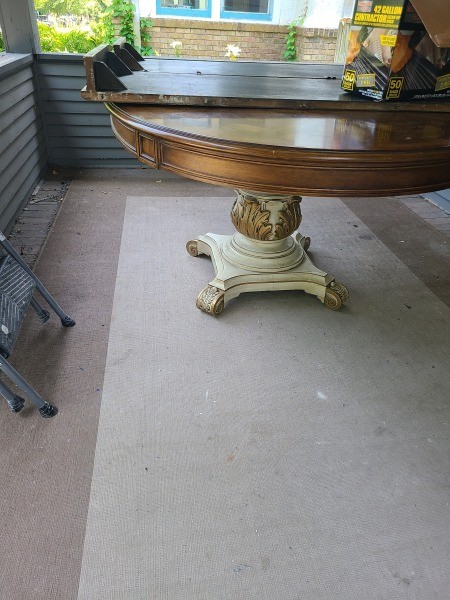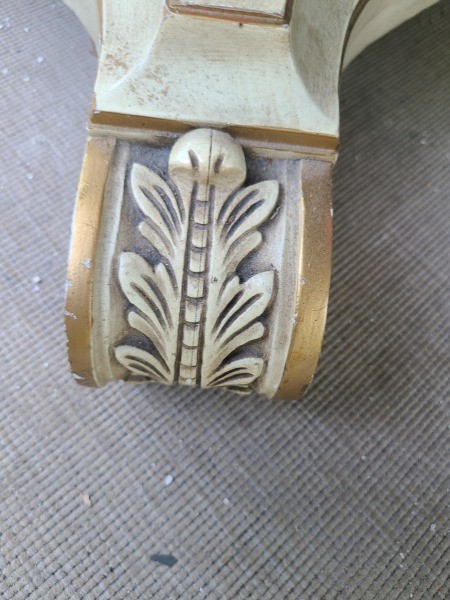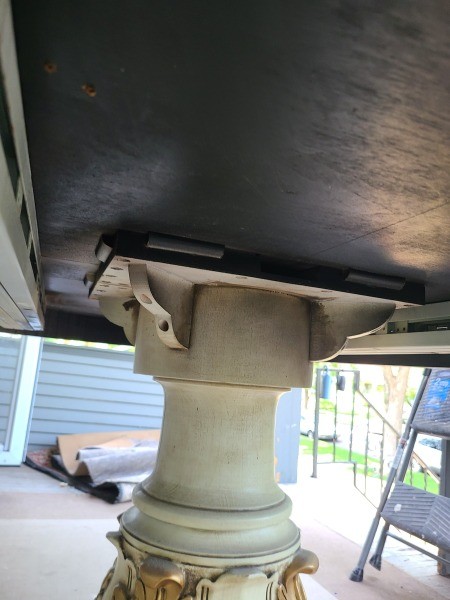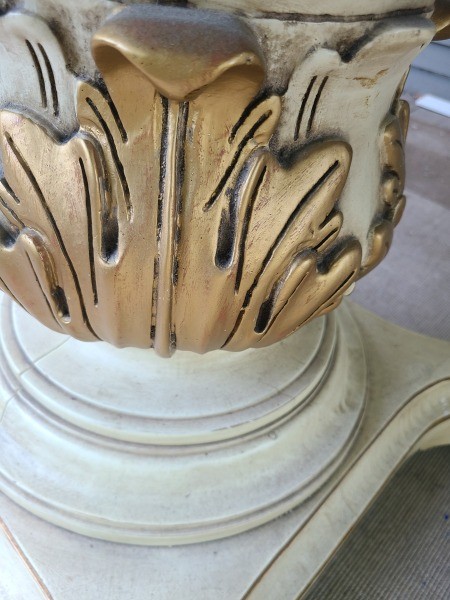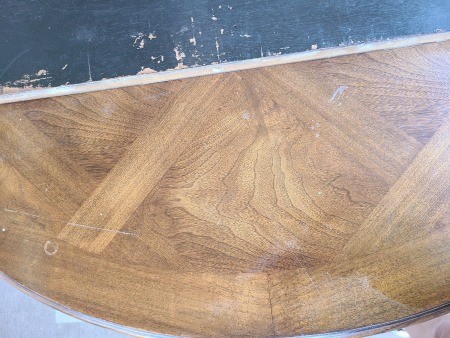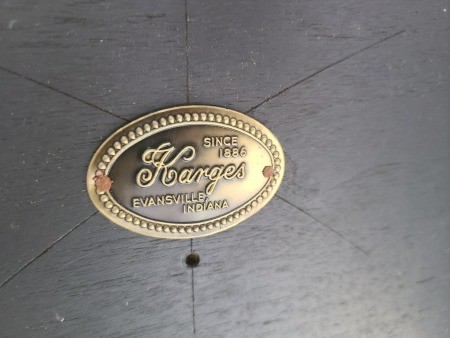 Answers

July 17, 2021
0

found this helpful
Best Answer
I have seen several tables similar to yours listed for sale but it seems most of the listing have several chairs also available and this can place value in a whole new ballpark.
Karges' furniture is usually valued in the higher field but then when selling you have to take into account where the furniture is located as final value sometimes changes in different areas of the country. This fact does not always hold true with a 'sought after' piece so just keep that in mind.
The Karges company does have a web site with several links that you can use to send messages in reference to questions about dates, style, etc about any of their vintage furniture.
They will not tell you anything about value but if you obtain the information they provide then you will be able to do proper research to finding info on value.
Check out the company; there is a 'help' button on the sight that tells you what they will provide but you'll have to go further down to find the button for 'send us a message'. They will answer your message and tell you how to send pictures of your table.
Post back if you obtain more information.
karges.com/about
Hopefully another member will be able to provide more useful information.

Pghgirl40
Bronze Feedback Medal for All Time! 196 Feedbacks
July 18, 2021
0

found this helpful
Best Answer
Karges pieces were (still are) considered very high end and mostly if not exclusively sold through interior decorators. I find very few references to them when I do my research in public settings, like old newspapers ads and other catalogues that I search.
They made their pieces to be timeless, and often based the designs on classics--like styles from 17th and 18th century. Your piece is a French Regency style pedestal table. At first I thought the bottom was not original color, but I did find a few similar pieces so I am guessing it is original.
I am guessing from the style your piece is 1920s-1940s, I tried to get a good look at the construction on the under sides you shared and they don't enlarge like they used to so I was not able to see as good as I would like--at a high level it looks like that era of Construction. Are the screws flat head (not hex)? Are there any dowels in the construction?
Worthpoint has a very similar table to yours that sold, but I no longer have a membership to their site to find the actual sold price and when it sold.
That said, values are quite subjective and regional so what you may fetch for it in a big city may be in the thousands and in podunk town, in the teens. Usually values are somewhere in the middle in most places.
It is all supply and demand based so hopefully you are in a high demand, low supply town and can fetch in the thousands!
Post back how your sale goes!

Judy
Gold Post Medal for All Time! 677 Posts
July 13, 2021
0

found this helpful
I dont see your exact table on ebay, but I see many similar ones and they are over $3000! www.ebay.com/.../i.html?_nkw=karges+dining+table&_trksid...

July 13, 2021
0

found this helpful
It actually might have been custom-made by Karges.
The finish (possibly veneer) appears to be Olive/Ash; the company produces gold leaf work as well.
There is a popup chat on their website. Alternatively, you can scroll to the very bottom of the "About" page, there's a contact link that will popup a direct messaging form. karges.com/about
Good luck!

August 5, 2021
0

found this helpful
This is Mid Century Furniture French Empire Regency Dining Table by Karges. I found a bit similar tables www.worthpoint.com/.../antique-dining-table-mid-century..., www.worthpoint.com/.../vtg-karges-furniture-french-empire..., karges.com/.../regency-dining-table-9
Perhaps your table is made of Mahogany, like this Karges Empire Mahogany Dining Table: www.onekingslane.com/.../4741233-karges-empire-mahogany-dining..., but it's hard to tell from the photos.
The price is quite high.
Retail Price of Karges English Regency Dining Table (with hand carved dolphins) is $ 16,700 www.chairish.com/.../karges-furniture-383-regency-dining.... But, of course, the price depends on many factors.
Answer

this Question