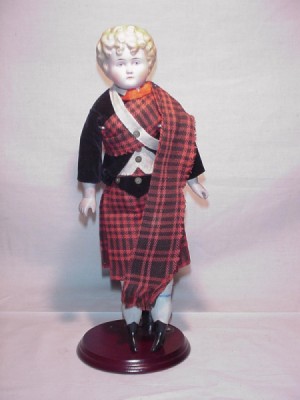 I have an antique 12 1/2" Alt. Beck & Gottschalk (ABG) German bisque china head doll, wearing a Scottish costume. 1064 #0 is etched in the porcelain on the doll head's lower back. The head and shoulders, arms, and legs are bisque porcelain. The body is made of fabric and stuffed with straw.
I found a site (dollrefrence) that helped me look up what circa it was made by the serial # on the back. It said that 1064 #0 (painted eyes) dolls were created in 1880, which is an ABG bisque shoulder head doll. If that is correct? I know absolutely nothing about antique dolls, sorry.
I was inquiring if you would have any idea of what the doll's value would be? Or if there was another site possibly that I can go on to see what the value could be?
There is damage to the right part of the shoulder, which from what I can feel broke in pieces and is still underneath the outfit so all pieces are still there. The costume though is custom pinned to the doll. So I am afraid to take the clothing off to see if there is any other damage that was done. Also, I've seen pictures online of the same doll wearing somewhat of the same Scottish attire, but the ones that I've seen have more accessories to the costume like a badge and belt, as well as leg warmers which match the costume. How would I go about finding out if anything is missing to the costume or doll?
I would very much appreciate any info about this doll that you might have.
Thank you.