Installing a Cat Door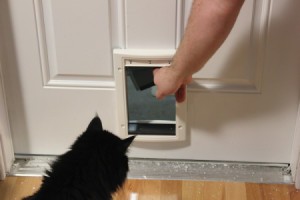 Installing a cat door is an easy home improvement project. They can be installed in just about any door in your house or even through the wall.
For this project I installed a door which goes through the door into my garage. This allows me to put the cat's litter box out in the garage.
I used a PetSafe door from Petco. They sell doors in all different sizes for both cats and dogs. Make sure you size the door properly for your pet using the instructions on the box.
Total Time: 2 Hours
Supplies:
pet door kit ($20 - $100)
electric drill
jigsaw
level
safety glasses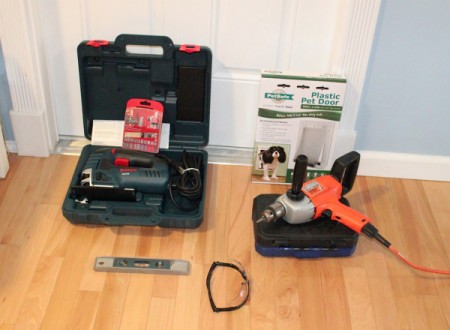 Steps:
Select which door you want to install the cat door into. I picked this door to my garage which is a metal door with foam core interior.
The door came with a template which I used to determine where I wanted the door to be.
Carefully center and level the template.
Use a pencil to outline the template in the desired location. Remove the template.
Use an electric drill to make pilot holes at the four corners of the template. A drill with a built-in level makes it easy to ensure that you are drilling through the door evenly. Make sure you drill both through the front and back of the door.
Check the back of the door to make sure that all four pilot lines came through. You can use the level to add straight lines between the four holes to guide your cuts on this side of the door.
Use a jigsaw with an appropriate blade to cut the door from pilot hole to pilot hole. Try to follow the pencil line exactly.
The foam core in my door keeps the metal in place even once the cut is completed.
Perform the cut on both sides of the door and pull the cut pieces out. You should now have a hole clear through the door. Clean up the edges with the jigsaw if necessary.
The door has three pieces. A plastic tunnel which fits in the door itself, a door flap for the inside, and a piece of molding for the outside. Fit the three pieces together through your door. You may need to trim the tunnel a little depending on the thickness of your door.
Attach the door by feeding the long screws provided from the inside of the door to the outside. This pulls the molding and door flap together locking them to the door and tunnel.
Here is the completed door.
I allowed my robot vacuum to clean up the area while I rounded up the cat.
Scroll back to the top to see her checking out her newfound portal to freedom.
Read More

Comments
Videos
Installing a cat door is an easy home improvement project.
Read More...
Published by ThriftyFun.
© 1997-2020 by Cumuli, Inc. All Rights Reserved.
https://www.thriftyfun.com/Installing-a-Cat-Door.html