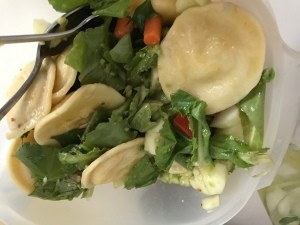 The recipe I saw on my Facebook group had a southwestern salad with corn, black beans and cilantro. I did not have any of those ingredients. However, the idea of cooking tortellini in the instant pot really piqued my interest on this 97 degree day.
You will not heat up your home, and you will have a wonderful salad in well under an hour.
What I liked about the recipe was the versatility. For this salad, I used lettuce, snow peas, string beans, carrots, parsley, basil, tomatoes, cucumbers, avocado and homemade balsamic vinaigrette dressing.
The recipe called for a 19 ounce bag of three cheese tortellini. I had a 12 ounce bag of large cheese ravioli. Nonetheless, the ravioli was cooked to perfection.
You can also cook the tortellini on the stovetop, if you do not have an instant pot.