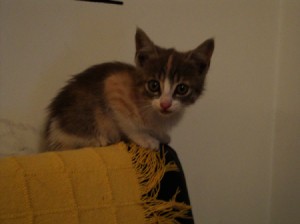 I rescued a black kitten 6 months ago. He was around 8 or 9 weeks old and having been hand reared from 3 weeks old. He was found in a bin with a very ill mother and 4 brothers and sisters, all re-homed. He is very comfortable with people. So comfortable he behaves more like a dog than a cat. He is now about 8 months old, neutered and and a very happy cat.
Just over a week ago my partner came home with a box with a tiny female kitten of around 5 or 6 weeks that he saw being dumped in a bin. Dumping kittens and puppies in bins is a "huge" problem in Spain. So my partner took her and brought her home.
Hugo, the 8 month old, reacted as I would expect. He was pretty unhappy that his kingdom suddenly had another cat's scent in it. I kept her in the second bathroom for the first night and day as she was seriously terrified of everything. On the second day I got hold of a crate and brought her into the living room. To start with Hugo would hiss and growl and run away. Ok, pretty normal right?
So after about a day and half of this he suddenly did a 180, or he seemed to. He sits in front of the crate and plays with her through the bars. He lays on top of the crate and plays through the side slits. He isn't staying outside for as long as before, sometimes he comes in, goes and sniffs her, then goes out again, like he is checking on her. They eat within sight of each other and she meows for him if he is in the room, but not right near the crate. I was thinking I had a major result without really trying.
So I opened the crate and let her out with Hugo in the room. He tried to bite her neck, from the top and from the underneath, and then got her in a headlock and I thought "oh no!", but then he started licking her, her head or her bottom usually, and I thought all was well. The headlock and licking has now turned into dive bombing her at every opportunity and after a minute of licking he starts biting her. He keeps biting her genital area which is somewhat concerning me as she doesn't fight back. She just adopts a completely submissive position and cries out when he bites.
If I shout his name or tap his bum he lets go and gets off her straight away, but then dive bombs her again within about 5 seconds. I've tried a water spray on him before, to stop him shooting up my curtains, but it didn't work as he loves water.
He is super friendly and confident, she is super timid and cautious. Is there anything I can do to help the situation or is it simply a case of waiting until she is bigger, stronger, and hopefully more capable of defending herself before they'll be OK together? Is it possible he can kill her? Her little neck seems so dainty compared to his teeth! Any advice would be greatly appreciated, thanks in advance :-)