Introducing a New Kitten to the Resident Cat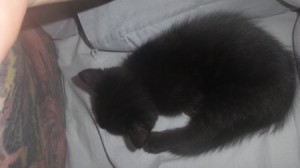 I got a 8 week old kitten today and my 7 month old keeps hissing at her. I have had to have the kitten with me in the bedroom at night with food, litter tray, and water as my female is not liking her. I just don't want my 7 month old cat hurting a 8 week old kitten. The 8 week old kitten is dying to see the older cat and wants to play, but my older cat doesn't like her and is always hissing at her. I don't want to have to re-home my new addition because of the older cat. Will she eventually like the kitten? How do I do this and make them get along?
Add your voice! Click below to answer. ThriftyFun is powered by your wisdom!
February 7, 2018
0

found this helpful
Like any creature, cats are territorial. This new kitten is infringing on the 1st cats space..so she is obviously unimpressed. Cats do adjust after a little while usually. The first one just needs to see that the kitten is not a threat, But some cats never quite adjust so it may be some trial and error. Protect the little one as long as you can...and when its a little older they may just have to establish their own order.
February 8, 2018
0

found this helpful
Give both of them a blanket with the others' scent. They will get used to each other faster this way.
February 8, 2018
0

found this helpful
They are both still young and yes, this will happen. Even with dogs this happens. I introduced a new puppy in the house and my older dog who is almost 5 wasn't happy at all. He did bite the puppy a few times.
This does take time and you basically have to do this slowly and let them get used to each other. You'll have a few incidents and the older cat will show the younger one who's boss. They will work this out in time because they are both still young. I would keep going on like you are now and slowly, allow them in the room together for a bit longer each time.
February 13, 2018
0

found this helpful
One thing I have found that helps is to see that the new cat has her own space. I use a guestroom with litter box, water, food, toys and a few cozy beds and a window sill to look out of. My new kitties sleep in their rooms and get increased time out with the resident cats. I have found this keeps them much calmer and there is less hissing swatting etc, Look for a couple months of hostility.
Eventually they come to a truce. Will they ever like each other? It is hard to say. I like some people and not others. Cats are about the same, but slow introductions really help. Lately I have discovered that meditation type music (flutes, Enya) really calms the waters for cats. My 2, who will mix it up, just chill and go take another nap.
Add your voice! Click below to answer. ThriftyFun is powered by your wisdom!
Related Content