September 27, 2013
0

found this helpful
Top Comment
My daughter just spilled a bottle of nail polish remover on my hardwood table. It left huge white marks plus spill droplets all over it. (The bottle totally poured out before she could grab it). I applied mayonnaise and ashes for an hour, wiped and removed and then ironed. The end result? I thought I'd have to have the entire surface refinished but you can hardly tell anything ever happened anymore! A little oïl on there and it'll be completely gone. Thank you so much!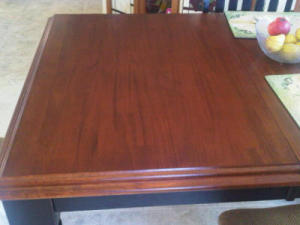 November 21, 2013
0

found this helpful
Top Comment
The tip for the iron and white cloth for the nail varnish remover spillage worked wonderfully. Was sceptical at first as the table had a big white stain from the remover but it lifted it off completly. Just needed a coat of oil afterwards. Brilliant,
Top Comment
Before and after.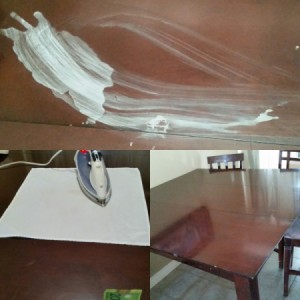 April 12, 2013
1

found this helpful
The iron worked for me too! Oak table with lacquer finish. The remover stain was a white colour and did not appear to have sunk too deep as the surface was still smooth. I used petroleum jelly first then wiped away after a few hours - this actually made a very slight improvement on it's own (you could try mayonnaise and ashes too - that would have been my next option - left overnight).
Then I ironed over a cotton hand towel a few strokes at a time being very cautious and patient. I checked the table after each few strokes and wiped softly with the grain. There was a visible difference after the first pass, and now you can hardly see it at all! I finished off with some oil. I too was amazed and relieved that it worked, it's worth a try but definitely use with caution I would say, don't let it get too hot, slow and steady.
December 11, 2016
0

found this helpful
Does the white towel need to be wet or the iron setting on steam? And do I need to do the petroleum jelly first? I spilled naill polish remover yesterday. Smh
May 24, 2013
0

found this helpful
I read the advice given on this page, and it totally works! Mayonnaise for an hour, I didn't have cigarette ashes because I don't smoke.
So I just burned some matches, and rubbed those on it. Put the paper towels on and ironed it for a minute. Stain totally gone. My floor isn't even wood, it's some type of laminate!
January 5, 2014
0

found this helpful
I spilled nail vanish remover on 2 of my nest of tables, did not realise I had until the following day, gutted! Looked at tips to remove, I was very sceptical, imagined the person who said to use mayonnaise, ash and then iron, laughing at people trying this, what, madness, but I tried it. I was completely amazed with the result, it absolutely works, patient is the key. Thank you so much whoever you are, who would ever have thought of using those things on polished tables, amazing. PG IOW
March 19, 2014
0

found this helpful
Spilled quite a lot of "extra strength" nail polish remover, Sally Hanssen, on Solid Walnut Wood Dining Table Top. It left a Large White Wash Milky Stain... 50 cm x 50 cm.Thought that was it! Looked up tips on this forum and tried the damp bath towel (doubleled up) and Ironsteam, ironing the bath towel in circular motions and steaming constantly on damp towel at same time!
Checking constantly to see what was happening. Worked a treat. "All" of the white wash lifted out, just like magic, and table top is back to Walnut Colour and looking great! I was very sceptical, but now very thankful for the great tips from people on this forum! Thanks so much!
December 29, 2015
0

found this helpful
Do not do this! It just strips the varnish off altogether and makes it worse!!!!
June 25, 2016
0

found this helpful
Ironing over the area on top of a cloth worked for me too! Thank you for the tip!
March 22, 2017
0

found this helpful
Just tried it on my wood table, the results were absolutely amazing thankyou you !!
April 2, 2017
0

found this helpful
Did not work for me
May 18, 2017
0

found this helpful
Didn't work
May 7, 2017
0

found this helpful
I tried it and it did not work any help
Try a thinner cloth unless it's right down to the wood.
May 21, 2017
0

found this helpful
This worked!!!! I set iron on cotton/steam. Amazing!!!!
It worked! Not 100% restored but 95% better! It's hazy now that's all :)
At first it didn't work so I tried a thinner cloth on the highest setting. It took a while but it worked & I'm very happy it saved my table. Thank you!!!