February 1, 2008
2

found this helpful
Best Answer
Sterling silver (regardless of country of origin) is 92.5% pure silver. That's why it's marked 925. Sterling silver may also be marked SS instead of 925.
All silver and gold that is sold has to be marked to show its precious metal content. Pure silver and gold are too soft to hold a shape, and so base metals, like copper, lead and nickel, are added to give them strength.
The current price of silver varies. One of the reasons it is valuable is that, besides being used in jewelry, it is also used in many manufacturing processes.
Don't throw it away. A jeweler can melt it down and make something new out of it for you.
February 1, 2008
2

found this helpful
Best Answer
Be warned. I bought a bracelet in Mexico and it is stamped .925 but is NOT silver. It appears to be silver plate. I was playing with my boys and a magnet stuck to it.
If you are shopping for silver, use a magnet to test it to be sure. A magnet will not stick to sterling or .925 silver.
January 26, 2018
0

found this helpful
The rings i got magnets dont stick to them and they have 925 on them
November 24, 2018
0

found this helpful
Instead of .925 it should be 92.5.
November 26, 2018
1

found this helpful
Silver marks can show .925, 92.5 or even just 925. There is no consistency over the years but all those numbers mean the same thing; 92.5% pure silver. Of course, you can fraudulently mark any silver piece with these numbers so be sure you are getting them from a reputable vendor.
Here is some more information from The Spruce on these markings:
August 24, 2019
0

found this helpful
U.S. Quarters and Dimes of 1964 and before were .900 fine, much of the British coinage once was .925 fine silver. So, if it's easier to understand this, then your .925 jewelry by weight is actually worth, using melt value, two and a half percent more than the same amount of our old silver standard coinage.
When evaluating an item, bear-in-mind that there is a difference, usually significant, between the base value of the metal, the collectible value, the sentimental value. which is always higher by the one bestowing it, and potentially other values such as artistic, historic, etc.
May 8, 2020
0

found this helpful
So how much is 9.25 silver a ounce
June 10, 2020
0

found this helpful
I bought a 925. sapphire bracelet today from a gold-silver exchange place. A little while ago, I put the magnet test to it.
it sticks a little, but none of my other silver or gold does. I got a receipt. I don't like having paid 57.00 for a fake. Should I take it back?
By Jay (Guest Post)
September 20, 2008
1

found this helpful
Best Answer
It is sterling. You can not make anything from 100% silver. It would fall apart. You need a little copper or something similar to hold it together and make it durable enough to be worn as jewelry.
November 24, 2018
0

found this helpful
I have several .999 silver rounds and they seem pretty solid and hold together great but not Sterling. But really pure silver.
October 16, 2012
1

found this helpful
Best Answer
Same, I bought a sterling silver bracelet at Value Village. It's a complete fake and a great imitation. My best deal was these earrings $1.00 no tax at a garage sale.
I think they have black onyxes in them. They are pretty. If they were fake silver, my ears would be allergic and hate them:P I cannot wear fake metals and plated metals, I get hives and reactions like nuts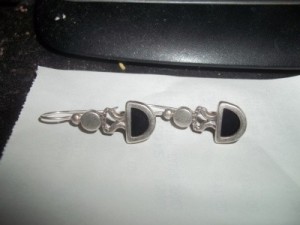 January 30, 2008
0

found this helpful
It just means it's almost pure silver. It's worth about the same as sterling.
By betty webb. (Guest Post)
February 1, 2008
0

found this helpful
That is the way Mexico marks sterling silver.
October 16, 2012
2

found this helpful
BTW, 925 can be slightly magnetic if there is nickel in it. If it's alloyed with copper, it's not magnetic. I had a short chain that was silver and barely magnetic.
February 16, 2020
0

found this helpful
How much is 925. GM bracelet 2 ounce worth?