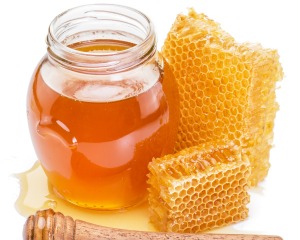 Use honey as a facial mask for moisturizing and tightening pores. You could warm it slightly in the microwave, but I don't. I just pat it on, leave on for about 10-15 minutes and rinse off. It smells good and you can lick your lips for a nice treat while you give yourself a facial.
By Gloria

Answers:
Honey Facial Mask
Have you tried Witch Hazel? It is so cheap, but it works. Or even vinegar. I know several that swear by apple cider vinegar. They just use a cotton ball and swab their skin down every night with it. (07/28/2005)

By kattankerous
Honey Facial Mask
I have been using graham flour honey and hint of lemon facial mask, it feels really good and soft. I use it every night before bed. Honey is a great natural moisturizer, night creams can clog up oily skin even more so you should let your skin breath at night and not put moisturizer on. (03/07/2006)

By khansa
Honey Facial Mask
Yes, if you do it regularly you will get a fresh, dewy looking skin. It can also relieve dry skin. (04/28/2006)

By Amira
Honey Facial Mask
Olive oil is really good for your skin. (04/03/2007)

By June
Honey Facial Mask
I have had problems with acne most of my teenage life and now at 23 I still have outbreaks of acne that scar. I have used all medications including Roacutane and antibiotics however this did not help. I now use Johnson's face wipes to take off my make up and cleanse my face and then splash with water or use Avene water spray for irritated skin (just purified water in a spray). It is excellent. I also regularly put manuka honey on my face as a face mask. This procedure has done my face wonders and I now have very few spots and acne. (04/09/2007)
By Sarah
Honey Facial Mask
I once used a honey facial mask, and found that it wasn't very good, so I've made one up of my own. It is sugar and egg mixed together. The egg is a good moisturizer and the sugar is a good scrub. It makes your skin so soft. (08/31/2007)

By Krystal
Honey Facial Mask
This really works, leaving my combination-dry skin so soft and smooth. This is what I do once a week to pamper my skin:
I first cleanse my skin (I use the NZ brand "Trilogy" cleanser).
Then exfoliate (using honey and plain sugar).
The facial: splash warm water on face to open pores, smear on honey, leave on for 15 minutes, rinse with warm water and then a splash of cool water to close pores.
Apply moisturizer (I use Extra Virgin Olive Oil - it's a great moisturizer for my skin).
This routine once a week leaves my skin very soft, smooth, silky and radiant.
Note: If you are worried you might react to honey, do a patch test first on your arm, but it's highly unlikely you'll react to it.
(09/01/2007)
By Trish
Honey Facial Mask
New Zealand Menuka honey works best as it is packed full of natural anti-bacterial and healing agents. I slather honey on my face 3 times a week. I am a man and find that it works really well after shaving. (02/17/2008)

By cornello2
Honey Facial Mask
Had a terrible reaction. Do not do this. Honey is for eating, not for a facial. (02/17/2008)

By Carlos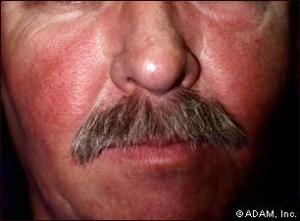 Honey Facial Mask
I'm actually trying out the honey facial mask right now. Feels good, and tastes even better. Someone here mentioned apple-cider vinegar. Aside from applying it to the face with a cotton ball, I've actually found that heavily diluting it in a small pitcher or a large cup with water, and then pouring it over one's entire body, face, scalp, etc. helps if you have acne on several areas of your body (as I do.)
I would also recommend people look into their diet - I've long suspected the relationship (despite what I've heard many doctors say), and recently have begun what essentially amounts to a macro-biotic and raw-food diet. The idea is to eliminate anything which could be associated with acne flare ups, let the skin heal (if diet is the source, which apparently it is much of the time), and then begin re-introducing things back into your diet gradually. This way, you can actually find out what it is that is setting you off.

For a lot of people, it's all of the refined sugar and carbs we eat,especially without the proper balance of healthy fats (basically for every 2 grams of sugar, there should be 1 gram of fat, like from hand-shelled nuts or the wonder food, olive oil.) The theory goes, not having this balance in some people creates a diabetic-like reaction and your skin goes nuts. So far I've already noticed some improvement. It's worth looking into folks. (04/15/2008)
By Tim
Honey Facial Mask
When I was in Beauty School 50 years ago, we did honey facials. I fell in love with them and have never used anything but honey on my face, no soap. No one can believe my age. I also use honey to clean my hair or if shampoo is used, I spread honey over my hair and rinse it off. It leaves my hair very soft and silky. Recently, my Yorkie had skin problems. I shampooed him with honey and rinsed it off. His hair was so gorgeous. He has no odor of any kind. (04/23/2008)

By VelCro
Honey Facial Mask
I just used a crystallized honey mask for the first time yesterday and, Ilove it. My skin was noticeably softer. I don't know about sleeping with it, as it may be messy. What I know works for sure is to dab honey on a pimple and cover it with a non-adhering dressing/gauze (i.e. the white part of a Band aid). The honey brings up the pus from the pore and makes it ready to pop. Continue to dab it on that pimple until it vanishes. Honey is non caustic and won't darken your skin like tooth-paste. Good-luck. (05/06/2008)
By acne is not my friend
Honey Facial Mask
Proactive made things worse for my son and my self. Apple cider vinegar, diluted worked wonderfully. I use it like a tonic and the honey mask just makes my face feel so soft. Sugar and honey is great for a scrub. Other people I know have used similar combinations with good out comes.
(05/13/2008)

By Brenda
Honey Facial Mask
In massage school we used Clover Honey only. You can always test of allergies by doing a patch test first if you think they may be allergic. (07/02/2008)

By Bethany
Honey Facial Mask
Honey works great, but if you want to have better clearer skin, try Mint Julep Masque. It helps people with acne or without. It cost 2.50 at Family Dollar and a dollar more at Walgreen's. It has helped my skin so much. A friend of mine had a pimple one day and it was gone the next by putting a dab with a band aid over night. During the day I will put it all over my face for 5 minutes or more. It works like nothing else had. For only 2.50 who can beat that. (08/13/2008)

By
Honey Facial Mask
The honey facial sounds good, but if you look on the label of skin care products and other body cleaning things, check the ingredients. Do not use them every day if in the ingredient list there is a thing called SLS. Sodium Lauryl Sulfate or something like that. SLS dries out your skin and can make acne worse. (09/22/2008)

By Lisa
Honey Facial Mask
I use honey as a facial mask and it has cleared up most of my acne. I still break out from time to time especially when the weather changes suddenly, but not like when I was a teenager. If you want an exfolliant, mix some brown sugar in with the honey until you get a sand consistency and gently rub on the face. I do that and it gives me really soft skin.
I am sorry to hear that some on here reacted to the honey mask. If you do react then you are probably allergic to honey and shouldn't be eating it or putting it on your skin. (10/01/2008)

By Janet
Honey Facial Mask
I recommend using rubbing alcohol (I recommend using the orange one, it has fruit in it, and its good for your skin). Dab some on a cotton ball and wipe it on where ever you have acne. You can use it on your face and your body. After be sure to put on moisturizer (I recommend using Cetaphil Daily Advance Ultra Hydrating lotion) so your skin is cleared up, and moisturized. Hope I helped. (10/12/2008)

By Holly

Honey Facial Mask
I use Burleson's Clover Honey from Wal-Mart. I am 29 and have had problems for years with acne and blackheads. After my emergency hysterectomy my skin went crazy. I am on replacement hormones, but my skin would not calm down even after a year. 3-4 times a week I put honey on my face with nothing else. I rub it into my pores in a circular motion and let it sit 5-10 min. Really concentrate on zits and blackheads and rub it every couple of minutes to keep it from sliding off my face. It will get tacky after a while if you only use a little as I do.
Then I take baking soda and pour it in one hand and wet the other. I use my wet fingers to rub it in concentrating on blackheads. That is it and it is so cheap. Witch hazel is good, but has a lot of alcohol so don't over dry your face by using it too much or it will make your problems worse. My skin has never looked so good.
I have used everything Proactiv, Murad, Wexler, etc. I just use this now and leave my face alone. The more I wash it and mess with it the worse it gets. Don't forget a good moisturizer because honey is a natural exfoliant and combined with the baking soda which acts as a microdermabrasion and really unplugs the skin with no "downtime". I am through throwing away money and being embarrassed about my skin. Just remember not to use this around the sensitive eye area. Good luck everyone. This has cured my acne and blackheads. Hope it works for you as well. (11/20/2008)

By Ann
Honey Facial Mask
My face was always breaking out in red patches and I was using a steroid cream to keep it under control. I recently started using honey once a day as a facial and it is amazing. My skin feels and looks great. At 47 years old I must say this has turned out to be the cheapest and best product I ever used on my face. Go figure. (12/01/2008)

By Liz
Honey Facial Mask
Make sure the honey is raw. Those of you that didn't get the results you where hoping for make sure your honey was raw not processed. You will not get the same results if your honey is processed. (01/31/2009)

By Elaine
Honey Facial Mask
I also had a reaction my face is red raw and blotchy the doctor said severe reaction I do not recommend it. I can't wear anything on my skin for a week the doctor prescribed me Vaseline and Aveeno cream to help. Be warned, do not try this mask. (02/01/2009)

By Jenny
Honey Facial Mask
Be extremely careful when using sugar as an exfoliant in your mask. The sugar can actually create small cuts in your skin which would aggravate it, obviously, and allow bacteria in as well. Using abrasive exfoliants when you have active acne can actually spread the bacteria around causing more breakout.
Honey is great as it is gentle and has antibacterial properties, however there are going to be those who react because not everyone's skin is the same. (02/03/2009)