I was wondering if anyone else had a Jack Russell/Corgi mix dog like mine? I hear they call them CoJacks! Her name is Dakota, she's the best dog I've ever had. Look at her big dark brown eyes! I really do love this dog!
Alex from Alexandria, VA

Answers:
Jack Russell Corgi Mix
No dog has a sweeter face, how beautiful! (11/17/2007)

By kimhis
Jack Russell Corgi Mix
I think our new baby is a Jack Corgi mix. The photo is a little deceptive in that she seems to totally have the Jack body, long and lean and so far, so good. What a little doll. (02/02/2008)

By Joan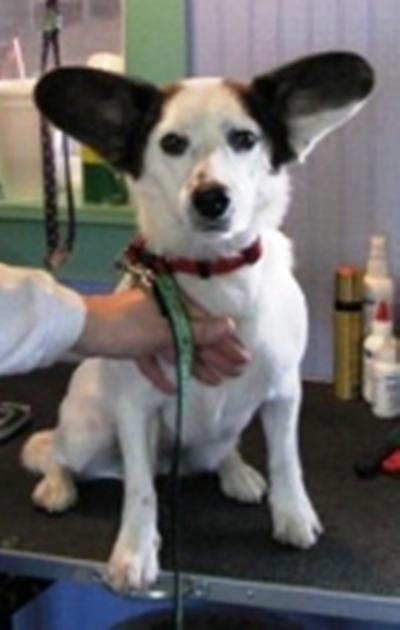 Jack Russell Corgi Mix
I have a Cojack too! We adopted him back in January 08 at 13 weeks and he has been the greatest little guy! He is so loyal and willing to please and just has fun all the time. It's great to see other pictures of Cojacks out there. (04/26/2008)

By Kait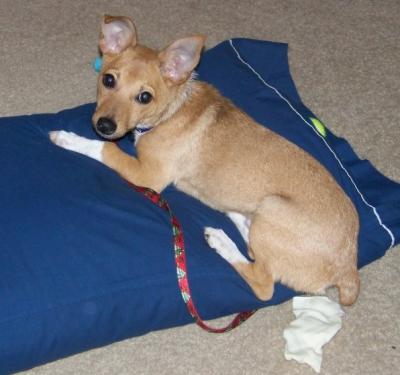 Jack Russell Corgi Mix
Here's my CoJack. He's called Dukey and is almost three years old now. Great dog. Very lively, smart, and alert. He is totally crazy about running after his toys. He challenges every new person he meets to play with him by offering his toys or a stick. He also loves to swim. Sometimes he tends to be overly courageous. Great with kids. Many kids overcame their fear of dogs by playing with Dukey. I love his ears and his expressive tail. Can't understand why they used to amputate Corgi tails. Fortunately this is now forbidden in The Netherlands. I can read the dog's mood by his tail. (08/07/2008)
By Frans van den Hurk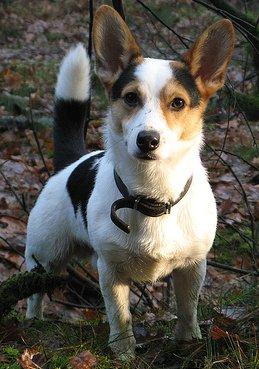 Jack Russell Corgi Mix
This is my Cojack. She's 6 years old and the best dog in the world, extremely smart, very protective, and loves to play fetch. She gets the newspaper every morning and brings it to me, she'll search every room before I go in in case there's danger lol! So cute and she helps train my other puppy. I love her. (10/13/2008)

By Katherine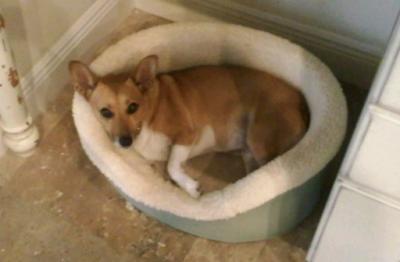 Jack Russell Corgi Mix
I was told Bennie, our little rescue is a Jack Russell Corgi mix. I am not 100% sure as he is quite dainty, but a fantastic mix. He is fun like the JRTs, but not as wound up as my purebred JRT, Brutis.
(11/18/2008)

By Amanda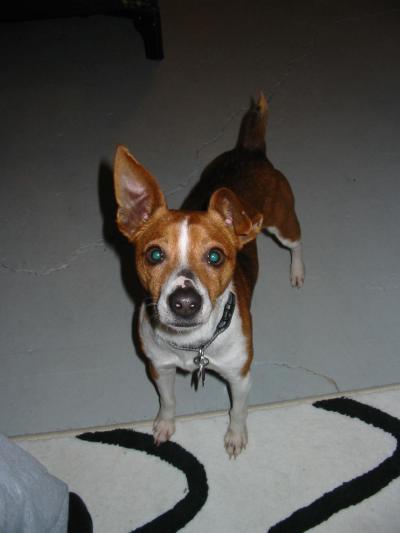 Jack Russell Corgi Mix
I got Max in February he is a mess. I love his ears. Max will be 1 yr old on Dec. 22. He's a Corgi/Jack Russell terrier. He's a handful. He loves tennis balls, he go's crazy over them. (12/04/2008)
By paz pazita74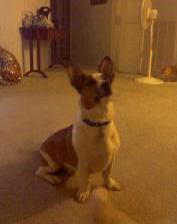 Jack Russell Corgi Mix
Here's my six year old Cojack, Kethry. She's such a little spaz, loves to run and chase down her toys, and she never gets tired; that's the Jack Russel I guess. We got her from the pound and she was apparently abused before she was adopted. She was really shy and afraid of everything, but five years of love has caused her to really open up and become a great dog. (12/06/2008)

By Austen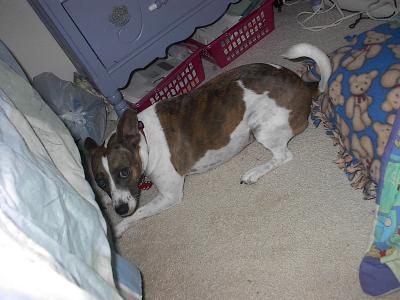 Jack Russell Corgi Mix
I just got mine. She was a rescue. I love her to death! (01/24/2009)

By babe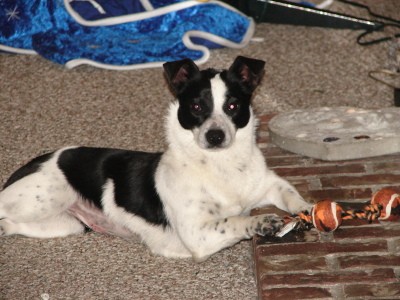 Jack Russell Corgi Mix
This is Sadie, she's 5 1/2 and I've wondered all this time what she is, finally I think I've found the answer. (01/29/2009)

By mgl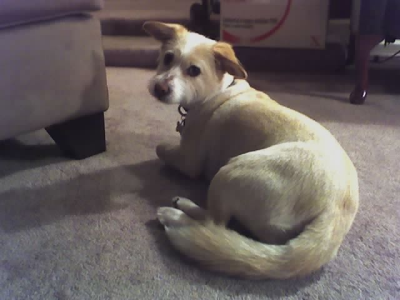 Jack Russell Corgi Mix
Here is Tater. He's 11 now. His sister was more Russel-like in her looks, but we lost her last year. (03/25/2009)
By Plumber red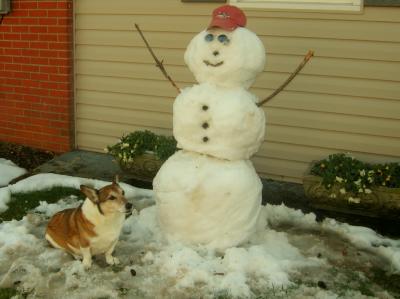 Jack Russell Corgi Mix
(Oh, I forgot to tell you that Tater named his snowman "Benjamin Button-Nose". Here's a photo of Benjamin at the end of his life!) (03/25/2009)

By Plumber red
Jack Russell Corgi Mix
I have a CoJack as well. We have had her for over 3 years now and she is absolutely the best dog ever. She gets alone great with any animal that comes in the house and is always willing to meet a new face. Very smart too! (03/30/2009)

By luvmycorgi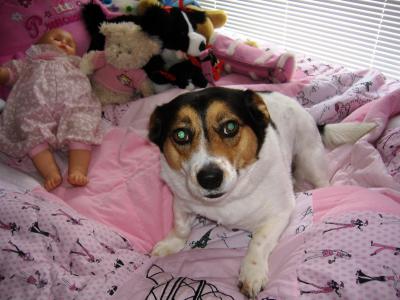 Jack Russell Corgi Mix
This is my Regina. I think she was a Jack Russell/corgi too. She died on March 18th, 2009 at 12 years old. She was the most kind, loyal and wise companion you could hope for. She was my best friend. (05/06/2009)

By robinbks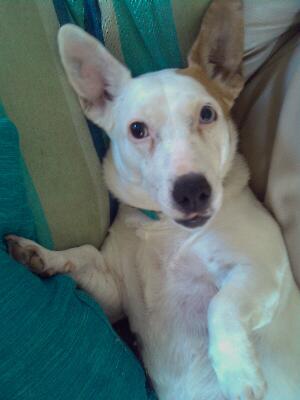 Jack Russell Corgi Mix
Here's Harley! He's a rescue from a high-kill dog pound, luckily we got to him the day before they did. We found him a few days before Xmas. He was really emaciated and showed signs of abuse when we got him. He's improved so much! He's the best little guy, he never does anything wrong, he's kind of like a little human, I love him! (05/22/2009)
By SamiSunshine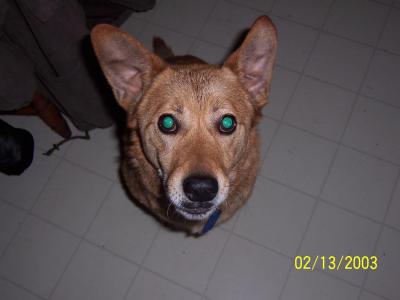 Jack Russell Corgi Mix
This is my Cojack Frankie. She just turned 1 in May and what a rambunctious, but beautiful dog! (06/08/2009)

By Frankiesdad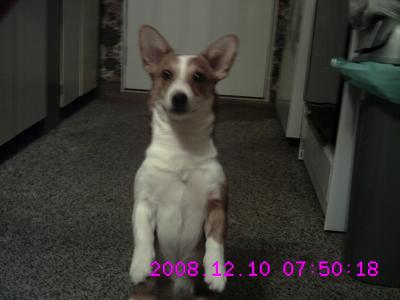 Jack Russell Corgi Mix
Frankie loves to use empty kitty litter containers for chew toys. (06/08/2009)

By Frankiesdad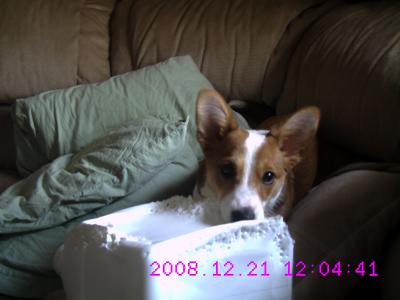 Jack Russell Corgi Mix
Hi! We adopted our "Buddy," from the Human Society in February. He had just turned 1 year old. Here is our little guy. He's so very spoiled, and almost has my husband and myself trained! I didn't mention, but yes he is a Corgi/Jack Russell mix. In the last 6 months he has developed black spots similar to a Dalmatian all over. His pattern resembles a Holstein cow. He's our cutie petutie. (08/22/2009)

By Cee54
Jack Russell Corgi Mix
I too have a CoJack. His name is Marlin and he's 3 1/2. He is an awesome pup he loves to go to work with me. Gets along with all animals. He's laid back and loves to hang out. I can't believe how lucky I am to have him in my life. Everyone that comes in contact with him falls in love. He's so smart (he love to do tricks, he hi 5s and bows for the ladies). He lives up to both his breeds. Good to know there are others out there. (11/08/2009)
By grzhoprink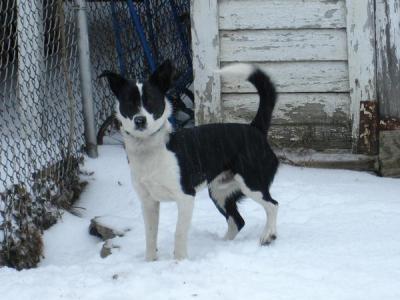 Jack Russell Corgi Mix
I have a wonderful girl named Fiona. She is a Jack/Corgi and she is the best dog! (07/09/2010)

By FionasMom
Ty: My Jack Russell Corgi Mix
I am so glad I found this site! I've had Ty for 7 years this month. I adopted him and he was the very last dog I was shown. They weren't sure how old he was, but he was full grown. I found out later he must not have been mature because since then, little black spots have shown up on his coat. He's black and white with ears that point all the time and a tail that curls over his body. When I got him, I think he'd been abused, but it took very little time for him to get over his "past." He's the most well behaved dog I have ever been around, and I am thrilled to hear all of you say your Cojacks are too! I didn't know what he was, I've always called him my Full Bred Mutt when people ask!
I realized he looked a little like both a JR and a Corgi, so after your pics, I know that's what he is! The only problem I have with Ty is he sheds all the time. But he never barks, loves kids, people and animals. People tell me all the time they've never seen a smarter or well behaved dog, even if they've only been around him a few minutes. We leave him out of his kennel while we are at work and he never potties in the house. One of our favorite things about him is his sense of humor. He does this thing we call "giving the leg" where he turns around, looks over his shoulder, and kicks his back leg when he is trying to give you attitude! He "goes crazy" running around the house and growling, but only when he can sense we're in the mood for it. He is also incredibly loving and never tires of attention. I am so blessed by him! (10/26/2010)

By Mandarhaye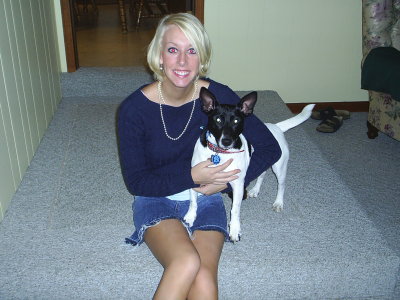 Jack Russell Corgi Mix
I have a Corgi-Jack. She will be 2 in May and is the greatest little dog. Her mom was a Jack and her dad a Corgi. Smart pup, but stubborn. (01/04/2011)

By cairde77